Playing Harmonics For Embouchure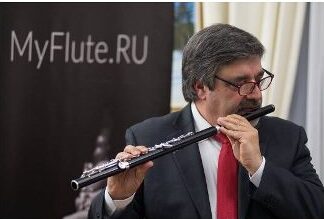 In this video Onorio Zaralli talks about playing harmonics for lips to improve the focus and quality of the sound and learn to control better our embouchure.
For more tips go to www.webfluteacademy.org
---
Onorio Zaralli
Onorio Zaralli si diploma con il massimo dei voti in flauto presso il Conservatorio di Musica "S. Cecilia" di Roma, conseguendo successivamente il diploma "solista" al Royal College of Music di Londra. Premiato nei concorsi di Ancona, Stresa, Palmi e Città di Castello, matura esperienze orchestrali in seno all'Orchestra della Radiotelevisione di Bucarest, Orchestra Sinfonica di Sanremo, Orchestra Sinfonica dell'Accademia Nazionale di S. Cecilia di Roma. Come solista, è attivo in Europa, USA, Messico, Korea, Australia. E' autore di libri, studi e composizioni per flauto.
---