Interview with flutist and composer Phoebe Bognár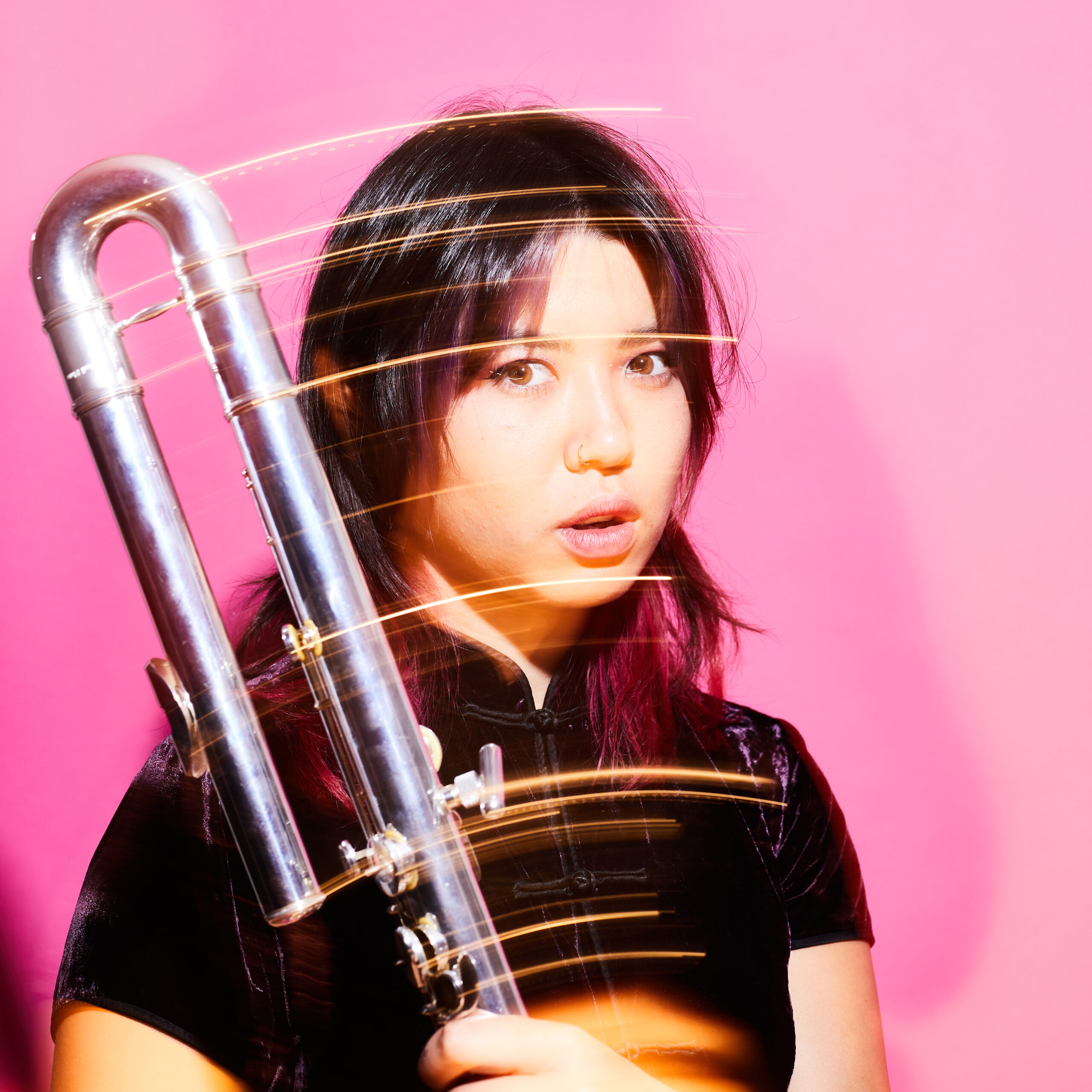 by Laura Chislett
In 2022 I had the opportunity to travel solo to Europe which I hadn't done for many a year. I visited some of the places where I had lived, worked or studied years before. A highlight was visiting Lucerne, during Festival time, where I caught up with Phoebe Bognar, who was playing in the Lucerne Festival Academy. I was fortunate to be able to attend one of the Academy rehearsals and heard composer Wolfgang Rihm's 'Sub-kontur' which was a real treat. I'd never before heard a piece which uses three contrabassoons and two bass tubas! Some amazing sounds.
Lucerne was hopping with activity from the moment I arrived on the train and was greeted by a Festival volunteer in the local dialect with its appealing lilt and rolled rrr. So much to see and experience! Phoebe's uber-busy schedule didn't allow her time to respond to my interview questions until months later. So her responses relate more broadly to musical projects in Switzerland and Germany. A big thank you to Phoebe for the generosity of the information, and for her wonderful creativity and commitment.
Laura: What were some formative moments in your career so far?
Phoebe: It's hard to prevent myself from launching into a chronological outpouring of moments and memories, as I consider countless experiences and encounters to be formative moments for me.
I was around 17 years old when I decided to definitely pursue a career path as a flutist, as a musician. I spent the vast majority of my musical training on the flute engaging with Western classical music and technique, but when I heard my teacher in high school demonstrate 'beat box' techniques on the flute, I became hungry to know more about the 'other' sounds that a flute could produce.
One of the first things I did upon commencing my Bachelor's degree at the Queensland Conservatorium in Brisbane was to join the New Music Ensemble led by Vanessa Tomlinson, who opened so many doors to listening and creating. My encounters with the creative community in Brisbane are some of the most formative moments in my creative development.
Many people directed me to places where sound explorations were happening, from my first contemporary music festival, the Nief Norf Summer Music Festival in Tennessee, exploring improvisation on Sundays with the Splinter Orchestra back home in Sydney and a few times with the London Improvisers Orchestra and delving into contemporary chamber music at the Time of Music Festival in Finland and the Bang on A Can Summer Music Festival.
In 2021, I made the decision to move to Basel, Switzerland, to commence a Masters in Contemporary Music. Basel brought a myriad of experiences and a mixing pot of creative personalities and culture. I honed my skills as a contemporary chamber flute player further and also expanded outwards to explore performative and mixed media works in addition to more standard instrumental pieces.
Collaboration is at the heart of my creative practice and I feel honoured to have worked with many composers, performers and creatives whom I admire on new and existing pieces and projects. I have also had the opportunity to work as a freelancer on projects and with ensembles I have admired for years, including Ensemble Recherche, Klangforum Wien and the Lucerne Festival Contemporary Orchestra.
Presently, I'm based in Frankfurt am Main, Germany where I have taken a year to work with Ensemble Modern as the flute player in their International Ensemble Modern Academy (IEMA). It feels a bit like coming full circle, back to those childhood Sydney days when my dad used to play Frank Zappa's 'Yellow Shark' in the living room.
LC: What do you see as the the role of a creative/independent musician in society at the moment?
PB: What is the role of our work as musicians, as creatives? When I think about why I became committed to music it was a need, it provided me with a vehicle to speak, per se. But when I think about what sustains my dedication to music, it's those who give their time for a moment of sharing in this busy noisy world, and the conversations we have afterwards.
Does art reflect the world? Yes, and even when it's not deliberately done, it still provides an insight of sort into our minds, our time, humanity and speculation. It can be beautiful, confronting, provoking, rebellious, healing. Just like words, it can uplift and simultaneously depress, they can change a moment. It is a powerful medium, art; music.
The role of a creative/independent musician today, in my eyes, would be to engage with the world around us, to expose oneself to a broad spectrum of sounds, music, ideas and sharing with others. In this world of sound, choosing a moment for listening can be entirely impactful.
LC: Is there adequate financial support for a wide range of independent projects in Germany/Switzerland?
PB: I will speak mostly about Switzerland as that is where I have spent the most time. One could call Switzerland, Land der Stiftugen; beyond the breathtakingly beautiful scenes of nature there's an abundance of foundations, or in German "Stiftungen". I was overwhelmed when I first came to know of the funding model in Switzerland.
Every project poster is plastered with logos of supporting foundations, and many of these foundations support a wide array of projects. Basel is the canton with the highest foundation density at 46.3 foundations per 10,000 inhabitants, and Zurich is the canton with the most foundations (2,232 foundations). (Swiss Foundation Report, 2022).
Now, not all these foundations are supporting the arts, or music. Some support research, medicine, in various fields and disciplines. Each foundation has their own purpose and goal. Certain foundations may only support projects that occur nationally, or in certain cantons. Some foundations may only support projects which incorporate a Swiss artist and some foundations may only support festivals or larger projects. However, there are enough foundations that one can find those for which they are eligible to apply for, and when unsure, a quick email or phone call answers all!
Foundations in Switzerland seem to be divided into the following categories: private, cantonal/state-based and corporate. The method of application for funding varies from foundation to foundation.
Not all have online application formulas, some only state an address, and then one must send a dossier with the project details, project plan, budget, artists information and links.
Most foundations only accept applications at least three to four months before a project, but it's advisable to apply more than six months in advance to allow for application outcomes.
Here you can find a foundation directory for Switzerland: https:// stiftungschweiz.ch/stiftungsverzeichnis
In Germany it does seem to be a similar model of private, state-based and corporate funding. However, as I'm yet to personally apply for funding from a German foundation, I can't speak from personal experience. But one can always find foundations through the directory here: https://stiftungssuche.de
LC: Can you give an example of a project that has received wide support from promoters, audiences and critics?
PB: I'll talk about a forthcoming project next month which received financial support from Swiss and Finnish Foundations. "With these hands I…" is a project I've developed with the Finland-based Accordionist, Manca Dornik, whom I met online during the Ensemble Evolution Program run by the International Contemporary Ensemble, a course that was hosted online due to COVID. Despite our varying internet connection qualities and the time difference, Manca and I gravitated together and practiced and recorded distanced duo works. Our first in-person meeting was in 2022 in Basel, when Manca commenced her studies in the Contemporary music program. We both share an interest in works that combine performative elements with our instruments, and also in composition, of which a collaborative work 'ctrl/fn/esc', for accordionist and performer is featured in the program. The project will have concerts in five cities: Basel, Luzern, Bern (Switzerland); Frankfurt (Germany); Helsinki (Finland).
"with these hands I…" received funding from nine foundations to support the full-costs of the project. That is, three state-based and six private sponsors. Certain foundations support specific elements of the project such as transport costs or the costs associated with one city in the tour: in our costings budget we made it clear how the funds from each foundation would specifically be used.
This number of supporters may sound like a large amount but it isn't particularly unique. From what I've observed, projects that fit the objective of the foundation and have a clearly articulated dossier do receive funding. As for audience support and critical response, it often depends on how the event is promoted and the scale of the event.
I have played and attended some concerts that fit that (untrue) new music stereotype of the lonesome audience member. Audiences seem to come by word of mouth (and lots of promotion through social media and posters and flyers), usually colleagues or regular concert goers.
In such a project as the one above, where the artists are also the promoters and administrators, there is a lot of writing, e.g. sending emails, Facebook event invites, direct messaging. I think I've yet to see critics at events organised by smaller ensembles or individuals, but that could change. More info about the "with these hands I…" concert tour and project can be found here: https://tinyurl.com/with-these-hands-i
---
Laura Chislett
Australian flute player Laura Chislett has established herself on the international stage as a performer, educator and recording artist across a wide range of musical styles. Her recordings, on ten different labels and multiple streaming platforms, range from Bach and Boulanger, to Ferneyhough and Dench.
It's perhaps in the extraordinary solo flute repertoire of the 20th Century onwards that Laura has especially made her mark, forging her way through daring sonic journeys and seeking to extend the expressive capabilities of the flute. She has long been a champion of Australian music, and music by female composers.
Laura has become known for her inspiring and rigorous performances, described as the "Rolls Royce versions" by the legendary composer Horatiu Radulescu.