Interview with Stefán Ragnar Höskuldsson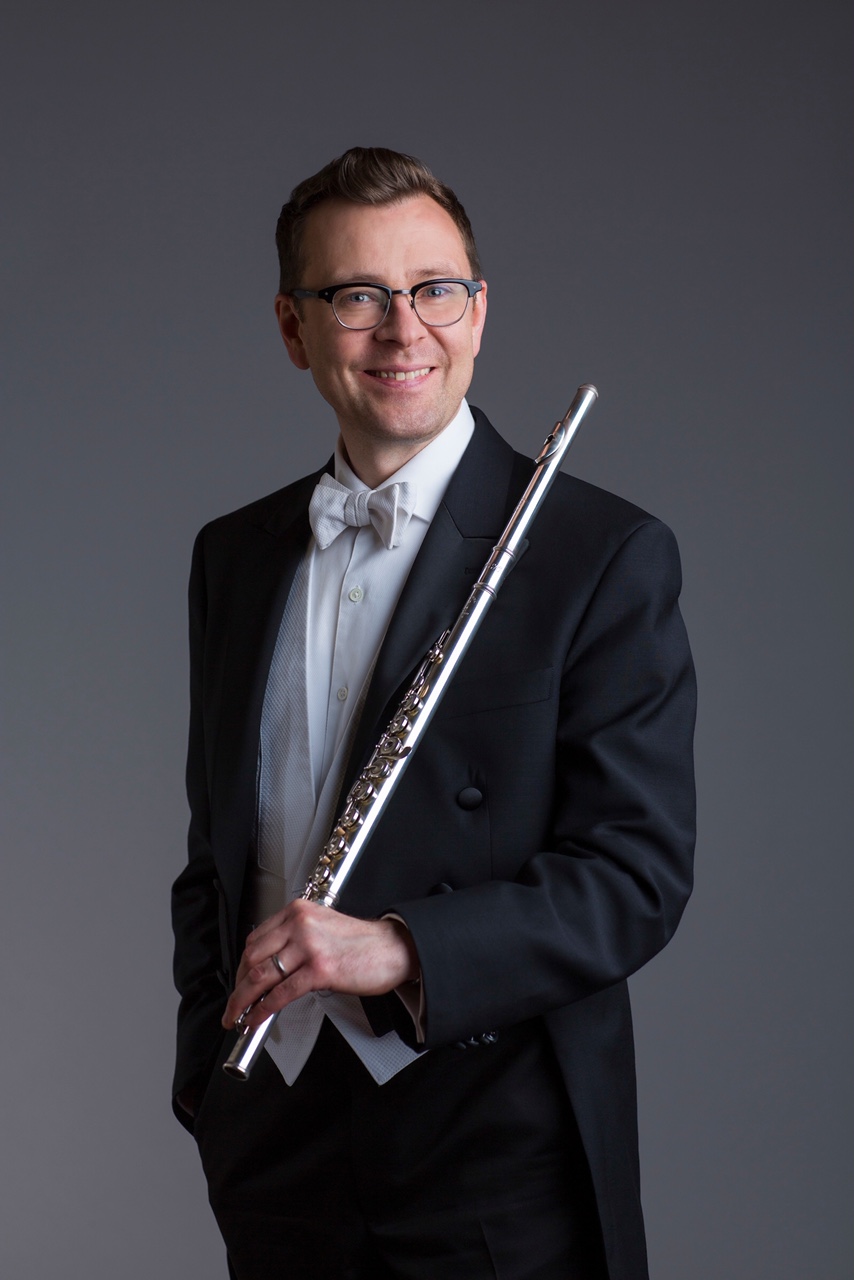 by Yulia Berry
It was not easy to find time in the busy schedule of Stefán Ragnar Höskuldsson, soloist of the Chicago Symphony Orchestra, but finally we met for a conversation and I was able to ask some questions that have been burning me.
Yulia: Dear Stefán, thank you for finding time for this interview to answer some questions for our readers at The Babel Flute magazine.
Before we start I would like to say Happy Birthday to you from all of us and wish you the very best and happiest things in life! What a wonderful coincidence that your birthday and the first edition of The Babel Flute happen to be on the same day – June 20th!
Stefán: Thank you very much!
Yulia: During the pandemic you played Mozart Quartet for flute and strings, K.285 in the online episode of the Chicago Symphony Orchestra. It literally took my breath away! I remember that I had to stop doing everything I did at the moment, sat down and couldn't move or breathe. It was striking. I have never heard such perfect Mozart from a flutist before. In my opinion, Mozart is one of the hardest composers to perform and I want to thank you for the incredible experience you gave me. I felt being transformed in my heart, where something magical happened at that moment.
Stefán: Thank you so much, too!
Mozart is, as you just said, one of the hardest composers, if not the hardest one, together with Bach. This repertoire needs a special kind of preparation and understanding. I think the more understanding and knowledge people have about the body of work that these composers left behind and the more people know about the style and the musical language the better the performances become. Mozart's music is very disciplined. One needs to be very disciplined to play Mozart because of the dynamics and the rhythm. If anything is out of place rhythmically or dynamically, it disturbs the music. He was so disciplined in the way he wrote and I think he expected the same from the performer.
Yulia: For me Mozart is a perfection in everything.
I heard in one of your interviews that you recommended to musicians to improvise, which classical musicians usually don't know how to do. We only know how to read the music. Because it's really…
Stefán: Yes, an enhanced way of listening.
Yulia: Exactly!
Stefán: I've done a lot of improvising in my life. And I was encouraged from a very early age to improvise and also to play from memory. That is also one of the key factors. However, I don't force my students to memorize things because I don't think memorization can be forced. I think it has to happen organically in people wanting to really understand the music on a deeper level. Improvising absolutely enhances the skill of listening. You have to learn how to listen and read music simultaneously.
Yulia: What kind of tone and what colors are you looking for, when you play Mozart? I assume you are looking for a certain sound, yes?
Stefán: I think that the music dictates what kind of sound one should be going for. Generally, I don't really change my sound. It's more to do with the dynamics and a certain kind of lightness because the music is never heavy, it's very uplifted. Mozart's music always has a lift to it. I always try to go with what the music dictates to me. It's almost hard to explain because the energy of the music doesn't really invite me to play with a lot of vibrato, for example. First of all, I try to think very much about the articulation, when I play Mozart: where I use slur and where I don't. It is a big study in terms of articulation, rhythm, dynamics and style.
Yulia: What does Mozart's music mean to you? Does it have a special meaning?
Stefán: I love it very much. I've played many Mozart operas, and I think they all had a very profound impact on me, when I learned them and when I played all of them. It is music that is divinely-inspired. It elevates you, it takes you to a higher place. When you play it, you feel elevated, you feel uplifted.
Yulia: I feel the same about Mozart!
Stefán: In operas he uses the orchestra in a very dramatic way. For example in Don Giovanni, which is the darkest opera he wrote, he uses the trombone and lower instruments when the story gets dark. But for the flute writing – it's in the lighter arias, soprano arias that he uses the flute to add brightness. Very often in a soprano aria, there is a flute line accompanying. It's interesting that his flute music is very much like soprano aria writing.
Yulia: Do you ever play your own cadenzas in Mozart concertos?
Stefán: Yes, I always play my own cadenza. It's a challenge, but I think, if one wants to get closer to the music, it's essential to learn how to write a cadenza. This is a very important study because a lot of cadenzas are too long. A cadenza needs to be very concise, very disciplined, and absolutely not too long, just a fleeting moment. You can take two different motives and then improvise around that, but no more. I don't go very far in terms of harmonic changes. It's better to stick with simple modulations.
Yulia: It's great because not many flutists play their own cadenzas in Mozart!
Would you play any differently or how would you play if you knew that Mozart were in the audience? Would it change anything?
Stefán: It wouldn't change anything, whenever you play his music, Mozart is there.
Yulia: I really want to ask you one more question about Mozart. Very often flutists play his music either too romantic or very superficially. Do you agree? That is why I loved your playing of Mozart because it was so genuine and so perfect in every sense. Is there any advice on how to approach it?
Stefán:. People have different views and they feel things differently. This is what makes art interesting – there is more than one way to look at things, to express the beauty in the world. However the musician's duty first and foremost is to get to the heart of the music, get as close as you can to what the composer intended. To get to the essence of the music takes a long time, it's a process. I still find that it's the most difficult work to find that point, this is why I think people spend a lifetime playing the same pieces. Great artists have always done that, they play the same pieces over and over because they understand something more when they come back to it.
Yulia: Have you ever felt that a certain piece brought out the best in you?
Stefán: When I play any piece of music I approach it in the most natural way. I have a particular love for the Cesar Frank sonata. It gives the performer expressive freedom and allows one to play with a lot of colors.
Yulia: I love that Sonata!
Yulia: Is the technical side ever a challenge for you or just a secondary aspect of your playing?
Stefán: I never think about something being technical. Whatever a composer writes, it is always for a musical reason. So it is just another way of expression. There are of course pieces that are demanding, but it is always for a musical reason. If I find something particularly difficult, I use the method of relaxation: slow down my fingers, make them smoother, make less noise in my fingers, bring my shoulders down and just practice slowly.
Yulia: Where do you feel the best: as a soloist with an orchestra or being a part of the orchestra? Could you, please explain how you feel in both roles?
Stefán: I feel comfortable playing in both situations. In the orchestra I love being able to contribute to the overall sound and having the solo line. When playing concerti I love exploring all the expressive capabilities of the instrument. I always find it helps me grow as a performer whenever I have the opportunity to play concertos with an orchestra.
Yulia: What situation pushed you to reach your top level of performance?
Stefán: I was always very driven when I was a young student to get better at the flute and to this very day this urge is still there. I had wonderful parents that helped me and nurtured me and I had great teachers. For the first 6 years of my formal education I had a lesson only once a month with my teacher who lived in Reykjavik, 10 hours drive from where I grew up. I got new material to practice every month and I think it helped me to develop good work ethics from early on.
Yulia: Yes, it is a good point to be able to work independently!
Yulia: What is the role of the instrument in your performance? What flute do you play now? And what difference does it make, compare to the other flutes that you played before? Is the flute very important, as an instrument to you?
Stefán: I play the Emanuel flute and it's the instrument that I have been playing since 2009. This instrument allows me to play with different colors and different nuances and to change very quickly from playing really really soft to playing louder, without loosing the quality of sound. The mechanism is very strong and reliable as well.
Yulia: Sounds wonderful! In which environment do you feel more at home when you're playing?
Stefán: Wherever there is an audience that wants to listen, whenever there is someone who wants to hear music, I feel very comfortable. I remember when I was very young, my father and I used to go every week to play in nursing homes. I remember how much the people loved hearing music and I realized how much power music can have on the listener. When I reflect back on this experience it definitely made me realize the role we have as musicians in the world; to heal and to uplift both ourselves and those around us.
This past year during the pandemic, people were cut off from hearing live music and I think it has made the desire even stronger to go to concerts. I played the first live concert for an audience last week with the CSO. The first three weeks that the Chicago Symphony came back all the concerts were sold out within 1 hour. It shows you that people really want to get back to hearing live music.
Yulia: When you were talking about nursing homes, you foresaw my next question about people's reaction to your talent. Would you like to add anything, any memorable story?
Stefán:. I can't think of a specific story. However, my advice for students is to have a clear purpose of what you are doing and what you want to do. I absolutely encourage anyone who has this wish to become a musician. It's not an easy path, but it is worth every good effort.
Yulia: Do you offer a mentorship to aspiring flutists? Is it possible to get masterclasses or become your student?
Stefán: I am part of the flute faculty at DePaul University in Chicago. The school holds auditions every year and I encourage students to reach out if they are interested in auditioning for my studio.
Yulia: What repertoire do you have in mind for your future programs? And how would you approach it?
Stefán: I want to record the Bach Sonatas. I recorded the Brandenburg Concertos nr. 2 and nr. 5 with the CSO last year and it inspired me to reconnect with the flute sonatas. I look forward to understanding more about these great works with a fresh approach.
Yulia: That would be wonderful! I would love to hear your Bach! .
Yulia: Another question is how you feel to be a performer within a great Philharmonic.
Stefán: I feel very fortunate that I'm able to be the principal flute of the CSO and to be a part of music making at this level.
Yulia: That's great! Can you also tell me about your experience during the pandemic? Did you try to improve something in you as a person or as a musician? Did you try to use the time when everything shut down?
Stefán: I realized that I have to use every day to practice my skills to keep them and also improve them. I kept myself in optimal shape by daily practice of scales, etudes and repertoire. I focused my attention on breathing, fingers, and posture. Scales are such an important vehicle for these things because if you think about it the majority of the music we play is scales and arpeggios. So if we can play scales musically, with a beautiful sound, with proper posture and breathing, then we have accomplished a lot.
In September 2020 the CSO started an online concert series and different sections of the orchestra got together to record chamber music at Orchestra Hall. Amongst other things I got to record the Mozart Quartet in D major, which was a highlight for me. I had a lot of time to delve into the music and reconnect with it, which was a great thing. I had more time to practice than I ever had.
I was teaching over Zoom for the entire year. My students definitely benefitted from that and felt reinforced to carry on doing what they were doing. It was a difficult school year, but we still made it happen!
Yulia: Thankfully, everything is coming back to normal and definitely it was a valuable experience in some ways.
Stefan, thank you so much for your time and very interesting answers!
Stefán: Thank you, Yulia, my pleasure.
Yulia: Happy birthday one more time!
Stefán: Thank you! It was very nice to meet you!
---
Stefán Ragnar Höskuldsson
Stefán Ragnar Höskuldsson is the principal flutist of the Chicago Symphony Orchestra, as well as a distinguished international soloist and chamber musician. He was appointed to the post in 2015 by Music Director Riccardo Muti. Prior to joining the CSO, he served as principal flute of the Metropolitan Opera Orchestra from 2008-2016. A native of Iceland, Stefán has been praised by the New York Times for his agility and warmth of expression.
Mr. Höskuldsson has performed widely throughout the United States, Europe, and Japan under the skilled direction of James Levine, Fabio Luisi, Valery Gergiev, Daniel Barenboim, Seiji Ozawa, Esa-Pekka Salonen, and Riccardo Muti. He regularly performs at Carnegie Hall with the Met Orchestra and Chamber Ensemble and in 2009 he was featured as a soloist in Pierre Boulez's Mémoriale-Explosant Fixe. Stefán has collaborated on performances and recordings with such artists as renowned pianists Evgeni Kissin, Alfred Brendel and Yefim Brofman, violinist Gil Shaham, and sopranos Diana Damrau and Anna Netrebko. As a member of the Metropolitan Opera Orchestra, Mr. Hoskuldsson has received two Grammy Awards in the category of best opera recording for Wagner´s Ring Cycle and Thomas Ades' The Tempest.
His extensive solo performances include engagements with the Pacific Music Festival in Sapporo, recitals at the Sir James Galway International Flute Festival in Lucerne and a live radio broadcast with BBC Radio 3 In Tune in London. He frequently performs as a concerto soloist with the Chicago Symphony Orchestra, most recently in his critically acclaimed performance of the Mozart D major Flute Concerto.
Stefán is currently a professor at DePaul Univeristy School of music and has been a faculty member with the Pacific Music Festival in Japan since 2010. He has given master classes at The Juilliard School, Manhattan School of Music, Mannes College of Music, Guildhall School of Music and Drama, and the Royal Academy of Music.
Mr. Höskuldsson attended the Reykjavik School of Music in Iceland where he studied with Bernhard Wilkinson. Following his graduation, Stefán attended the Royal Northern College of Music in Manchester, England, where he studied with Peter Lloyd and Wissam Boustany.
Höskuldsson can be heard and seen on live HD broadcasts with the Metropolitan Opera. He has recorded for Castle Classics and the Naxos label-American Classics Series. In 2015 he released his debut solo album on the Delos label.
* All images © Todd Rosenberg
---
Yulia Berry
Yulia Berry is founder of Web Flute Academy, The Babel Flute, The Babel Flute Courses and New England Flute Institute, creator and developer of the popular "All about Flute" Mobile app and the First Global Game for Flutists, highly experienced flutist and mentor teaching at all levels, with a Doctor of Music Arts degree focused in Flute Performance, Pedagogy and Music Education from the Saint Petersburg State Conservatory named after N.A. Rimsky-Korsakov (Russia).
She has performed as a soloist and chamber musician in prestigious venues around the world, and has been praised for her virtuosity, musicality, and expressive playing.
Yulia Berry is known for her expertise in flute pedagogy, innovative and effective teaching methods, which emphasize technique, musicality, and artistry, and her dedication to helping students achieve their full potential as flutists.
She wrote many articles on the connection of the flute with art and the role of the flute in the arts and cultures of different eras and cultures.