Interview with Zacharias Tarpagkos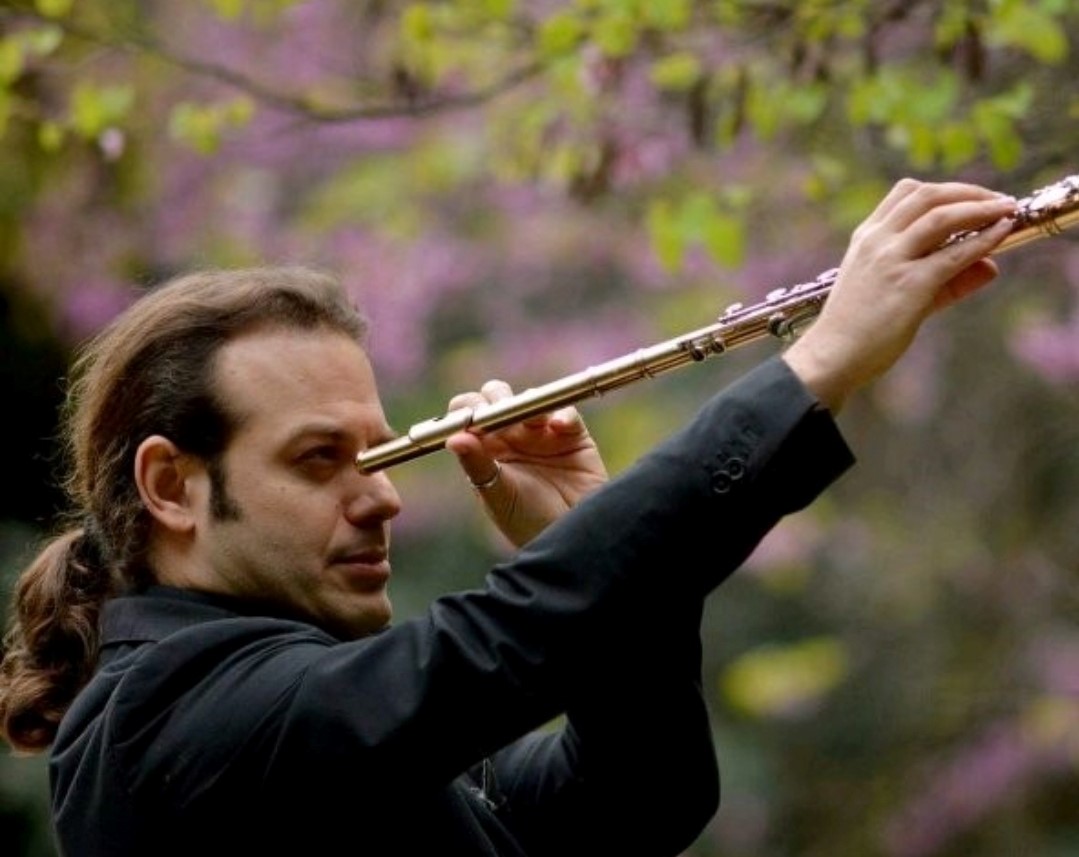 by Laura Chislett
Have you ever sat on a plane for nearly 8 hours then got back on board for another 13 hours? That's how long it took me to get from Sydney to Rome via Singapore. After that investment of time Australians usually stay for a longish period at their destination before having to do the whole trip again in reverse. I spent four wonderful weeks in Europe last August and September: there were friends to visit who I hadn't seen in a long time, the statue of Marcus Aurelias to see in Rome, a Hildegard von Bingen pilgrimage to do, and the opportunity to interact with some wonderful flute players through the interviews.
The foundational idea for the series of interviews was to investigate the diversity of roles and careers which independent and creative musicians are making for themselves at the moment in varying societal conditions.
The interviews are not scholarly in style. They were recorded in cafés in a very relaxed and conversational way. Essentially they are conversations rather than interviews. The order in which they are going to be published reflects the trajectory of my travel around Europe, and then my arrival back home in Sydney.
A big heart-felt thank you to each of the interviewees. You are inspirational.
Laura Chislett
---
Zacharias Tarpagkos is Greek National Opera House Flutist and NGO Keys of Change Trustee, Zach is aiming in advancing and empowering young people's lives through stable music education platforms around the world. As performer he is travelling around the world performing with modern and period flutes as soloist and chamber music ensemble member.
Interview with Zacharias Tarpagkos on 16 September 2022, Athens, Greece
Laura Chislett: Thank you Zacharias for giving up your time for this interview. Can we start with a brief summary of your career?
Zacharias Tarpagkos: My career is based around two major loves that I have, one is as a performer and the other is music education. At the moment I'm a member of the Greek National Opera House and I'm also a member of the early music orchestra Armonia Atenea, both based in Athens. Concerning music education, apart from being a music teacher here in Greece I'm also interested in creating stable music education platforms in places around the world and in Greece, where children have free access to a music education platform, particularly targeting communities which are experiencing social and financial difficulties.
Regarding my performance career, I've played as a soloist in the BBC Proms Festival, in the Salzburg Festival, and in many other countries with the Baroque orchestra, but also with modern flute in places such as Boston, and Japan, as well as Greece. These were fantastic experiences but as we said before, performances have a deeper meaning in my life when they are connected with the way we approach the new generation and the community itself.
LC: Zacharias, what have been some defining moments in your career?
ZT: Now that I'm a father of two young daughters of 2 years and 3 months old, I can say with certainty that their births are major defining moments of my life. Being in connection with such young human beings gives you a completely different perspective on your priorities.
At the same time, other defining moments have been the contact with children around the world. They have taught me amazing lessons of humanity, of fresh spirit, of freedom and communication. Regarding my performing career, playing for a larger audience, or a smaller audience, performing in a great hall, or performing in a local neighbourhood hall can all be powerful experiences because the actual power that performances bring to our lives is in the connection that we try to form with the audience.
But no matter where we play or to whom we perform, the main question is the same, how can we connect with the audience and what is our suggestion regarding the challenges that society is experiencing now. We are living in a period in which global society has so many challenges that we need to ask ourselves, what is our role with music performance and music education regarding these challenges and what answers can we give.
LC. We had a very interesting conversation before I turned the microphone on about connection and the role of a musician in society. Zacharias, would you like to recap on some of those things that you were saying before?
ZT: Before we speak about music itself as a tool, as a music education tool, as a performance tool, we must be honest and clear about what is happening in society now, and how we can intervene in these challenges with our tools. What we spoke of before is that we see that there is a major tendency in society for division, for binary division, for yes or no, for you are with us, or with the opposite.
What we need to understand is how can music performance and education bring what is missing. And what is missing is the search for common ground with others, the search for how we can use these tools as a vehicle to create community again. We've seen through the recent challenges of the war, the Pandemic, the financial crisis, the economic crises that everybody is tending to focus on their individual problem, and they expect an immediate solution.
So what I think music practice, community music, music performance, and music education can offer is the process that is missing: the process of finding myself through your eyes, and you finding yourself through mine. Empathy, interaction, and an ability to see oneself not only in the present but to understand oneself as a part of a group in a long-term process. So, what we spoke about before is that in modern society, what is missing is not the information.
All the information is there, it exists electronically, and is available with the hit of a button. In one second we can have access to classical music concerts, to ethnic music concerts, to every kind of speeches and to PhD and Masters theses, so all the information is there. But what makes this information become internalized and part of my body? That's the human factor, and the human factor is what we are trying to develop through music education.
Because music making takes place only in person, with everybody who wants to participate in this experience being in the same place at the same moment. The energy that happens, not from the result, but from the interaction is something that can never be transmitted through a video or via an electronic medium.
LC: If we could look into the future for a moment, with this kind of community music engagement, what might we see?
TZ: We spoke before about a really big question, how culture can make us more human. Unfortunately, the direction that society is going in at the moment is towards more and more consumerism. So there's a really big danger that some cultural products are not focused on what they might bring in terms of long term solutions. They are to be consumed in the present.
The cultural product and the cultural process should have different manifestations that give the possibility and the ability to go beyond short-term well-being towards connection with others, to be able to think about others, to be able to create empathy, and to find different solutions. Being part of a beautiful concert is fantastic for our well-being, but what are we doing for others. I repeat this again and again, because as artists and musicians we must have this parameter in our minds.
I'm really happy to see that the major organisations are employing brilliant people who are incorporating community music into the curriculum. I'm really happy because at the opera where I work, they're including many activities for people who aren't as privileged as mainstream society. There are programs where they are working with people in prison and with the children of refugees for instance.
At the same time I strongly believe in the individual action of every musician in order to create something from scratch, from zero. Because this is the way that the community is built. The community is built by integrating personalities together, not only through everybody following the rules of an already established way of thinking. We don't need to do global things, we don't need to think only big. Thinking big means thinking small.
The first thing about thinking big is acting small, on our small individual scale. So, I suggest that musicians, wherever they live, have skills that can be offered to a local community. In every city there are underprivileged people, in every city there are shelters, with homeless people, there are hospitals with people who are suffering through difficulties.
What can we do for them? We can make a phone call. We don't have to have an organisation behind us with big funding. We can act individually with no expense. We can make a phone call to a local hospital and offer patients some music to let go of their thoughts of difficult moments, to spend a little time with them, so that they can feel human again, and to let go, let go.
But there can be also a deeper way of working in a society on the local level. I really believe that working on the local level can be an example to others. We don't need Messiahs: we need people as individuals in every local level who will get on fire. They will understand that they have a really powerful tool in their hands. The power will come through the unification of these centres, a lot of centres that are unified by the one purpose: offering to the community.
So yes, the other way that a musician can interact in the local community is he/she can decide to spend one evening per week teaching children who can't afford to have activities, who can't afford to live like children with happiness exploring the world – the world of creation and beauty – because they are in really difficult socio-economic situations, problems of being isolated for various reasons.
What we, as musicians and educators can do is to support and protect childhood, and this can happen by creating a safe environment so that they know that for a certain amount of time each week they are free to explore beauty, self-expression and happiness, to explore connection, games and play, to play with music. The music result may or may not happen, but this is not the important thing. The important thing is the process. And yes, imagine if everyone in the academies could offer two hours of their week like this.
We cannot believe the huge effect this would potentially bring, because these young children, they are the future citizens, who in turn will inspire others. I really believe that it can be like a nuclear reaction. The one individual can influence, 3, 4, 5, 10 people , 10 children.
Nobody cares if they become musicians or not, we want them to become emotionally balanced, so that they know who they are, and they know the process to fulfill who they are. They understand the process of creating the tools for themselves, they know how to take care of themselves and at the same time, how to be part of a group.
LC: I'm very interested in your analogy of a musician starting from scratch when they are preparing a piece for performance as a possible model to bring about societal change. Could you explain that a bit further please?
ZT: The idea, of starting from scratch is a moto in my life, because it means exploring, experimenting, finding my own voice through what I'm researching, accepting that there are many different approaches and at the same time choosing for myself which is the most suitable. If we think about music making and music practicing a few decades ago in the pre-digital era, the student had to search with the teacher how to approach a piece of music. Every aspect of musical expression was explored. It was not dictated by a CD or any kind of video.
This approach takes longer: I'm exploring, accepting some things and rejecting others, so the natural process is not just one of following an accepted path. Starting from scratch means that I'm not only following the best route but I'm finding myself through searching and interacting with the other players. Through the process of searching, of experimenting it's really important that the musician doesn't feel guilty about doing something wrong in the process. It's a continuous process of exploration.
LC: Now, a change of direction:
Is there an audience for independent projects in Greece, and does the Greek Government provide some financial support to independent projects?
ZT: Oh yes, there is an audience who are thirsty for communication: especially after the pandemic measures were relaxed, people needed and wanted the interaction of live events. There is an audience, and because they are so thirsty I see that a part of the audience is eager to explore things that they wouldn't have explored before. So yes, there is an audience, open to experiencing a holistic approach to being part of an event, one which involves all the senses.
The creativity of the musicians can be fantastic and the audience is really really reacting so positively towards these directions.
And for myself, because it's something that I love and I experienced this in my music education, I love being part of projects which are either very forward looking in their aesthetic, or either which look back and search for common ancestors in music, such as early Baroque or Renaissance music, and even Mediaeval music.
It's something that really excites me and gives me sparkles when it's the moment to start rehearsing or to present it to the audience: it not only interests me as a musician, but it also is special for the audience, being very different from the focus of mainstream culture which is largely based in the late 19th and early 20th Century.
I really believe that music itself can be a political action in a way that can take you out of your comfort zone and make you able to understand, not understand with the mind, but to feel a different aesthetic perspective and a different aesthetic context, which allows you to get out of yourself and to feel empathy about others.
So again, yes, music performance can be so powerful.
Zacharias Tarpagkos (Zach Tarpagos)
Zacharias Tarpagkos is recognized as one of the leading flautists of his generation. He was born in Greece in 1983, studied music at the Aristotle University of Thessaloniki and flute at the Greek Conservatory of Athens, and then continued his studies at the Royal Academy of Music in London, where he received a master's degree in music performance with Michael Cox and at the Strasbourg Conservatory, where he studied with Mario Caroli.
Zach has been a member of the Greek Radio Symphony Orchestra and is a regular collaborator with the rapidly growing instrumental orchestra Armonia Atenea, with whom he has performed as soloist on numerous occasions under the baton of George Petrou. Tarpagos has also collaborated with renowned conductors such as Vladimir Ashkenazy and Theodore Kurentzis.
With Armonia Atenea, Zach Tarpagos has been lead flutist on the orchestra's recent recordings with Deutsche Grammophon and Decca Classics, as well as its European performances at the Amsterdam Concertgebouw, the Moscow Conservatory, Chateau de Versailles, Metz, Monte Carlo, Bordeaux, Brussels, Karlsruhe, and Istanbul, with the main orchestra's debut performance at the BBC Proms in London.
His future plans include concert performances with the Vietnamese National Symphony Orchestra in Hanoi, with the Armonia Atenea in Athens and at the Salzburg Festival.
Tarpagos' activities in the field of chamber music spread throughout Europe and the Far East. Recent highlights include his solo concerts at the Blue Rose Hall at Suntory Hall in Tokyo with pianist Panos Karan. He is also a passionate supporter of contemporary music and has collaborated with prominent ensembles such as the Ensemble Modern, which performed Schoenberg's Lunar Pierrot, and the Lutoslawski Quartet, which performed Hosokawa's music in Poland and Athens.
Recent activities include his participation in the International Computer Music Conference and the Stockhausen Open Day in Athens, as well as the world premiere of Taksimi by Andreas Tziartas for Armenian lamento for the Pharos Arts Foundation in Cyprus.
Zacharias Tarpagkos deeply believes that music can make this world a better place by improving the lives of children and youth around the world through music education and access to live performances of classical music. He is a proud trustee and active member of Keys of Change, a charity that promotes music performance as one of the easiest yet powerful ways for people around the world to build bridges to peace and bring about positive social change.
https://www.greekly.gr/zach-tarpagos
---
Laura Chislett
Australian flute player Laura Chislett has established herself on the international stage as a performer, educator and recording artist across a wide range of musical styles. Her recordings, on ten different labels and multiple streaming platforms, range from Bach and Boulanger, to Ferneyhough and Dench.
It's perhaps in the extraordinary solo flute repertoire of the 20th Century onwards that Laura has especially made her mark, forging her way through daring sonic journeys and seeking to extend the expressive capabilities of the flute. She has long been a champion of Australian music, and music by female composers.
Laura has become known for her inspiring and rigorous performances, described as the "Rolls Royce versions" by the legendary composer Horatiu Radulescu.