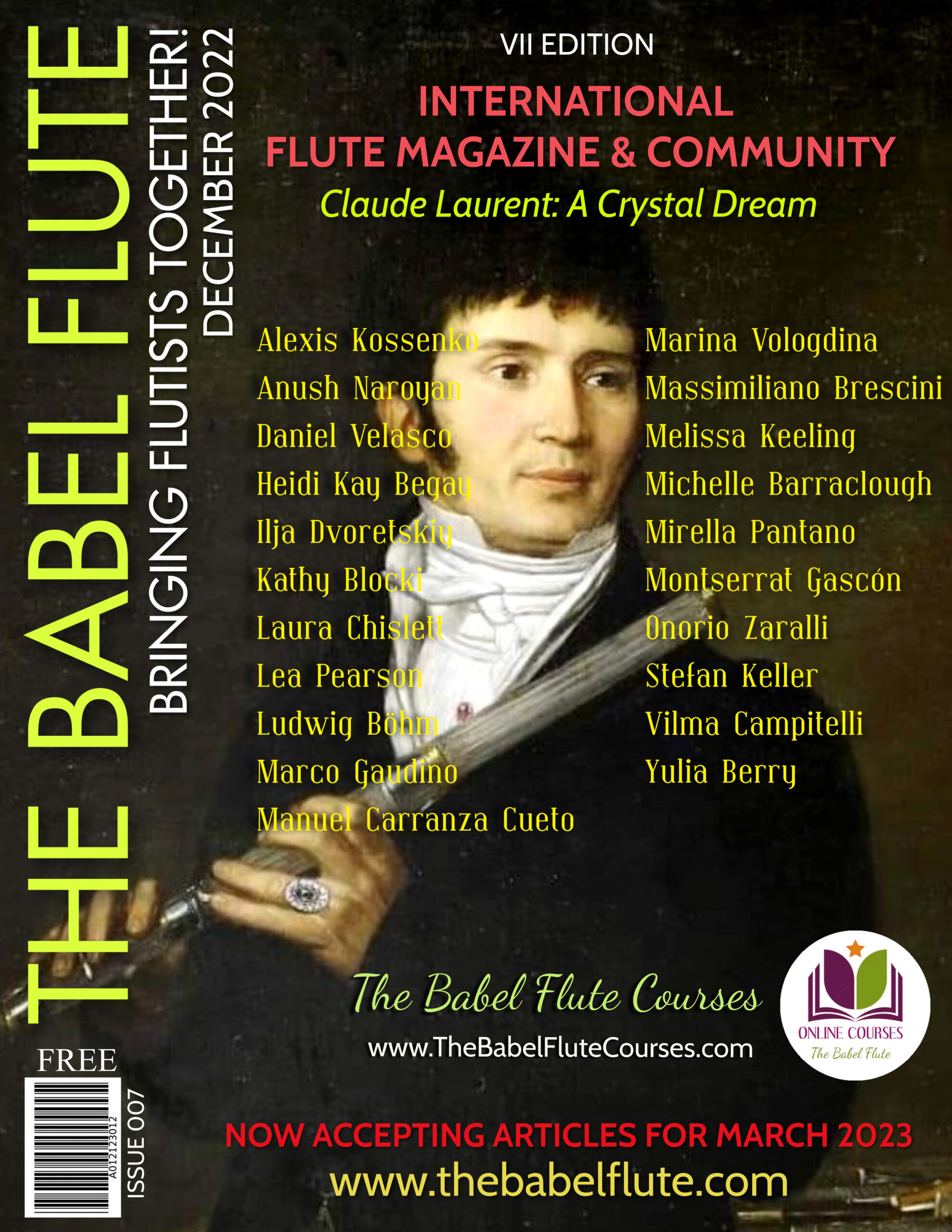 Dear flutists,
We are introducing a new holiday edition of The Babel Flute! We are pleased to announce that our magazine is now being read in 206 countries around the world! We have 4 new authors and 1 more country (Ecuador) in this edition, which makes it total of 61 authors from 24 countries!
On November 21, we launched the new Babel Flute online course platform with first two courses by Onorio Zaralli: A Tale of Music and The Flute of Oz, which can be read in any language.
On December 4th we celebrated Ernesto Köhler's birthday by playing the very First Global Flute Game. The reaction to the game was so overwhelming that after a second wave of traffic, the site crashed. 37 countries participated. The site is working fine and we will open the game again for a longer time – from December 22nd to January 1st. Don't miss it!
Congratulations to the Colegio Santa Maria Marinistas (Peru) students for participating in and winning Best Critical Essay Contest, organized, sponsored and held in November of 2022 by The Babel Flute, International Flute Magazine & Community. The works of the winners are published in this edition.
In the Holiday edition:
The cover of this edition depicts a portrait of Claude Laurent, a Parisian master of unique crystal flutes that became a novelty of the 19th century. The wonderful article by Montserrat Gascon (Spain), who did extensive research and published a book on Claude Laurent, was selected in the Featured category!
French flutist and conductor Alexis Kosenko presents a set of 4 new CDs with music by Eugène Walckiers, recorded by him on 7 historical flutes. The album will be released on January 27, 2023.
Anush Naroyan (Greece-Armenia) will introduce you to the flute music of 20th century Armenian composers, where you can discover some unknown gems of the flute repertoire.
Daniel Velasco (Ecuador) recorded and released the album "Andean Flute", consisting of music written by Ecuadorian composers for flute and piano. In his article we can learn more about this special flute repertoire.
Heidi Kay Begay (USA) shares the secrets of how to get corporate sponsorships.
Ilja Dvoretsky (Russia) presents the 4th part of his "Basics of the Flute" in which he covers the throat, mouth and tongue.
Kathy Blocki (USA)' new series of teaching methods "Animal Zoo" is a winner of 2022 National Flute Association Newly Published Competition and she will tell you the story of its creation.
Laura Chislett (Australia) met and interviewed many flutists during her recent trip to Europe. We are publishing her first three interviews in the new category "Flutists travel". Stay tuned for more interviews by Laura for the next edition!
Read interview with Roberto Fabbriciani in Italy
Read interview with Gergely Bodoky in Berlin
Read interview with Benedek Csalog in Hungary
Lea Pearson (USA) discusses the importance of professional development for flute teachers and opens a list of professional resources. Add yours in the comments!
Ludwig Böhm (Germany) gives a beautiful biography of Theobald Boehm and sheds light on the correct spelling of his name, as we continue the publication of a series of articles by Ludwig Böhm from"Commemorative Writing on the occasion of Theobald Böhm's 200th Birthday, Munich 1994", gradually approaching the celebration of Theobald Böhm's 230th birthday in 2024.
Manuel Carranza Cueto (Peru) talks about an important piece of the flute repertoire "Soliloquio I" for solo flute by the Peruvian composer Celso Garrido Lecca.
Marco Gaudino (Italy) analyzes the physiological aspect of staccato.
Marina Vologdina (Russia) takes us to the fascinating mythical world of the Greek god Pan and his Syringa (Syrinx) and their powerful inspiration, thanks to which so many works of art and music were created.
Massimiliano Brescini (Italy) gives advice on how to keep your flute in top shape.
Melissa Keeling (USA) will guide you into the fascinating world of the electric flute. Her explanations are easy to understand and follow, even if you are a beginner in electric flute.
Michelle Barraclough (USA) shares her concept and experience of a student concert that involves exploring and performing the music of underrepresented composers.
Mirella Pantano (Italy) gives useful tips on how to increase the chances of a successful performance.
Onorio Zaralli (Italy) talks about the art of ornamentation in the Italian Baroque adagio and gives audio and musical examples.
Stefan Keller (Switzerland) presented visitors' feedback on Flautando, a unique event for flute players in Switzerland, held on November 5. Read impressions!
Vilma Campitelli (Italy)' article tells about Chiquinha Gonzaga (1847-1945), female Brazilian composer and pioneer of human and civil rights
Yulia Berry (USA) shares unique facts about Leonardo da Vinci and summarizes what flute players can learn from his life and legacy.
As always, the new edition comes with new flute games and quizzes, created by Onorio Zaralli. Test your knowledge and have fun!