The Electric Flute: An Introduction to Playing with Effects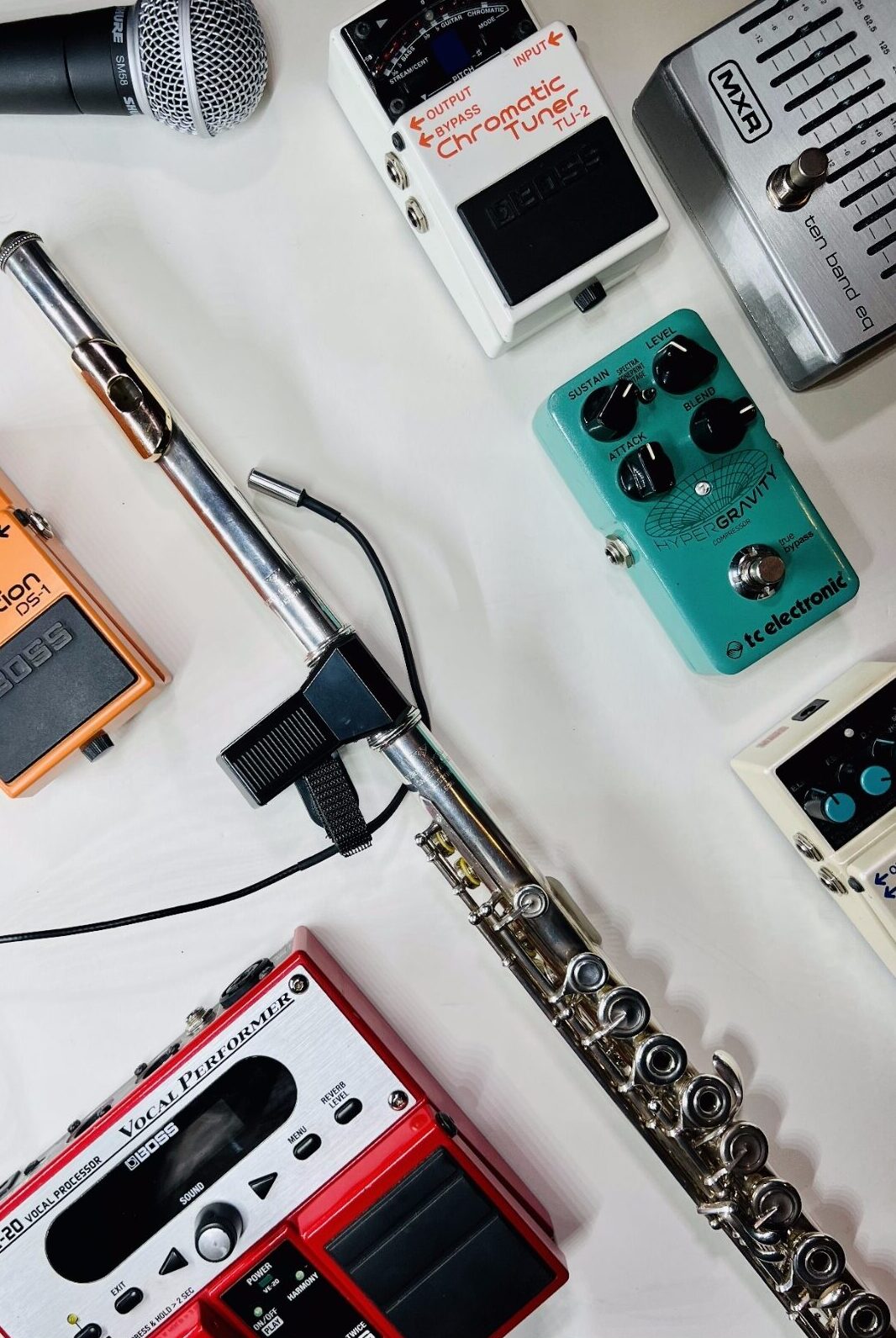 By Melissa Keeling
INTRODUCTION
I will never forget the first time I heard my flute through effects pedals (the "electric flute"). Though I didn't realize it at the time, that day was the beginning of a beautiful journey of creativity, exploration, and finding joy in my music-making. Without effects, I'm not sure I would still be playing the flute today.
Today, the lines between genres have become blurred. Increasingly, the gigs have expanded to include jazz, rock, pop, recording sessions, and loud settings where the flute needs more power (i.e., amplification) and new tone colors (effects). In contemporary music, more compositions require the use of electronics (i.e., backing tracks, microphones, etc.). Understanding microphones, amplification, and recording technology are required skills of modern-day flutists. Effects pedals – such as delay, harmonizers, loopers, and more – can be used to enormously expand the musical potential available to flutists.
Have you ever been interested in exploring the world of effects pedals? If so, I hope this article will serve as an introduction so that you can experience the joy and freedom of playing with effects!
Melissa Keeling, "37 Days"
Setup
There are so many ways to create an electric flute setup. This article focuses on using effects pedals, though you can also achieve similar results with computer software (DAWs) such as Logic, Ableton Live, and others.
There is an enormous amount of gear available on the market today. The exact microphones and pedals you choose largely depends on your budget, your application, and your personal musical preferences. Technology will inevitably change and eventually become obsolete, but the basic concepts will remain the same, at least for the foreseeable future.
One important consideration is that most effects pedals are designed to be used with the electric guitar, which produces sound in a much different way than the flute. However, some pedals are designed to be used with microphones, and yield great results when used with the flute. Multi-effects pedals are cost-effective and simple to setup. The two multi-effects pedals I have used most are the BOSS VE-20 and the Line 6 Helix Floor pedal. Both feature microphone inputs.
An electric flute setup essentially consists of:
Flute
Microphone
Effects
Speakers (or headphones)
Cables
Based on this formula, a simple setup that I often recommend for someone starting out is:
Flute
Microphone – Shure SM 58 with mic stand
Effects – BOSS VE-20 Vocal Performer (multi-effects pedal which includes effects such as harmonizers, delay, reverb, distortion, as well as a looper)
Speakers – Behringer MPA40BT-Pro PA system
Cables – two XLR cables
Types of Effects
TIME-BASED EFFECTS… Offers a sense of spaciousness and depth.
| | | |
| --- | --- | --- |
| EFFECT | What it does | Pedal Models |
| Delay | The delay effect creates an echo. Some delay pedals include settings such as "reverse," in which the echoes play backwards. | BOSS Digital Delay DD-7 Electro-Harmonix CanyonTC Electronic Flashback 2 |
| Reverb | Reverb simulates the natural reverberation of a space. | EarthQuaker Avalanche RunStrymon BigSky |
TIMBRAL EFFECTS… Adds new colors to the flutist's palette.
| | | |
| --- | --- | --- |
| Distortion | In addition to adding "crunchiness" to the timbre, this effect is often used to sustain and fatten the sound. | BOSS DS-1 DistortionElectro-Harmonix Nano Big Muff |
| Chorus | The chorus effect is designed to emulate the sound of a group of musicians playing together, each playing at a slightly different pitch and time. This creates space, depth, and thickens the overall texture. | BOSS Chorus Ensemble CE-1Electro-Harmonix Small CloneMXR Analog Chorus |
| Flanger | Flanger creates a dramatic "swooshing" sound. It works by splitting the signal in two, slightly delaying one of the signals (usually 20 milliseconds or less), and constantly changing the delay rate between the two signals. | Electro-Harmonix Electric MistressMXR Micro FlangerTC Electronic Vortex Flanger |
| Phaser | The phaser effect makes a smooth, sweeping sound. It was partially inspired by rotary speakers on electric organs. | Electro-Harmonix Small StoneTC Electronic Helix Phaser |
PITCH-BASED EFFECTS… Can be used to play harmonies and pitch bends; they also extend the range of the flute several octaves.
| | | |
| --- | --- | --- |
| Harmonizer | A harmonizer automatically generates a pitch at the interval you specify. Many harmonizers allow you to specify intervals such as an octave (higher and lower), as well as the third, fourth, fifth, and sixth. | BOSS Harmonist PS-6Electro-Harmonix Pitch ForkPOG Polyphonic Octave Generator |
| Whammy | Bends pitches and functions as a harmonizer. | Digitech Whammy |
LOOPERS… Allows for a single performer to create layered arrangements and overdub solos.

BOSS Loop Station RC-30, RC-505, and VE-20
Headrush Looperboard
TC Electronic Ditto+
Short History of the Electric Flute
The story of the electric flute is about the artists who were inspired by electronic technology and decided to create something new. The musical landscape changed dramatically in the 20th century, especially following the development of electronic equipment such as microphones and recording devices. The popularity of the electric guitar, and electric music styles, pushed the development of effects pedals and other gear.
It would be impossible to list every flutist who has played into a microphone, but it's important to note that there have been a number of rock, electronic, and jazz groups that have featured flute. In this setting, flutists must be amplified in order to be heard. Not all of these flutists used effects, or if they did, the effects were usually subtle. These electric flutists, among many others too numerous to list here, furthered the development of the electric flute.
Rahsaan Roland Kirk ("Serenade to a Cuckoo")
Ian Anderson with Jethro Tull ("Locomotive Breath") is arguably the most commercially successful electric flutist.
Florian Schneider with Kraftwerk ("Ruckzuck")
Ian McDonald with King Crimson ("I Talk to the Wind")
Although the microphone was invented over a century ago, effects pedals first appeared on the market in the 1960s. Over time, the technology has become increasingly sophisticated and easier to use with the flute.
1960s-1970s — Electric flutists used microphones and pickups that worked (such as the Barcus Berry), but weren't always reliable or didn't produce a great tone. The effects pedals available at this time were almost exclusively designed for guitars, which didn't always work well with the flute.
1980s-1990s — Multi-effects units (Lexicon LXP-5), MIDI pedals, loopers (Oberheim Echoplex), and advancements in microphone technology (DPA mics) made playing flute with effects more manageable.
2000s and beyond — More sophisticated digital multi-effects pedals came on the market (Line 6 Helix/HX and Headrush Pedalboard), as well as powerful personal computers and music software (Logic Pro and Ableton), which improved the tone and expanded the options available to the electric flutist.
The Future of the Electric Flute
Today, there are many publications in flutists' libraries dedicated to tone color, vibrato, technique, and every other topic imaginable. I believe more electric flute resources are needed. Technology will continue to develop and will likely become even more prevalent in the future.
My hope is that there will be more publications for (and by) electric flutists, including interviews with electric flutists, gear reviews, and compositions. As we move further into the 21st century, I hope that electric flute traditions and methods will become even stronger.
CONCLUSION
If you are interested in learning more, please take a look at my recent book, "The Electric Flute: A Beginner's Guide to Playing Flute with Effects" (available on my website, www.melissakeeling.com). The book includes numerous sample setups, details about using microphones and amplification systems, in-depth information about each of the most common effects, looping, improvisation, and more. The sheet music for five electric flute pieces is also included in the book.
There are also interviews with eight flutists from around the world, who graciously agreed to share about their electric flute journey: Robert Dick, Michele Gori, Stefan Keller, Courtney King, Elsa Nilsson, David Weiss, Leszek Wisniowski, and Jose Valentino.
I wish you all the best in your electric flute journey! Most importantly, have fun!
---
MELISSA KEELING
Acclaimed for performing repertoire ranging from orchestral literature to electronic music, flutist, composer, and educator Dr. Melissa Keeling is based in Bowling Green, Kentucky. Her music has been described as "revelatory" (The Flutist Quarterly), "the most creative flute writing of 2018 next to Bjork… a delight… stunning and moving" (The Flute View). Melissa is a Trevor James International Flute Artist.

Dr. Keeling regularly presents solo and chamber music across the country, appearing as a guest artist and soloist at festivals and universities across the USA. Her solo albums, sonyq (2010), SUPERSONYQ (2018), and The Quarantine Tapes (2020) feature original music for flute with effects pedals. As an educator, Melissa currently teaches courses in music theory and music education at Western Kentucky University. Her private flute studio includes students from all over the world. Dr. Keeling is also a certified K-12 educator with seven years of public school classroom experience.
Dr. Keeling holds degrees from The Graduate Center, CUNY (D.M.A., Music Performance), Middle Tennessee State University (M.A., Music Performance), and Western Kentucky University (B.S., Music Education). She has studied with Robert Dick, Deanna Little, and Heidi Álvarez.