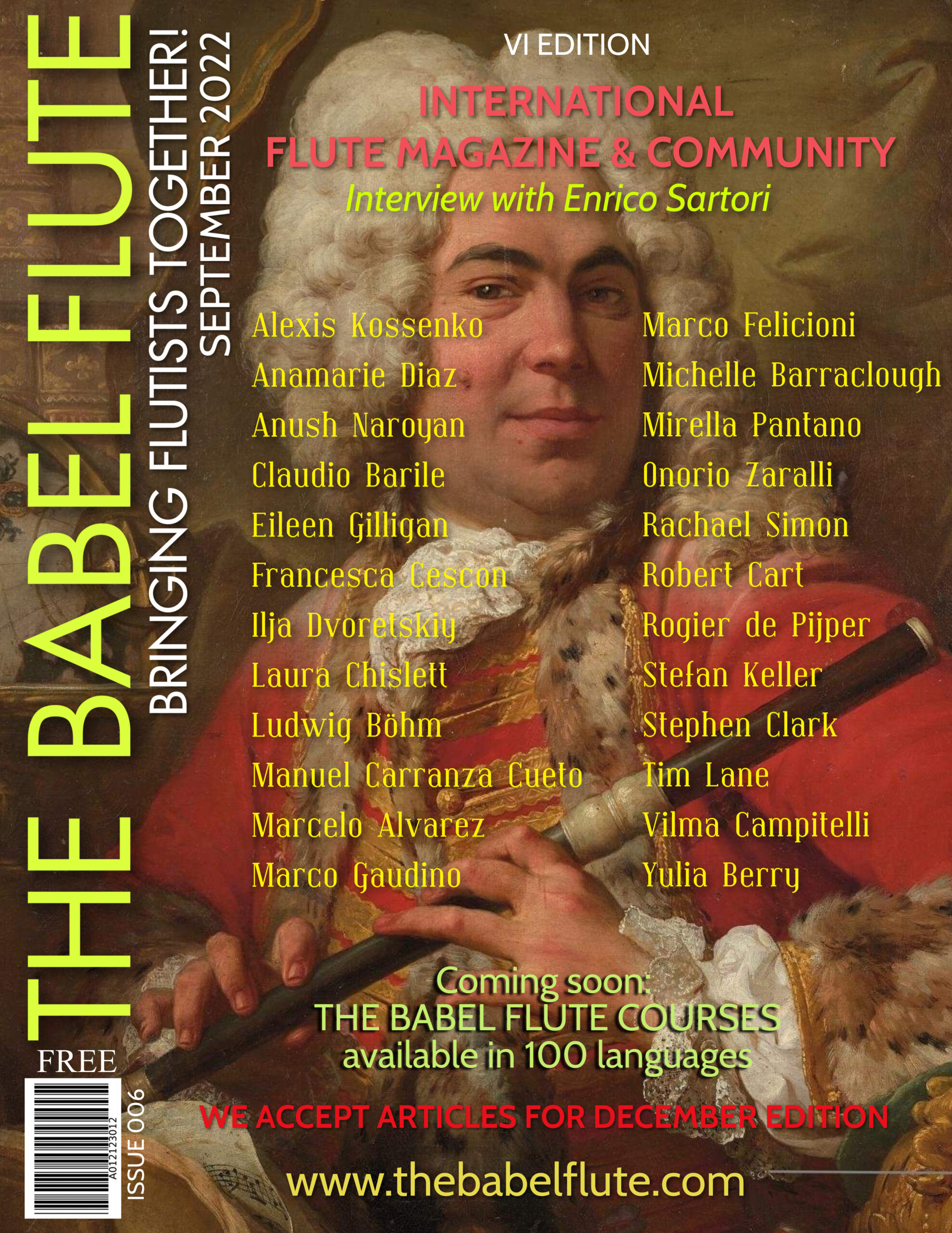 Dear flutists, we would like to present the 6th edition of The Babel Flute.
For a year and a half of the existence of our magazine and community, it became clear how many talented flutists in the world are ready to share their discoveries, projects, research, experience and unique pedagogical methods! We have 8 new authors and 2 more countries in this edition!
The Babel Flute has generated unprecedented interest among flutists from all over the world. Since March 2021, the magazine has received over 140,000 views from 146 countries. For a flute magazine, this is an incredible number!
We want to thank our contributors for their hard work, professionalism and passion for creating unique articles for this incredible publication!
In this edition, read Yulia Berry's interview with Enrico Sartori, a wonderful Italian flutist, principal conductor of the Jilin Youth Baroque Orchestra, artistic director of Bella Culture Media Co., Ltd. and professor of flute at the Northeast Normal University (China).
Alexis Kossenko (France), renown flautist, conductor and musicologist tells about his grandiose project "Les Concerts de Pan". Don't miss the opportunity to learn about it and contribute in the future to this incredible flute encyclopedia.
Anamarie Diaz, The Financial Flutist (USA) provides invaluable advice on how to overcome the starving artist mentality.
Anush Naroyan (Armenia-Greece) talks about the Armenian flute-type wind instruments shvi and sring, illustrating the article with video examples of their unique sound.
Claudio Barile (Argentina) shares his experience of meeting the great Astor Piazzolla and talks about his work on Piazzolla's Tango Etudes for flute solo.
Eileen Gilligan (Australia) brought up the subject of vocalisation, as a great warm up tool.
Francesca Cescon (Italy) tells about Carla Rebora, wonderful Italian composer, who wrote an extensive repertoire for the entire flute family
Ilja Dvoretskiy (Russia) continues to analyze the basics of playing the flute. In part 3, he talks about the importance of proper placement of the flute on the lower lip.
Laura Chislett (Australia) talks about the flute music of Reza Vali, a reknown Iranian-American composer whose 70th birthday we are celebrating this year.
We are starting the publication of a series of articles by Ludwig Böhm from"Commemorative Writing on the occasion of Theobald Böhm's 200th Birthday, Munich 1994", gradually approaching the celebration of Theobald Böhm's 230th birthday in 2024.
Manuel Carranza Cueto (Peru) talks about the importance of encouraging reading, analysis and critical writing about art and culture in school students. We held a contest and published his students' essays in the new category "Students' works"
Marcelo Alvarez (Argentina) tells us about the methodology of The Conscious Flutist, in which the body is the center of operations of musical action and the air is its main entrance, establishing a trilogy of relationships between mind, body and flute.
Marco Gaudino (Italy) explains the physical aspects of vibrato.
Marco Felicioni (Italy) shows and demonstrates his collection of Chinese flutes.
Michelle Barraclough (USA) has great advice for college students (and all young professionals) from a college professor's point of view to get off to a good start.
Mirella Pantano (Italy) develops the theme of mindfulness and psychokinesthesia for flute practice.
Onorio Zaralli (Italy) analyzes F.Schubert's Introduction, theme and variations op. 160
Rachael Simon (USA) provides invaluable advice on how to choose the best flute pads. We nominated her article in the Editors' Choice category for this edition!
Robert Cart (USA) introduces flutists to basic physiological concepts of autonomic arousal.
Rogier de Pijper (The Netherlands) talks about a super-cool technique called ghost harmonics and how it can help you with the high register.
Stefan Keller (Switzerland) gives great advice on on how to approach improvisation, especially if you've never tried improvising before.
Stefan also makes an announcement about "FLAUTANDO – Boswil", a famous flute event in Switzerland since 1999 – to be held on November 5, 2022.
Stephen Clark (UK – USA) explains the difference between different types of editions of Bach music, giving you the confidence to choose the right edition for your goals.
Tim Lane (USA) talks about Richard Carte's 1867 system flute model and its three areas of improvement over the two flute designs he combined to "create" it: his own 1851 flute system and the Boehm flute system.
Vilma Campitelli (Italy) tells about Vitězslava Kaprálová, a young composer and conductor from the Czech Republic, a close friend of Bohuslav Martinu, and her flute music.
Yulia Berry (USA) did some investigation on the mysterious portrait of the flutist on the cover and invites you to ponder and vote on the identities of the artist and the flutist.
Do not forget to play our new flute games and test your knowledge in the new flute quizzes, brought to you by Onorio Zaralli!
Remember to use the translate button on the website to read all articles in your preferred language.
We hope you enjoy reading, sharing, commenting, discussing and supporting our authors.
We invite everyone to join our international flute community!
We start accepting articles for the December Edition.
---