The Flute Music of Reza Vali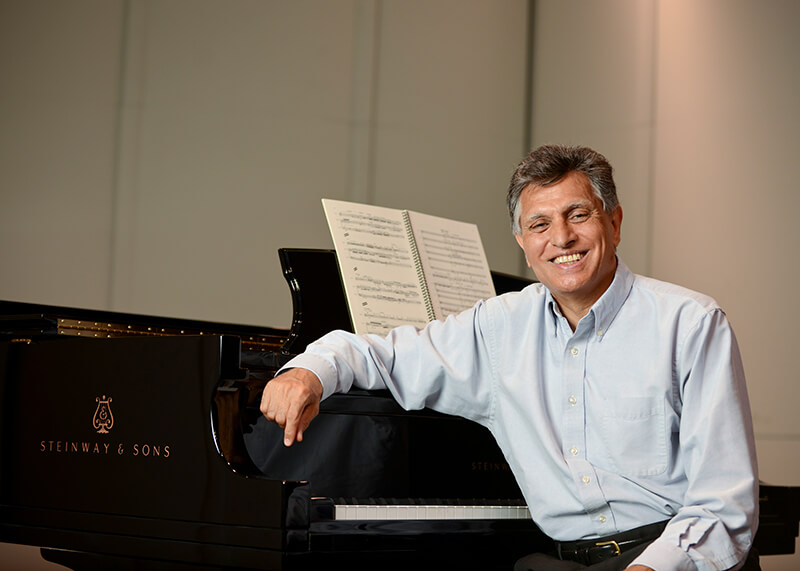 by Laura Chislett
This year marks the 70th anniversary of the birth of Reza Vali, a renowned Iranian-American composer, professor of composition at the School of Music, Carnegie Mellon University. In this article, Australian flutist Laura Chislett talks about his flute music.
I met Reza Vali in Pittsburgh in 1992 where he teaches at Carnegie Mellon University. His name was already known to me through a trusted mutual friend and composer, Gerard Brophy (whose flute concerto I was performing in Pittsburgh). Now he is widely known as the "Iranian Bartok".
Over the course of his career, Reza Vali has created a substantial and highly individual contribution to the repertoire of the flute. All of his flute works reference the Iranian end blown flute, the Ney, with its characteristic melismatic phrasing, and all of them incorporate some use of Persian-inflected scales. My first encounter with any of Vali's compositions was with the extraordinary solo flute piece called 'Song' in the early 1990's. 'Song' was a 'great leap forward' for me due to the executive challenge of the simultaneous singing and playing. I'd never encountered a score with such high level demands before. Some tentative initial efforts revealed to me that 'Song' is an exceptional piece of music, and that it therefore demanded an exceptional performance. No Pressure! In retrospect, through practising 'Song', I learned a lot: about voice production, tongue placement, and about transcending what I'd thought were my own physical limits.
I've given many performances of 'Song' since those initial tentative efforts, in various acoustics. The best acoustic was "wet" and favoured the upper partials.This fortuitous combination is especially generous to the simultaneous singing and playing sections, making it feel as though you're playing a 100-foot-long super-flute. The voice spectrum adds intensity and depth to the flute sound, especially in the low register. It's something every flute player should experience for the sheer executive joy of playing such a resonant, overtone rich, super-sonority.
But there is more to 'Song' than the singing and playing. After presenting two contrasting themes, one Western and Modernist, the other Persian, Vali continues by way of offsetting one style against the other. The ensuing "battle" is quite something. Indeed, 'Song' is a show stopper, but there are wonderful moments of introspection too. Ultimately it's an extremely eloquent piece which has that elusive trait of immediacy. The music says it all. Here's a link to 'Song' on Spotify:
I've put some links to recordings of a selection of Reza Vali's flute compositions at the end of this article. He celebrated his 70th birthday in early September. To mark the occasion the BBC produced a feature segment about him with excerpts from several of his pieces. Here's a link to the video clip which is in Farsi but there are subtitles in English:
The Australian/American scholar and flute player, Marie Heinrich, has recently completed a PhD on Reza Vali's flute music. She has created an analysis of, and performance guide to, several of Vali's flute pieces. She also discusses the process of developing a CIPP, a Culturally Informed Performance Practice in relation to each piece, which can be applied more broadly to other repertoire, and as such will certainly become a widely cited reference source. Publication is imminent, but in the meantime, here's a link to an abstract summarising Heinrich's presentation at the European Platform for Artistic Research in Music in April of this year.
https://aec-music.eu/event/european-platform-for-artistic-research-in-music-eparm-2022/abstracts-and-bios/
Reza Vali's music is published by Keiser Southern Music and can be ordered online via their website, https://www.keisersouthernmusic.com/composers/reza-vali
Zand for flute and string trio
Flute Concerto 
Folk Songs, Set no. 9 for flute and 'Cello
Reza Vali
Reza Vali was born in Ghazvin, Iran, in 1952. He began his music studies at the Conservatory of Music in Tehran. In 1972 he went to Austria and studied music education and composition at the Academy of Music in Vienna. After graduating from the Academy of Music, he moved to the United States and continued his studies at the University of Pittsburgh, receiving his Ph.D. in music theory and composition in 1985. Mr. Vali has been a faculty member of the School of Music at Carnegie Mellon University since 1988.
He has received numerous honors and commissions, including the honor prize of the Austrian Ministry of Arts and Sciences, two Andrew W. Mellon Fellowships, commissions from the Pittsburgh Symphony Orchestra, the Boston Modern Orchestra Project, the Pittsburgh New Music Ensemble, Kronos Quartet, the Carpe Diem String Quartet, the Seattle Chamber Players, and the Arizona Friends of Chamber Music, as well as grants from the Pennsylvania Council on the Arts, The Pittsburgh Foundation, and the Pittsburgh Board of Public Education. He was selected by the Pittsburgh Cultural Trust as the Outstanding Emerging Artist for which he received the Creative Achievement Award.
Vali's orchestral compositions have been performed in the United States by the Pittsburgh Symphony, the Seattle Symphony, the Boston Modern Orchestra Project, the Baltimore Symphony, the Memphis Symphony Orchestra, and Orchestra 2001. His chamber works have received performances by Cuarteto Latinoamericano, the Pittsburgh New Music Ensemble, the Carpe Diem String Quartet, Kronos Quartet, the Seattle Chamber Players, and the Da Capo Chamber Players. His music has been performed in Europe, China, Chile, Mexico, Hong Kong, and Australia and is recorded on the Deutsche Grammophon, Naxos, New Albion, MMC, Ambassador, Albany, and ABC Classics labels.
---
Laura Chislett
Australian flute player Laura Chislett has established herself on the international stage as a performer, educator and recording artist across a wide range of musical styles. Her recordings, on ten different labels and multiple streaming platforms, range from Bach and Boulanger, to Ferneyhough and Dench.
It's perhaps in the extraordinary solo flute repertoire of the 20th Century onwards that Laura has especially made her mark, forging her way through daring sonic journeys and seeking to extend the expressive capabilities of the flute. She has long been a champion of Australian music, and music by female composers.
Laura has become known for her inspiring and rigorous performances, described as the "Rolls Royce versions" by the legendary composer Horatiu Radulescu.
---