On the Trail of my Great-great-grandfather Theobald Böhm, Flautist, Composer, Flute Maker, 1794–1881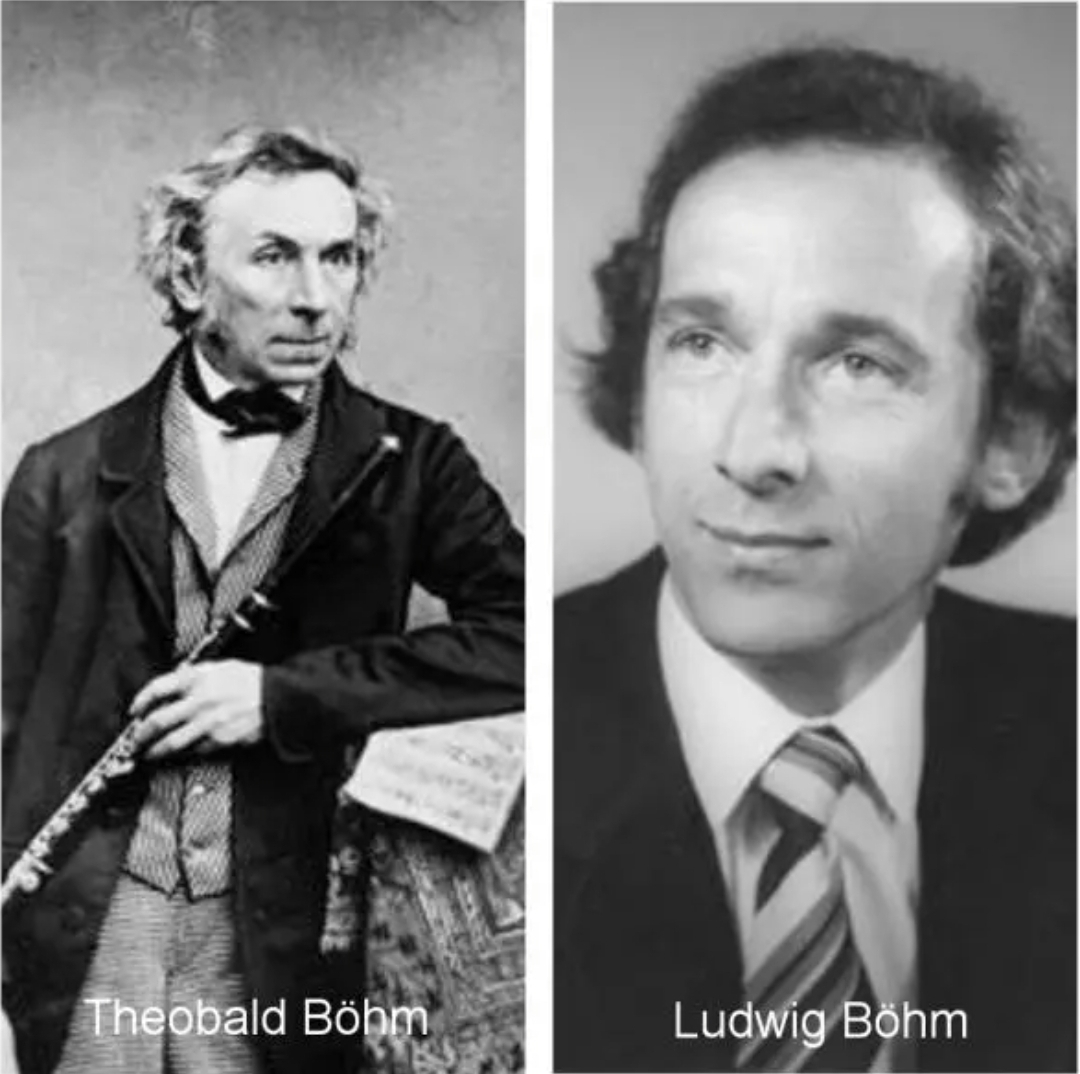 by Ludwig Böhm
***We continue the publication of a series of articles by Ludwig Böhm from"Commemorative Writing on the occasion of Theobald Böhm's 200th Birthday, Munich 1994", gradually approaching the celebration of Theobald Böhm's 230th birthday in 2024.
My interest for Theobald Böhm's descendants was raised in April 1970, when my father organized a family reunion. After the reunion, I decided to prepare an address list of all the descendants and to bring up to date the genealogical tree of our family from 1936, which goes back to 1498. In December 1971, the revised genealogical tree with about 100 addresses in Germany, Austria, Belgium, Portugal, Namibia, South Africa, USA (California and Hawaii), Chile and Australia was finished and sent to about 250 descendants and spouses.
My interest in Theobald Böhm was roused only in 1979, when I discovered, among the documents of my father, a copy of our family chronicle with 550 pages, which was difficult to read and of which 50 pages gave a detailed report of the life of Theobald Böhm. Already after the first reading, I was fascinated by the versatility of my great-great-grandfather and I decided to have the chronicle newly typed and to publish it for the first time. The author Dr. Karl Böhm had finished the manuscript shortly before his death in 1944, but it remained unpublished. In December 1979, volume 1 of the revised family chronicle was sent to all descendants.
In view of the approaching centenary of Theobald Böhm's death on 25th November 1981, I started in October 1980 to collect photocopies of all documents related to him such as letters, articles, concert programmes, concert reviews, and compositions and to search for his flutes. This was the hour of birth of my Theobald Böhm archive. In preparation for the celebration of the centenary of his death, I sent, in December 1980, information about Theobald Böhm including photocopies of his two pamphlets about the flute from 1847 and 1871 and of the two biographies by Prof. Karl von Schafhäutl and Marie Böhm from 1882 and 1898 to his descendants and to some flute friends and libraries.
In order to find more material, particularly his compositions and flutes, which had been scattered to the four winds, I sent in March 1981 a letter of research to 600 musical instrument collections and 600 libraries in 60 countries in German, English, French, Spanish, Italian and the Russian language. I also published a research report in various music and flute journals in Germany and abroad with the request of more information.
In August 1981, I delivered a short speech at the annual convention of the National Flute Association in Detroit, which was entirely dedicated to the memory of Theobald Böhm and whose participants provided me with valuable information. Particularly successful was the following research in Washington, Library of Congress, which houses the unique flute collection of Prof. Dayton C. Miller. It contains, among other things, about 1800 flutes, about 2400 flute books and about 2750 compositions for flute. Besides a great quantity of documents, I found there 42 flutes by Theobald Böhm and his partners and a great number of his compositions and arrangements, among them were most of the handwritten arrangements for the alto flute in G, which went first to Cuba and then to the USA by Theobald Böhm's last pupil James S. Wilkins (1850–1912) and whose existence was hardly known by anybody.
On 25th November 1981, a great Theobald Böhm exhibition was opened in the Münchner Stadtmuseum and on 27th November 1981, I organized a festival concert in the Cuvilliés Theatre, during which the most beautiful works of Theobald Böhm were performed by famous soloists. The next day, a family reunion with about 120 descendants and numerous guests of honour took place in the Hotel Bayerischer Hof. In connection with it, a wreath was placed on the Old Southern Cemetery and the exhibition was visited.
After finishing successfully my final exams as teacher of English, French and Spanish in February 1983, I have been able to dedicate all my time to completing my archive and to preparing my publications on the occasion of Theobald Böhm's 200th birthday. In June 1983, I discovered in the Munich Municipal Archives the complete estate of Theobald Böhm, which our family chronist Dr. Karl Böhm had collected and had bequeathed to the Stadtarchiv Munich. As the estate was not catalogued in the turbulence of the war, it was thought lost for 40 years. As the year before in the Library of Congress, I put the documents in order, made an inventory and completed them with original documents from the 19th century and numerous articles from the 20th century which were in my possession.
In September 1985, I searched for programmes and reviews of concerts by and with Theobald Böhm in the libraries of Basel, Bern, Zurich, Lausanne, and Geneva. In December 1985, in the archives of the publishing house Schott in Mainz, with one exception, all manuscripts of the compositions by Theobald Böhm published by Schott came to light. I discovered further concert programmes and reviews in June/July 1986 in the libraries of Augsburg, Berlin, London, Nuremberg, Regensburg, and Vienna. Until this time, I had collected photocopies of about 60 concert announcements, about 90 concert programmes, about 120 concert reviews as well as about 520 handwritten or printed compositions and arrangements with about 10 000 pages in all. The transcriptions of the letters and articles amounted to about 1000 single spaced typewriter pages. The number of letters to libraries, museums and private persons ran up to about 3000.
In August 1986, I decided to prepare a list of the around 300 still existing flutes by Theobald Böhm and his partners and successors and to make a short description and a photograph of each instrument. The research trips which were necessary for this task lead me to the USA in 1986, to several European states in 1987, again to the USA and to Russia in 1988 and to Australia in 1989.
After that, the collection of the material was more or less finished and in the following years until 1994, I have been mainly occupied with completing and correcting the manuscripts of my publications for the occasion of the 200th birthday. They include my edition of the complete musical works in cooperation with two musicologists (about 2500 pages) and my 20 books (about 3500 pages).
The research trips are detailed in the following list. Only those places are mentioned, where I did research in connection with Theobald Böhm:
1981 Berlin, New York, Interlochen (lecture), Detroit (lecture), Cleveland, Washington
1982 Ramsgate (lecture), London, New York, Washington, Boston, Tokyo, Tsumagoi (lecture), Paris, London
1983 Frankfurt, Nuremberg
1984 Frankfurt, Stuttgart, Frankfurt, Frankfurt
1985 Stuttgart, Zurich, Bern, Geneva, Lausanne, Basel, Düren, Paris, Mainz
1986 Stuttgart, Frankfurt, Mainz, Vienna, London, Frankfurt, Erlangen, Regensburg, Augsburg, Berlin, Regensburg, Nuremberg, New York, Scarsdale, Washington, Oklahoma City, Naperville, Elkhart, Cleveland, Franklin, Ann Arbor, Missoula, Vermillion, Grand Junction, Tallahassee, Huntsville, Watertown
1987 Frankfurt, Rastatt, Basel, Schnaitsee, Nuremberg, Frankfurt, Lahr, Basel, Bern, Fulda, Braunschweig, Köln, Bonn, Düren, Brussels, Manchester, London, Oxford, Paris, Madrid, Lausanne, Basel, Bruchsal, Bonn, Frankfurt, Eisenach, Markneukirchen, Leipzig, Berlin, Stockholm, Hamburg, Braunschweig, Basel, Stuttgart, Frankfurt
1988 Basel, Paris, Berlin, Frankfurt, Nuremberg, Hamburg, Bonn, Frankfurt, Stuttgart, Fahrenbach, New York, New Haven, Washington, Peoria, Ann Arbor, Rochester, San Diego, Grand Junction, Ballwin, Berlin
1989 Basel, Geneva, Bern, Frankfurt, Moscow, St. Petersburg, Stockholm, Basel, Geneva, Frankfurt, Melbourne (lecture, honorary membership of the Victorian Flute Guild), Sydney, Düren
1992 Melbourne, Baden Baden
It goes without saying that I also used the research trips as a means to see the country and to meet the people. The highlights of the oversea trips were:
1981 Niagara Falls
1982 Kyoto and Nara in Japan
1986 Custer Battlefield, Mt. Rushmore, Wind Cave Park (buffaloes), Pine Ridge (Sioux reservation), Glen Canyon, Monument Valley (Navaho reservation)
1988 Tijuana, San Francisco, Alcatraz, Yosemite Park, Death Valley, Las Vegas, Zion Canyon, Bryce Canyon, Grand Canyon, Monument Valley (Navaho reservation), Canyon de Chelly, Ft. Apache (Apache reservation), Tucson, Tombstone
1989 Adelaide, Ayers Rock, Alice Springs (Australia), Papeete, Moorea, Bora Bora (Tahiti)
The great number of trips also gave me the opportunity to acquire about 50 flutes by Theobald Böhm and his partners and successors, most of them are housed today in the Deutsches Museum in Munich.
Theobald Böhm (1794–1881) decisively influenced the history of music of the 19th century. Besides Anton Bernhard Fürstenau (1792–1852), he was acknowledged as the finest flautist in Germany, other critics called him the best flautist of his time and the "Paganini of the flute". As a flute teacher he taught more than a hundred pupils and his Munich flute school enjoyed the highest esteem worldwide. As the other great virtuosos of his time, Niccolò Paganini (1782–1840) and Franz Liszt (1811–1886), he also composed for his instrument, and his works, which are far more than mere romantic virtuosic entertaining music, assure him a honourable place among the composers of the 19th century. However, he earned the greatest posthumous fame as perhaps most important instrument maker of his time with the invention of the Böhm flute, named after him. Finally, he also gained a reputation as an inventor in other fields.
On the occasion of the 100th birthday of Theobald Böhm on 9th April 1894, my great-grandfather Ludwig Böhm, director of the locomotive factory Maffei in Munich, organized a great family reunion, in which besides his daughter and most of his seven sons and 54 grand-children, also Christopher Welch from London, author of the book "History of the Boehm Flute", London 3rd edition 1896, participated.
On the occasion of the 100th anniversary of Theobald Böhm's death on 25th November 1981, I organized a festival concert in the Cuvilliés-Theatre with famous flautists, who played works and arragements by Theobald Böhm and a meeting of the descendants and spouses, who now numbered about 350 and who are scattered to more then 150 addresses in Germany, Austria, Switzerland, France, Belgium, Great Britain, Spain, Portugal, Namibia, South Africa, USA, Chile and Australia.
The City of Munich honoured its merited fellow-citizen by naming a street in Munich/Altperlach in 1931, by placing a commemorative plate on his house of birth Altheimer Eck 15 in 1964 and a great exhibition in the Munich Municipal Museum, Collection of Music, in 1981.
On the occasion of the 200th birthday of Theobald Böhm on 9th April 1994, commemorative events are held not only in Munich, but all over the world. The details of the events in Munich are contained in these articles.
I want to thank all those, who participated actively in the events or contributed to their realization. My special thanks for financial support go to the Bavarian State Ministry of Instruction, Culture, Science and Arts, the department of culture of the City of Munich, the Munich Municipal Museum, Collection of Music and the donation Otto Eckart, Munich.
Munich, April 1994
Ludwig Böhm, Great-great-grandson of Theobald Böhm
In the next edition: Biography of Theobald Böhm. Spelling: Theobald Böhm or Theobald Boehm?
© 1994 by Theobald-Böhm-Archiv, Munich. All rights reserved. Any unauthorized reproduction is prohibited by law.
---
Ludwig Böhm
Address: Asamstrasse 6, 82166 Gräfelfing, Germany, tel. 0049-89-875367
Ludwig Böhm was born in Munich, where he studied English, French and Spanish at the University and was a teacher from 1981 to 1983. Inspired by a great exhibition in the Munich Municipal Museum in 1981 on the occasion of the 100th anniversary of the death of his great-great-grandfather Theobald Böhm (flautist, composer, flute-maker, inventor of the Böhm flute, Munich 1794–1881), he dedicated his life from that time on to keeping the memory of Theobald alive. As a result of more than 30 years of research, he published in 2012 all 88 compositions and arrangements of Theobald together with Dr. Raymond Meylan and in 2013 20 books and 4 translations from and about him. He travelled to flute festivals in Japan, Australia, USA, Netherlands, Spain, Germany, Italy, Croatia, Luxembourg, Slovenia, China, Great Britain, Iceland, Thailand, Portugal, Chile, Poland and Armenia and presented a slide lecture about Theobald. He is the President of the Theobald Böhm Archive, founded in 1980, of the Theobald Böhm Society, founded in 1990 and of the Theobald Böhm Foundation, founded in 2014. In 2006, 2011 and 2016, he organized in Munich the 1st, 2nd and 3rd International Theobald Böhm Competition for Flute and Alto Flute.
List of professional open G# players
Current list of 480 professional open G sharp players can be seen in the homepage www.theobald-boehm-archiv-und-wettbewerb.de under "Open G sharp Key". If you are a professional open G sharp player, who have not yet contacted Ludwig Böhm, please do so at ludwig.boehm@t-online.de to be added to the list.
---