FLAUTANDO – Boswil: a famous flute event in Switzerland since 1999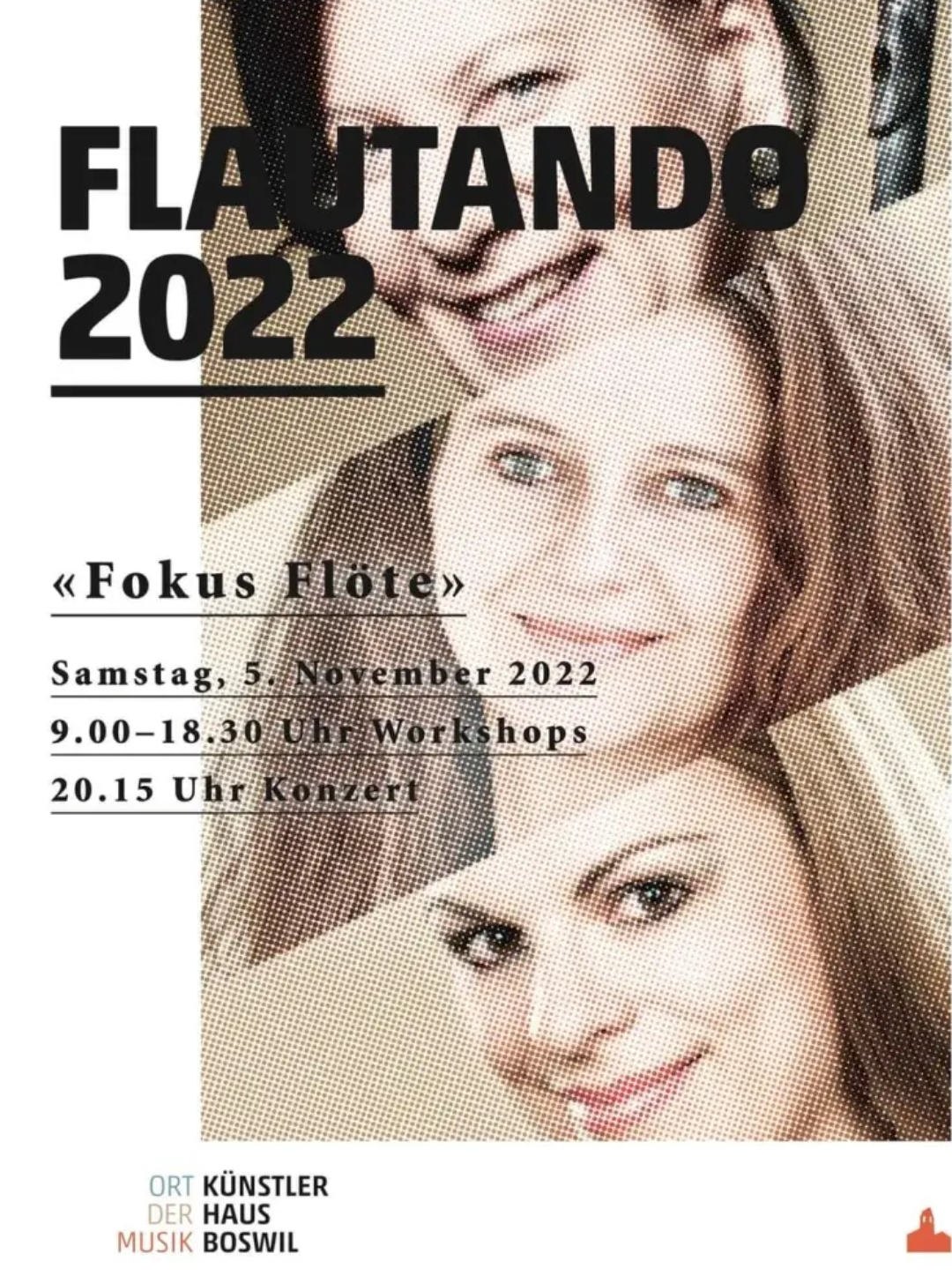 FLAUTANDO will take place on Saturday, 5 Nov. 2022 in Boswil, the «place of the flute».
«Focus Flute»
With the title «Focus Flute», FLAUTANDO Boswil invites you to an extremely colourful flute day on 5 November 2022 with a top-class line-up of flutists.
Flautando is aimed at professionals, students as well as amateurs and lovers of this fascinating instrument. The warm sound, the stylistic variety, the virtuosity and the cantabile as well as the unlimited combination possibilities make the flute very popular all over the world!
Camilla Hoitenga, grande dame of the flute, surprises with «animal techniques for flute playing" and «Whistles & Whispers». Sarah Louvion, solo flutist of the Frankfurt Opera, brings a precious gem to the stage with Syrinx, THE jewel for solo flute full of chastened emotions & fascinating beauty. Caroline Werba-Spicher, orchestra flutist & soloist, asks: «How do I find my sound?» Her introduction «Beatboxing for Beginners» is sure to be widely acclaimed. (Children and young people are cordially invited) Stefan Keller, a low flute and improvisation specialist, will explore the possibilities of playing together in his workshop «Breaking Boundaries in Ensemble Playing».
The traditional instrument exhibition in the beautiful foyer of the old church invites you to linger, try out, talk shop, inform and exchange ideas with colleagues over coffee.
The public concert at the end of this multifaceted flute day will feature all speakers. The pianist Tonino Riolo and the drummer Beda Ehrensperger will accompany the musicians sensitively and skilfully.
Flautando is looking forward to welcoming many familiar faces, as well as new ones, to Boswil, also known as the «place of the flute» since the 1960s with Marcel Moyse.
The Fluteplayers
Camilla Hoitenga
When it comes to Camilla Hoitenga, critics and audiences agree: she is a phenomenal soloist who immediately captivates her audience. Hoitenga, who plays not only the C flute but also the alto, bass and piccolo, is at home on stages all over the world: Carnegie Hall New York, Royal Festival Hall London, the Kremlin in Moscow and the Forbidden City in Beijing, China. Her repertoire ranges from pre-Bach to post-Stockhausen, from concertos to music for flute alone, from cutting-edge pieces for live video and electronics to improvisations and interdisciplinary projects. Hoitenga has taught at the State University of New York and at the Folkwang Hochschule Essen/Duisburg and gives master classes and workshops for musicians of all ages. Her own flute teachers have been Darlene Dugan, Alexander Murray, Peter Lloyd and Marcel Moyse. www.hoitenga.com
Sarah Louivion
Sarah Louivion studied flute and chamber music at the Conservatoire National de Musique de Paris and in parallel she completed university studies in mathematics and physics. Sarah Louvion has won awards at numerous international competitions. In 2001 she won 1st prize at the Kobe International Flute Competition and 3rd prize at the Geneva International Competition. Since 2002 Sarah has been principal flutist of the Frankfurt Opera and Museum Orchestra and is active worldwide as a soloist, chamber musician and teacher. She performs as soloist with the Marinsky Theatre Orchestra, Yomiuri Nippon Symphony Orchestra, Tokyo City Philharmonic, Tokyo Metropolitan Orchestra, Gulbenkian Orchestra, Orchester National d'lle de France, Orchester National de Lille, orchestre de chambre de Lausanne. Sarah Louvion gives masterclasses all over the world and was invited as a guest professor by the Japanese Geidai University of the Arts in 2016. www.sarahlouvion.com
Caroline Werba-Spicher
After winning competitions, Caroline Werba-Spicher was already able to study flute in Bern at the age of 15, parallel to her Matura. In Zurich, in addition to master's degrees in pedagogy and performance, she also completed a minor in jazz flute. Master classes with Emmanuel Pahud, Wolfgang Auer and other flutists round off her varied interests. She was a scholarship holder of the Vienna Philharmonic Orchestra at the Salzburg Festival and a volunteer at the Zurich Opera House. Today she plays with the Argovia Philharmonics Orchestra and others. Her passion belongs to film music, with which she performs in the KKL – Luzern as deputy principal flutist of the City Lights Orchestra and enjoys playing the whole flute family from piccolo to bass flute. In addition to her work in her orchestra, she is interested in modern flute techniques, sound development, especially in connection with orchestral playing and contemporary music. www.caroline.werba-spicher.com
Stefan Keller
Stefan Keller's work with the flute is characterised by its versatility. On the one hand stylistically, on the other hand in terms of the instruments. In addition to his great interest in baroque, classical and contemporary music, he is extensively involved in improvisation in all its forms. Stefan Keller likes to combine his instruments with live electronics and loops in order to venture into completely new worlds of sound. Studies with Felix Renggli, master classes with Sir James Galway, Aurèle Nicolet and many others. Further education at the Jazz School Lucerne, great interest in contemporary playing techniques, at the same time he is enthusiastic about "old music", and continues his education intensively in this field. He travels internationally as a low-flute and improvisation specialist. www.flutetrends.ch
FLAUTANDO in previous years
Encore of the FLAUTANDO 2021 Concert
With Davide Formisano, Juergen Franz, Claudio Montafia & Stefan Keller
---
Stefan Keller
Stefan Keller is an active flutist who plays a wide range of musical styles and instruments. This is reflected in his diverse projects and invitations to international flute festivals as a specialist for low flutes, improvisation and loops. His own compositions and practice books for flute complete his activities. He organizes since over 20 years the flute event FLAUTANDO in Boswil, Switzerland.
The classically trained flutist explores sound worlds with his flutes, known as FLUTE TRENDS by Stefan Keller.
As a musician and composer, as well as sound designer and "sound – image – designer" of baroque – classical – avant – garde – jazz and improvised music, Keller has found his own language. He has been honored several times by the Aargauer Kuratorium for his innovative artistic work and attended further education at the "Cité Internationale des Arts" in Paris and at the Aargauer Atelier in Berlin. His unique musical projects such as "under water", "Sound – Castle – Hallwyl", "Concert in the factory hall", "carpentry" as well as the collaboration with visual artists have made him known in Europe and Japan.
Keller plays Alto and Bass flute, Contrabass flute as well as Subcontrabass flute, Gemshoerner, Kalimba and various Bamboo flutes, acoustic and with electronics.
As a musician and composer, Keller moves in the area of ​​baroque – classical – avant-garde – jazz and improvised music.
As an looper, he has been working with the latest live sampling techniques for 25 years. He uses a specially developed surround – loop software, which offers unbelievable sound possibilities.
---