Acerca de las obras de Astor Piazzolla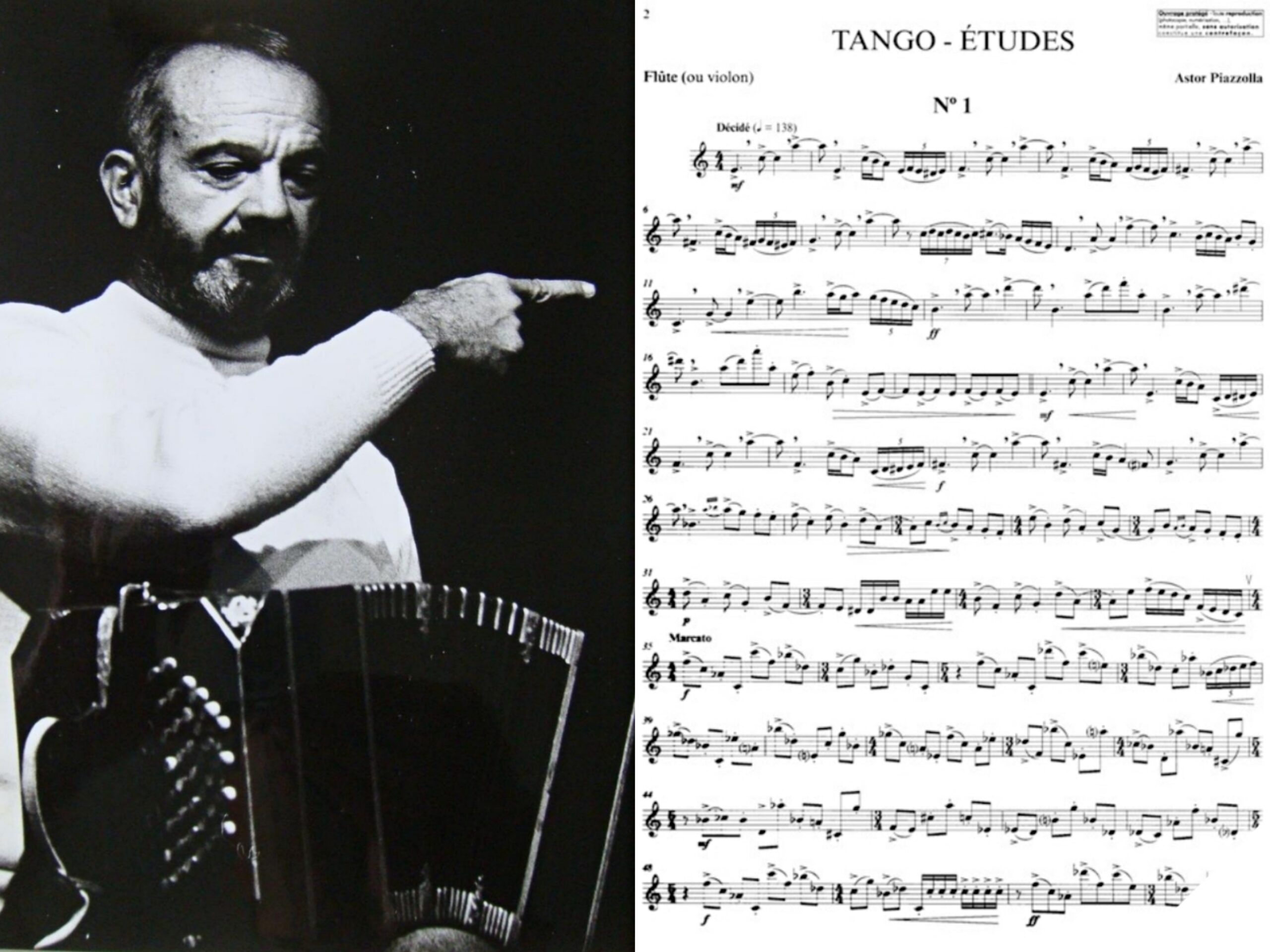 por Claudio Barile
Haber abordado las obras de Astor Piazzolla y particularmente de sus Seis Estudios Tangusisticos es algo que no hice sino después de la sugerencia de quien aquí en Buenos Aires fuera mi editor Ivan Cosentino para su sello discográfico IRCO consagrado exclusivamente a los compositores de música argentina.
En realidad tenía yo preparado para grabar el Estudio 3 y al referirle al editor el que existían "Seis Estudios "originales para flauta! pues, no dudó y me ofreció grabar todos. ..!
Había un pequeño inconveniente ( le respondí)
Cuál? (preguntó …)
debo estudiarlos primero…
Entonces, tras la sugerencia puse " manos a la obra" y comencé a trabajar en ello.
Quizás valga la pena advertir que he tocado para Astor Piazzolla en París luego de presentarme yo al "concurso Jean Pierre Rampal " del cual hube de quedar entre los20 semi finalistas de los 120 flautistas que se habían postulado. Esto fue en enero de 1978. Yo tenía 17 años de edad en ese entonces Ya había concluido el período de audiciones para ese certamen y luego la Embajada argentina me invitó días después a un concierto donde también había asistido al mismo A. Piazzolla quien estaba junto a su mujer, Laura.
Recuerdo muy bien luego del evento se realizó un ágape donde el también el Maestro concurrió. Le refería qué es lo que estaba haciendo yo en Paris y al referirle los resultados de la audición estaba el más contento que yo mismo por el resultado de esa audición allí en el concurso.
Me invitó a su mesa. Fue encantadora la charla.
Le ofrecí tocar para que me escuche. Entonces me invitó para un día o dos después a ir a su casa en París donde efectivamente fui. Allí toqué para el parte de algunas obras que ya había preparado para la audición Rampal: concierto de A. Khachaturian, concierto de J. Ibert, Sonata de J S Bach, etc
Hablábamos de su música
El me refería " yo no escribo tango ni tampoco música popular. Yo escribo música ciudadana que refleje a Buenos Aires….pero no a todo Buenos Aires…! sino la avenida Corrientes y no a toda Av. Corrientes, sino sólo el tramo desde Av. Corrientes y Callao hasta Av. Corrientes y Esmeralda.
A Piazzolla le preocupaba mucho el fraseo en sus interpretaciones!
Le daba especial importancia a ello.
Las diferentes dinámicas, los diversos acentos, los legatos, los staccatos disímiles…
Nada de lo que conocemos hoy compuesto originalmente para flauta estaba escrito aún…ni Historia del Tango ni los Seis Estudios Tanguisticos, donde el escribe en la portada "se tratará de imitar al toque del bandoneón"
Yendo a los estudios
Estudio 1
El número 1 es claramente fácil para ser tocado en el bandoneón siendo que los múltiples acentos que la flauta debe realizar en la zona grave se consolidan en el bandoneón de modo muy fácil con sólo pulsar sobre el muslo del bandoneón. Elaborar técnicas diversas de acuerdo al pedido de las obras para sortear las dificultades que piden con más facilidad es un juego y un desafío… Por ende para este "Etude 1 " he elaborado variedad en los ataques en loas notas graves.
Estudio 2
Estudio 2 las notas largas con vibratos disímiles o no vibrato en absoluto en otras partes tal cual Piazzolla frecuenta en sus interpretaciones. Frases muy anchas ultra ppp o sonidos ff generosos. Notas de adornos pequeñas tocadas de modo muy ágil, rápido y expresivo ( típico en Piazzolla en sus interpretaciones en cuanto a los ornamentos y adornos muy ágiles y expresivos).
Estudio 3
La polifonia horizontal. Tal como ocurre en la música de la Partita de J S Bach.
Estudio 4
Fraseos largos. Acentos múltiples nuevamente. Adornos a veces más y otras menos protagónicos dentro de la melodía.
Siempre exuberante el sonido flexible para poder ir a un fff o un ppp de modo rápido.
Estudio 5
Los logros armónicos, la permanente polifonía horizontal existente en todas estas seis piezas se hacen ostensibles aquí en este Estudio 5 . Es este Etude 5 por demás muy interesante acaso poco frecuentado! Destacar las múltiples y notables modulaciones que allí se encuentran es un detalle que me fascina tener en cuenta a la hora de tocarlo.
Me trae muchas reminiscencias de "Concierto para Orquesta" de Bela Bartok…!
Estudio 6
Me encanta el micro clima que genera con tan poca substancia de notas en giro permanente, ansioso y agitado. Es pura armonía en acción.
Siempre encontraremos una parte A y B dónde estará haciendo lo opuesto por breves compases hasta desatarse nuevamente en el frenesí se su alocado allegro inicial.
Trabajar estas obras me ha mejorado técnicamente y asimismo me aportó más capacidad interpretativa.
Terminé de grabar los Seis Estudios Tanguisticos y esta grabación ganó el Premio Gardel 2012.
Mis grabaciones completas de los Seis Estudios Tanguisticos, de Astor Piazzolla se publicaron en la edición de invierno de 2022 online de Flutist Quarterly de la NFA. Las grabaciones presentan una función interactiva de "Beyond the Score: The Spirit of Tango in Piazzolla's Tango Etudes", un artículo de Mariana Gariazzo.
Estoy orgulloso que estás grabaciones mías ganaron el "Premio Garlos Gardel " en la categoría "lo mejor de la música clásica" en 2012.
---
Claudio Barile
Claudio Barile is an internationally acclaimed soloist and chamber musician who has performed widely throughout Latin America, North America, and Europe under the direction of Zubin Metha, Peter Maag, Leopoldo Hager, Charles Dutoit, Penderecki, Eduardo Mata, Pedro I Calderón. Since 1984, he is Principal Flute of the Colon Theater Philharmonic Orchestra in Buenos Aires, Argentina. In 2012, he received the Carlos Gardel Award in the "best in classical music" category for his recording of the Six Etudes for flute and the History of Tango for flute and guitar by Astor Piazzolla. He has recorded albums for Irco and Dorian labels.
The complete recordings of Piazzolla's Six Tango Etudes have been published in the NFA's Flutist Quarterly online winter edition 2022. For the next month of December 2022 he has been summoned to participate as a jury in the prestigious contest "A tutti flauto 2022" in a jury composed of Peter-Lukas Graf, Charina Quintana, Francesca Seri, Giovani Mugnuolo, Nicola Mazzanti, Jean-Louis Beaumader.
---