The mystery of the flutist's portrait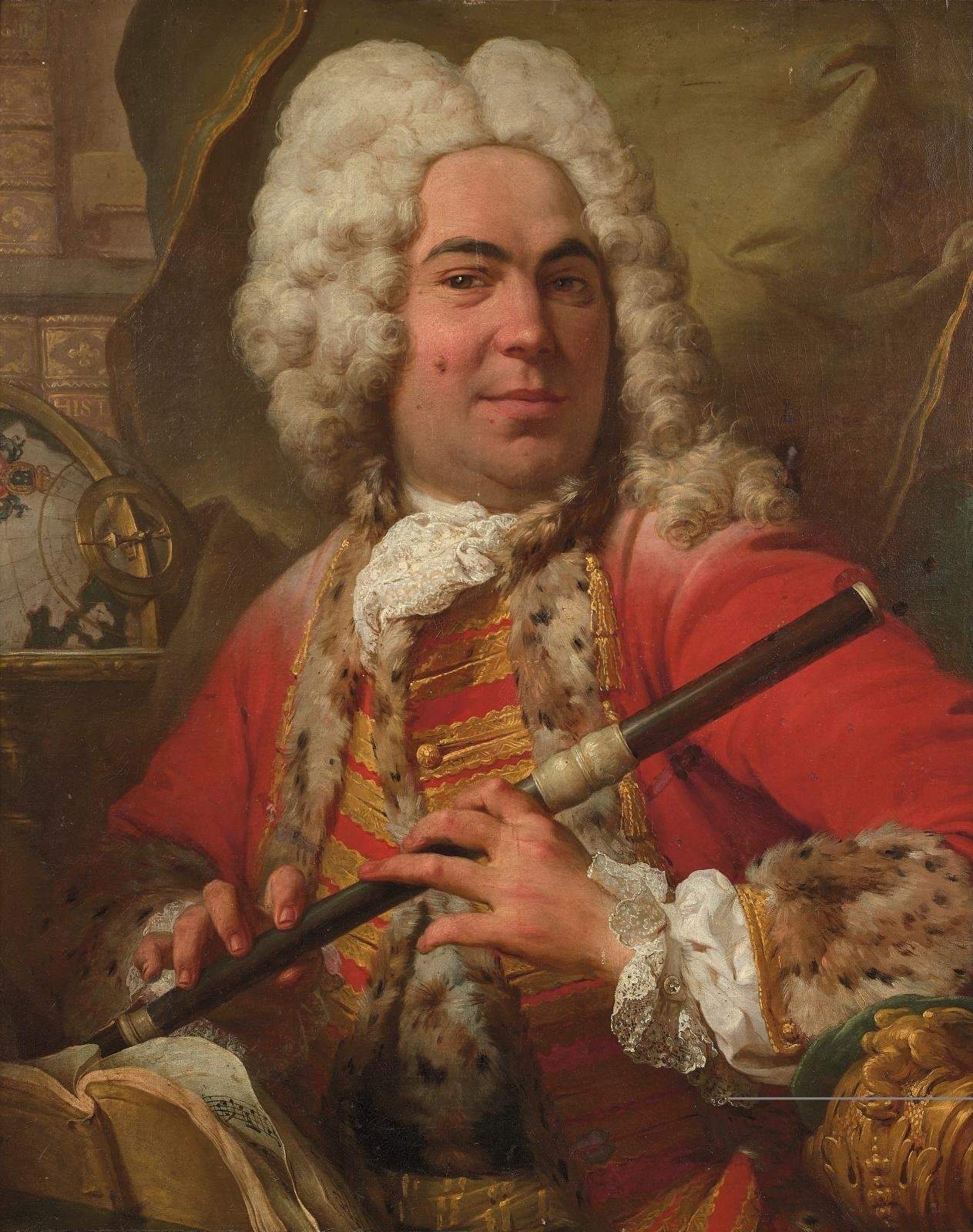 by Yulia Berry
In May 2022, at the sale of old paintings, one lot exceeded all expectations and became the super star of the auction. A portrait of a cheerful flutist, valued at 30,000 euros, was bought by a French buyer for 300,380 euros.
The title of the lot was "Portrait of a flutist in his study", and it is obvious that the beautiful painting was painted by the hand of a great artist. Known as the work of the French School from c. 1720-1730, the portrait still has its secrets.
Who is the artist?
Two things remain unknown about this very energetic painting, starting with the identity of the artist. Old and modern experts suggest Louis Tocqué or Pierre Subleyras, but it may have been painted by André Bouys .
Let's take a look at all candidates.
Louis Tocqué (1696 – 1772)
Louis Tocqué was a French artist, who specialized in portrait painting. Tocqué was born in Paris, studied with Nattier, one of whose daughters he married, and had a successful career in Paris as a portraitist. He was influenced by Rigaud and Largilliere.
His first major work was a portrait painting of Louis XV of France commissioned by his great-grandfather Louis XIV, King of France. In 1740 he painted a portrait of Maria Leshchinskaya, Queen of France. From 1737 to 1759, more than fifty portraits he painted were regularly exhibited at the Salon, the official art exhibition of the Academy of Fine Arts in Paris. In 1745, he painted a portrait of the Spanish Infanta Maria Teresa Rafaela a year before her death. In 1757, he left for the Russian Empire, where he stayed for two years at the invitation of Elizabeth Petrovna, the Russian Empress, to create her ceremonial portrait. This portrait is today part of the permanent collection of the Hermitage in St. Petersburg in Russia. In the 1760s he traveled around Denmark, painting portraits of the Danish royal family and teaching at the Royal Danish Academy of Fine Arts in Copenhagen.
Below are some examples of his works:
Pierre Hubert Subleyras (1699-1749)
French artist who settled permanently in Rome in 1728 after receiving the Prix de Rome a year earlier. He painted a wide variety of subjects, including portraits and still lifes, but he is most appreciated for his religious paintings, which are much more serious in spirit than most French works of the Rococo period. His most famous work is the Saint Basil Mass, written for Saint Peter but now in Santa Maria degli Angeli. This huge painting was highly acclaimed when presented in 1748, but Subleyras died before he could continue his success.
Below are some examples of his works:
André Bouys (1656-1740)
Bouys was born in Hyères in southern France. A student of François de Troy, he became a member of the Academy. Although Bouys painted genre paintings and still lifes, his main occupation was the portrait artist. Among his models were several musicians.
Below are some examples of his works:
Let's vote! Who do you think is the author of this portrait?
Who is the flutist?
The model is also anonymous, but the rich costume, golden braids and competent surroundings betray in him a famous musician or a person of position.
While doing more research, I came across several etchings similar to this portrait, possibly by André Bouy (1656–1740), indicating that the flutist in the painting is possibly the flutist and composer Michel de la Barre (c. 1675– 1745). However, the original painting has never been seen online until now, with the exception of some images of engravings copied from the original portrait, such as the one below:
Who is Michel de la Barre?
He was a French composer and renowned flutist, noted for being the first person to publish music for flute solo – his first book of solo suites for transverse flute and basso continuo (Paris, 1702) was the earliest book ever published for solo works for flutes.
His suites for two unaccompanied flutes (from 1709, the first of their kind in France), flute solos and trio sonatas established the style of the French flute and contributed to the popularity of the instrument. Among his other works were the ballet "Triumph of the Arts" (Paris, May 16, 1700), the comedy-ballet "The Crown" (Paris, May 26, 1705) and songs.
He played at the Royal Academy of Music, the Musettes and Aubois de Poitou and at the courts of Louis XIV and Louis XV.
Let's listen to his music:
Michel de la Barre also appears on the famous painting by André Bouys, c.1710:
The man on the right is probably Michel de La Barre, as the sheet music is an exact copy of his work published in 1707. He is shown standing, wearing a black wig and brown suit with silver trim. He turns the pages of his Troisième livre des trio…mélez de sonates pour la flute traversière (Third book of the trio… mixed with transverse flute sonatas).
The sheet music presented here includes the first trio sonatas written for flute and bass to be published in France.
This painting belongs to the National Gallery in London. The Musée des Beaux-Arts, Dijon has a slightly different, and possibly slightly later, smaller version of this portrait. There is another smaller version, but its current location is unknown.
We also know of another portrait of Michel de la Barre by Hyacinthe Rigaud.
Hyacinthe Rigaud (1659-1743)
Jacine Rigaud-Ros y Serra (1659–1743), known in French as Hyacinthe Rigaud, was a Catalan-French Baroque painter best known for his portraits of Louis XIV and other members of the French nobility.
Let's vote!
So we have 3 supposed portraits of Michel de la Barre, one of them is the painting in question in this article:
Take a poll to share your opinion! Do you agree that the flutist on all three portraits is the same person, Michel de la Barre?
What else do we know about this incredible painting in question?
The painting passed through the Château de Bussy-Rabutin in 1854 and the Galerie Georges Petit in Paris in 1924. And now appreared in the auction of 2022 to become a superstar!
Bouys had exhibited a portrait of La Barre at the 1699 Salon, which is lost now. Could this painting from the auction of 2022 to be the one?
The cheerful flutist has not yet revealed his secrets.
---
Yulia Berry
Yulia Berry is founder of Web Flute Academy, The Babel Flute, The Babel Flute Courses and New England Flute Institute, creator and developer of the popular "All about Flute" Mobile app and the First Global Game for Flutists, highly experienced flutist and mentor teaching at all levels, with a Doctor of Music Arts degree focused in Flute Performance, Pedagogy and Music Education from the Saint Petersburg State Conservatory named after N.A. Rimsky-Korsakov (Russia).
She has performed as a soloist and chamber musician in prestigious venues around the world, and has been praised for her virtuosity, musicality, and expressive playing.
Yulia Berry is known for her expertise in flute pedagogy, innovative and effective teaching methods, which emphasize technique, musicality, and artistry, and her dedication to helping students achieve their full potential as flutists.
She wrote many articles on the connection of the flute with art and the role of the flute in the arts and cultures of different eras and cultures.
---