Professional Development for Teachers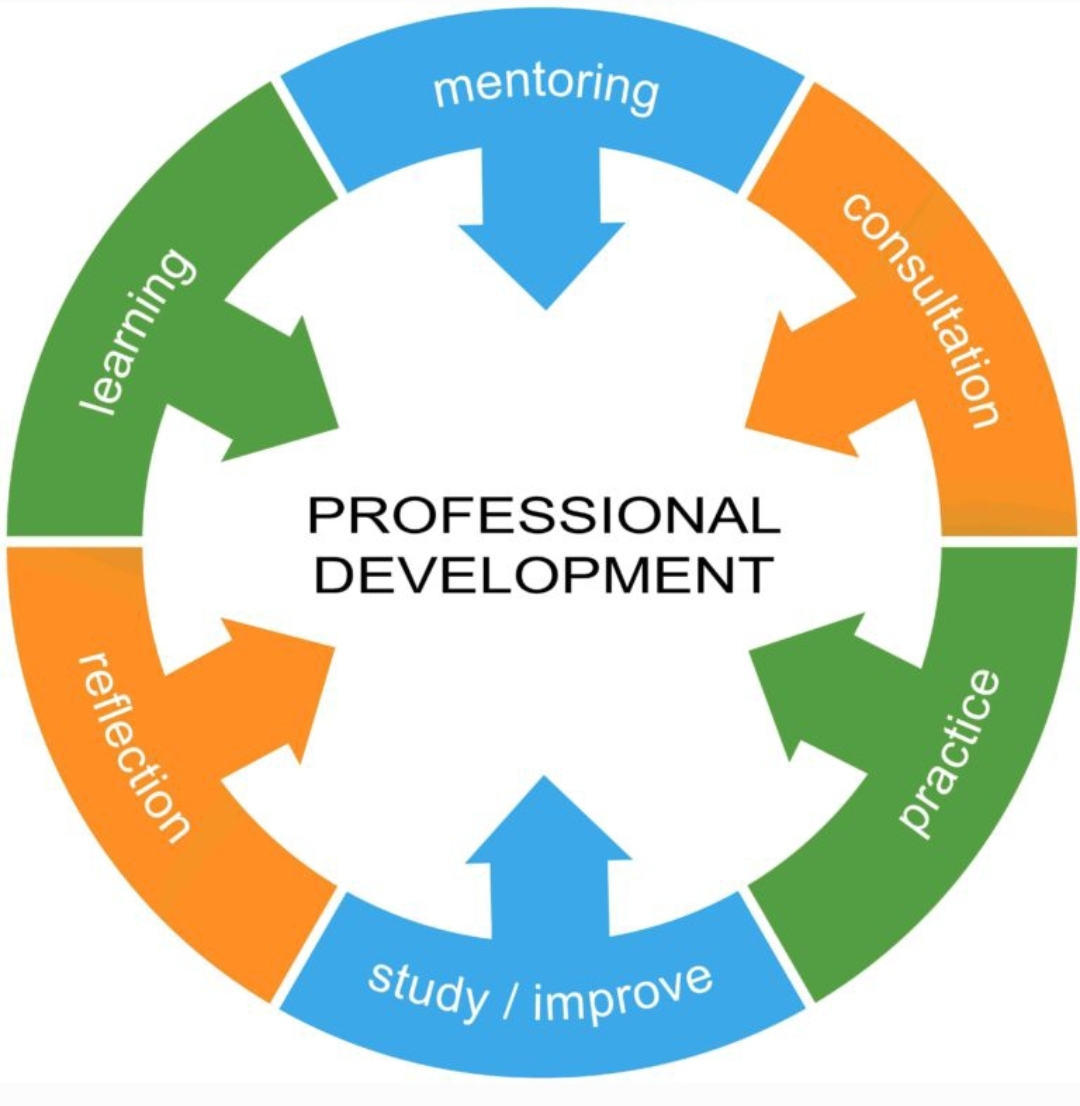 By Lea Pearson, DMA, LBME
N.B. This article is a beginning discussion about professional development. Given the worldwide nature of this publication, it is an open invitation for you, the reader, to contribute valuable resources in the comments section. Please share what is useful and effective in your country!
What is professional development?
Why should we, as teachers, be interested in it?
As the world expands and online learning opportunities explode, we're excited to learn new techniques of playing, new repertoire, new ways of performing both in person and virtually, and to explore all the things that have developed during the incredible creative period known as the Covid pandemic.
But what about us as teachers?
The question of how to challenge ourselves in teaching often gets lost in the face of overwhelming and available information.
During the pandemic, a lot of our focus was on technology.
What's the best mic and speaker for online sound?
How do we set up our teaching space?
What tools do we need?
How do we engage students in a two-dimensional environment?
How do we evaluate their progress without live performances?
It's been a steep learning curve. By now we have most of it under our belt, and many of us are teaching a combination of in-person and online lessons.
What I want to focus on in this article are the other aspects of teaching that we could explore.
But first, what is professional development?
Professional development means:
to improve your skills and knowledge so you can be a better teacher and serve your students more fully.
to view yourself as a professional teacher, and contribute to the field.
Sometimes we think, "oh, I'm just a flute teacher."
Don't be fooled by your own insecurity. You have one of the most powerful jobs – the ability to know and influence students individually. The ripple effect is huge, and can last for generations!
When you take ownership of your own learning and build your expertise, you gain confidence in your ability to help more students, you feel equipped to give each student the specifics that they need, and you begin to see yourself as a leader, an influencer.
If you're a new teacher, you may find the wealth of practices and techniques overwhelming. As a more seasoned teacher, you will relish all the ways that you can bring more music, technique, and engagement to your students.
Why should we bother to look beyond what we already know?
It's easy to depend on what we were taught by our teachers, or to use certain method books repeatedly.
But eventually we will find that:
some students don't respond very well, or
we don't know how to solve a problem, or
the ways that we have been solving problems aren't necessarily the most effective.
What then?
How do we learn new skills?
And what exactly should those skills be?
From my distinct and somewhat limited American perspective, it is a challenge to find good professional development. While there are many online courses, we as a country do not have national standards around teaching or of what students should accomplish. As I learned years ago from one arts leader, "the state of the arts in America is disjointed and incremental." Meaning, there are lots of opportunities to learn, but no coordinated path to follow.
Fortunately, other countries lead the way in the training of teachers, and we can learn from exploring their programs. I'll post some of those resources at the end of this article, and I welcome your input in the comments as well.
Where can we look?
Googling phrases like "professional development for flute teachers" yields a number of small independent programs developed by one or two people, and a few university courses.
It might help to clarify what you are looking for.
There is professional development training around various content areas such as
Extended techniques
Beatboxing
Game-based learning
Digital assessment: many of these are marketed towards music educators and college teachers.
Digital learning: live, recorded, and asynchronous
Self-paced learning
Peak performance and mental preparation
Flute maintenance and instrument repair.
There are a few teacher training courses, mostly centered around one particular population: Suzuki training, the Blocki method, or FlutePlay Canada, which focuses on teaching young children.
There are some pedagogy-specific workshops: The Art of Teaching, Flute 101, etc.
And there are programs, mostly online, about the business of teaching and marketing. Some of these are instrument-specific; others apply to teachers of any instrument.
Building and growing a studio
Logistics of running a studio
Scheduling, payment plans, studio policies, marketing, etc.
Podcasting
Commissioning new works
Then there are topics about personal growth.
Work-life balance
Trauma-informed recovery
Mindset
Yoga and other somatic disciplines
What is closest to my heart are the topics based around engagement and the relationship between teacher and student, including:
Prevention of pain and injury
Creating a safe studio space
Student centered teaching
Body-focused teaching
Strategies for engagement
Social-emotional learning that incorporates techniques for dealing with anxiety and trauma.
There are two extremely important areas still under development:
the pedagogy of Accessibility for all learners, of all abilities, and
the pedagogy of Diversity, Equity, and Inclusion.
These areas have not been part of our classical tradition, but are now seen as truly integral parts of the teaching process.
Right now, you may be feeling overwhelmed with all the things you wish you could learn!
How do you choose a focus?
Do you create a five-year plan?
Do you go with your instinct?
Spend a little time identifying your strengths and challenges. What are your superpowers? What would you like to learn that will enrich your teaching?
If you're already highly experienced in contemporary music, what else you would like to get good at?
If you have a good background in technique, consider learning more about artistic expression.
If you feel like your knowledge of historical flute players is limited, find out more about the history of our profession.
If you're great at romantic expression, consider beatboxing or other extended techniques!
If you feel like your movement is limited, consider learning how to choreograph pieces!
It's a highly personal path.
Everything you learn for yourself you'll be able to bring to your students.
And, of course, you will find resources for lots of these topics right here in The Babel Flute.
Here are a few suggestions to help you narrow down your choices.
1. Choose a niche. You can't teach everybody everything.
You may choose a specific population, such as neuro-divergent learners. Or low-income learners, or in my case, injury prevention and recovery.
You might prefer to work with a certain age, such as middle school or university.
You might find yourself most comfortable in a traditional teaching style that steers students towards a professional career with competitions and auditions.
You might have a different interest, working primarily with amateur adults.
It's up to you to define what your skills are, where your heart lies, and whom you can best serve.
2. Choose a particular topic that you are interested in.
Etudes and technique,
The history of French performance,
Music of BIPOC composers,
Commissioning new works,
Music from non-western cultures
An era whose music fascinates you: neoclassicism, baroque, present-day compositions, etc.
3. Choose a philosophy that resonates with you, such as
Inquiry-based learning
Assessment-based learning
Student-centered learning
Collaborative teaching
Group instruction.
4. Consider whether you are more interested in the what: the content and information – or the how: the actual process and art of teaching, which we call pedagogy.
Allow me one personal comment here.
The traditional conservatory model of teaching, developed in Europe in the mid-late 1800's, has been the dominant method for over 150 years. In this method, teachers are considered the experts, and students are seen as sponges to soak up the wisdom of the expert teacher. It's a master/student, hierarchical model, centered in European and particularly white male customs and traditions.
While other aspects of our profession have been changing rapidly, such as
expanding performance venues
new styles of music
new developments to the instrument itself
performance of previously underrepresented composers, etc.,
teaching styles have been slower to change.
It is time to deepen our understanding of teaching, and access knowledge and research that has been around for over 100 years: how children actually learn, in multi-sensory, discovery-based experiences.
If you're not already inspired to explore more topics and teaching, consider the cost of not engaging in professional development.
You risk getting left behind. You miss out on exciting new developments in the field. Most importantly, you are not serving your students in the very best way you can.
When you commit to seeing professional development as integral to your lifelong education as a musician and teacher, you'll be positioning yourself as a leader. You will be seen by your colleagues as someone who makes valuable and thoughtful contributions to the profession. You'll also find that your value increases.
The curiosity you bring to learning will take you places you could never have imagined before!
Your world will expand, and you will get renewed energy in teaching.
RESOURCES BY FLUTISTS
Please add to these resources in the comments!
METHODS
Blocki Flute Method
FlutePlay
Suzuki Method
The Transformational Teacher Training Program
WORKSHOPS and COURSES
Flute Roots and The Music Teachers' Playbook
The Art of Teaching
Flute 101, 102 and103
BUSINESS PROGRAMS
NR Media
The Ultimate Music Business Summit
INJURY PREVENTION PROGRAMS
Music Minus Pain
Kelly Mollnow Wilson, Precision and Performance Therapy
MINDSET AND COACHING PROGRAMS
ER creative
Shivhan – Mindset + Energy Coach
Katie Frisco
Chelsea Tanner
PLEASE GO TO THE COMMENTS AND ADD MORE RESOURCES!
---
Lea Pearson
Dr. Lea Pearson has been helping musicians find relief from pain and learn expressive ways to move and play since 1998. One of the country's leading Body Mapping Educators, she works with professional and amateur musicians and trains teachers to fill in the missing piece – how to use our bodies to make beautiful music.
Credentials:
MA, Stanford University
DMA, The Ohio State University
Fulbright Scholar, The Sibelius Academy Helsinki
Teaching Artist, the Kennedy Center
Founder, Music Minus Pain
Founder, The Transformational Teacher Training Program
Author, Body Mapping for Flutists: What Every Flute Teacher Needs to Know About the Body. Chicago: GIA, 2006.