FLAUTANDO Boswil 2022: Focus Flute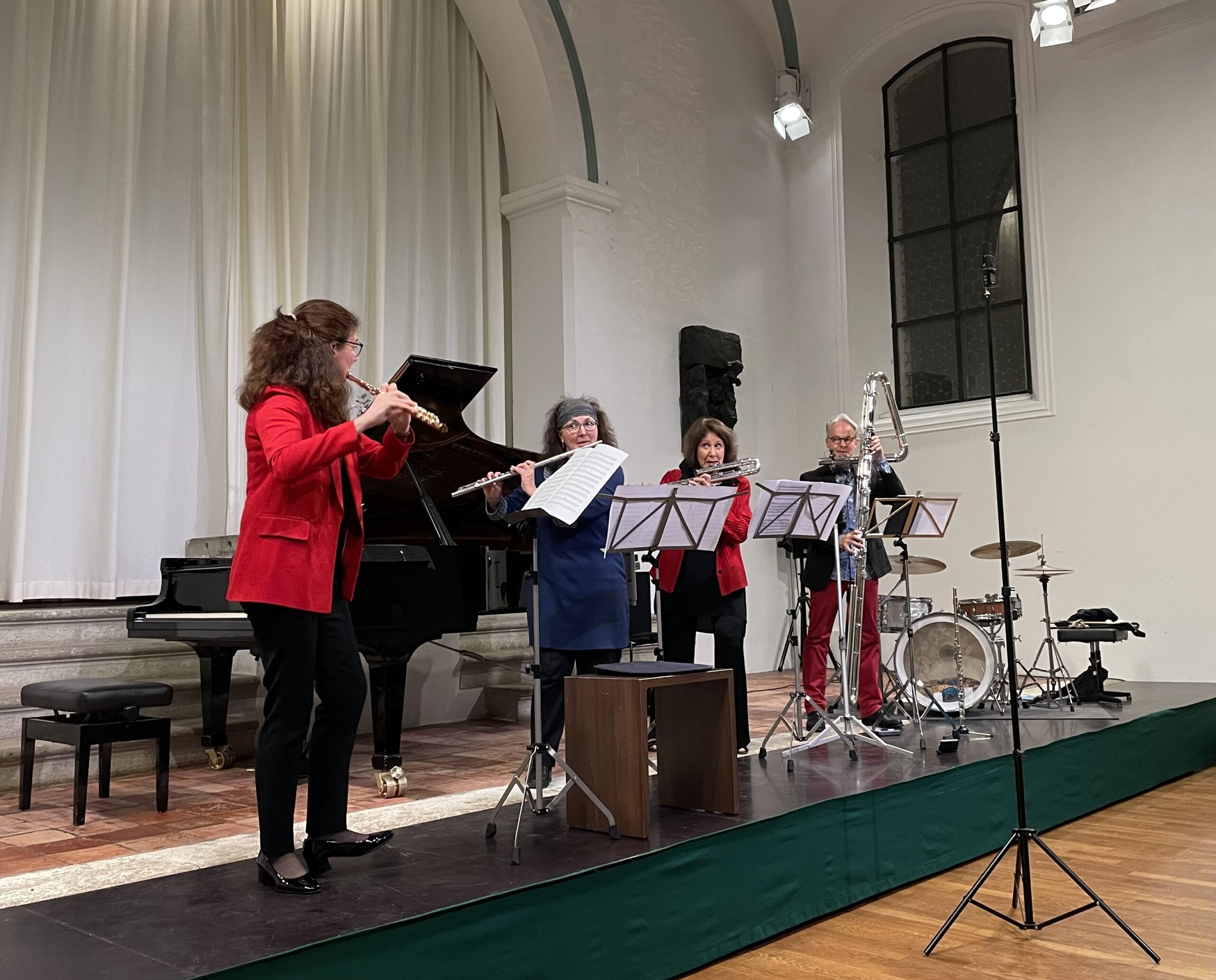 Texts by visitors of this flute event
Boswil, place of the flute
Boswil, place of music, place of the flute – not only because the gifted teacher Marcel Moyse taught his students from all over the world there. More and more, it is also thanks to the organisational talent and tireless commitment of Stefan Keller, who this year invited people to the 23rd Flautando. For many, the place has become a kind of home where memories are gathered. But it is also a place where people whose curiosity for the flute has just awakened can come and experience an introduction to this instrument thanks to the exhibitors and participants. The range is wide, from gifted students with questions, to experienced flute players, to speakers who are outstanding in the field. A wonderful platform where everyone can feel at home, just as in Keller's improvising ensemble – congratulations, Stefan! May it continue to be a place of exchange and inspiration in the field of the flute.

Margrit Langmeier
Guest Artists
Sarah Louvion about Syrinx
Camilla Hoitenga about Whistles & Whispers
Karolina Roman about Flute Beatboxing
The Exhibitors
Gosse Flutes – Musik Hug – Miyazawa – Sankyo – Inderbinen Flutes
Focus Flute
After last year's FLAUTANDO was firmly in the hands of male lecturers, this year Stefan Keller invited three female flutists to focus on the flute for a day.
Karolina Roman, who stepped in at very short notice for Caroline Werba-Spicher, who fell ill. The Swiss flutist's musical range extends from classical flute literature to her passion for beatboxing on the flute.
The day began with the almost traditional "warm up" with Camilla Hoitenga. With exercises that built on each other, the whole body was awakened and prepared for the flute. The focus moved through the whole body. Always starting from the natural movement of the body, the most ergonomic posture, e.g. of the fingers, shoulders and head, was sought.
The second workshop of the day followed almost seamlessly. The question "How do I find my sound?" is probably on the mind of every flutist, whether beginner or professional. "It's not the flute that makes the sound, it's the player!" is a truism, but what is it that makes one's own sound? Camilla Hoitenga illuminated aspects such as breath control, body permeability and one's own idea of sound. The "grande dame of the flute", as she so beautifully put it in the programme, focused on the lips and the relaxed embouchure in order to be able to form a modulable tone.
Certainly all FLAUTANDO participants knew Debussy's "Syrinx" from hearing it. Most of them had probably practised it in private, only a few had performed it on stage. The fact that "Syrinx" is actually stage music is often ignored. Fascinatingly new, therefore, was the approach of Sarah Louvion, who illuminated the piece from the dialogue text of the play. She combined key sentences of the original French text with concrete musical motifs. The experienced simultaneity of spoken dialogue and flute music as background on stage brought completely new and exciting impressions and a new approach to this jewel for flute solo.
The afternoon focused on the modern playing techniques
Camilla Hoitenga explored the question of what flutists can learn from monkeys, dogs, grumpy cats and all kinds of other animals for their own music-making.
Whistles and Whispers" called for gentleness in the search for whistle tones, imagination in multiphonics and courage in the first attempts to elicit sonorous jet whistles from the flute.
With long-time FLAUTANDO organizer Stefan Keller, all participants developed a great group feeling while "breaking down boundaries in ensemble playing" together. Playing in an ensemble without sheet music? Is that possible? And how it works! Under the clear conducting and masterly guidance of Stefan Keller, clusters and sounds emerged from endless notes, providing space for individual soloists. Also very exciting was the creation of a group loop, where everyone was challenged with their individual musical abilities. At the end of this workshop, the FLAUTANDO flute choir played the Ukrainian national anthem and sent with the music also the hope for peace into the world.
Beatboxing for Beginners
There was much laughter and amazement at the final workshop "Beatboxing for Beginners" with Karolina Roman. It is not that easy to combine the consonants of "Pu-ste-ka-tze" with sounds without squeaking. With the help of simple exercises, everyone was able to take their first individual steps in beatboxing. To prove that "practice helps" in this discipline, Karolina Roman performed "Three Beats for Beatbox Flute" by Greg Patillo in a rousing way.
Concert
The concert in the evening summarized everything that had been said, heard and tried out in a masterful way. The lecturers of the day started classically with the overture of Mozart's "Le nozze di Figaro", with Madeleine Bischof completing the quartet. Sarah Louvion inspired with Debussy's "Syrinx", Boulanger's "Nocturne" and grandly interpreted the "Sonatine" by Dutilleux. Camilla Hoitenga's short introductory words to her modern solo pieces (Eötvös' "Cadenza" from 2008 and Köszeghy's "Lava" from 2017) helped the audience to gain a better understanding of the sound language and a great listening pleasure.
Stefan Keller surprised with his interpretation of C.Ph.E.Bach's "Hamburger Sonate". Flute and grand piano were augmented by "voluntary" drums, played by Beda Ehrensperger, who had just arrived from Ghana. In Keller's own composition "Alpaufzug mit Zwischentönen" for Contrabass Flute and Drums, the audience was challenged to come up with their own story of maid and servant at sunrise on their way to the alp. Judging by the facial expressions of the listeners, the mental cinema with musical accompaniment worked splendidly!
Tonino Riolo, who accompanied the concert on the grand piano with devotional music and as a congenial partner, must be mentioned.
For the grand finale, everyone gathered once again for a world premiere: four movements from Bach's "B minor Suite" in a version for four flutes, grand piano and drums.
The audience was enthusiastic and, after prolonged applause, was released into the mild evening with an encore.
Viktoria Eschenfelder
Videos from the Concert
Take-home messages
Flautando is always a great enrichment for me, as professionals and amateurs meet in Boswil to learn together, at eye level, from each other and to exchange ideas about flute techniques, pieces of music, orchestras and projects.

Camilla Hoitenga enriched us with her love of teaching and her inputs from posture to special techniques. Her pictorial illustrations such as "smelling a flower", jaw/lip position like animals, as well as "eat your flute" for Jet whistle, were great for me. In addition, there was always the lively exchange with those present: "what do you do to warm up, for a good tone, …"

Sarah Louvion taught us the importance of getting to grips with a work in order to be able to interpret it correctly. That's how I got to know Syrinx anew and appreciate its complexity. Thanks to a student who spontaneously made herself available as an interpreter, we were able to enjoy a masterclass lesson.

Karoline Roman took us into the world of "flute beatboxing". For me, this is absolutely new territory that requires a lot of training. Her audition impressed me, this presence.

The concert in the evening showed the full repertoire of what we had learned. How do the professionals put into practice what they have taught us throughout the day. How do they stand, how do they breathe, what happens in the musicians' faces, intonation, technique, expression. Our eyes were sharpened again during the day and our hearing sensitised, a newly revitalised concert enjoyment. Many thanks to the great musicians

Sophie Moor
Enriching and interesting
The variety of topics in the workshops, the instrument exhibition in the foyer, where everyone could inform themselves, try out and talk shop, as well as the exchange with fellow musicians is always enriching and interesting. The fine lunch and dinner as well as the very varied and beautiful concert in the evening made the day an experience that will be remembered for a long time. …

It was also very nice that every flute player could play and try out in every workshop. The speakers were very sympathetic and spontaneously involved us and gave us many tips on our musical path with their great knowledge.

Kathrin Imoberdorf Hintermann
Congratulations Stefan Keller on the successful organisation of the 23rd Flautando Meeting! I enjoyed being part of a motley team of flautists and other musicians. It was great to feel the enthusiasm of the participants, both for the workshops and the concert!

More flutists should take advantage of this day: an offer for a compact and intensive exchange of energy on a wide range of topics, actions, exhibitions of flutes and sheet music and … MUSIC!!!

Camilla Hoitenga
"Flautando 2022 was a beautiful day dedicated entirely to the flute. Many topics were exchanged among each other with motivated and curious participants. All in a good atmosphere, inspired by a place with a lot of music and flute history. Thank you!"

Sarah Louvion
---
Stefan Keller
Stefan Keller is an active flutist who plays a wide range of musical styles and instruments. This is reflected in his diverse projects and invitations to international flute festivals as a specialist for low flutes, improvisation and loops. His own compositions and practice books for flute complete his activities. He organizes since over 20 years the flute event FLAUTANDO in Boswil, Switzerland.
The classically trained flutist explores sound worlds with his flutes, known as FLUTE TRENDS by Stefan Keller.
As a musician and composer, as well as sound designer and "sound – image – designer" of baroque – classical – avant – garde – jazz and improvised music, Keller has found his own language. He has been honored several times by the Aargauer Kuratorium for his innovative artistic work and attended further education at the "Cité Internationale des Arts" in Paris and at the Aargauer Atelier in Berlin. His unique musical projects such as "under water", "Sound – Castle – Hallwyl", "Concert in the factory hall", "carpentry" as well as the collaboration with visual artists have made him known in Europe and Japan.
Keller plays Alto and Bass flute, Contrabass flute as well as Subcontrabass flute, Gemshoerner, Kalimba and various Bamboo flutes, acoustic and with electronics.
As a musician and composer, Keller moves in the area of ​​baroque – classical – avant-garde – jazz and improvised music.
As an looper, he has been working with the latest live sampling techniques for 25 years. He uses a specially developed surround – loop software, which offers unbelievable sound possibilities.