Playing All the Notes: Flute Music by Underrepresented Composers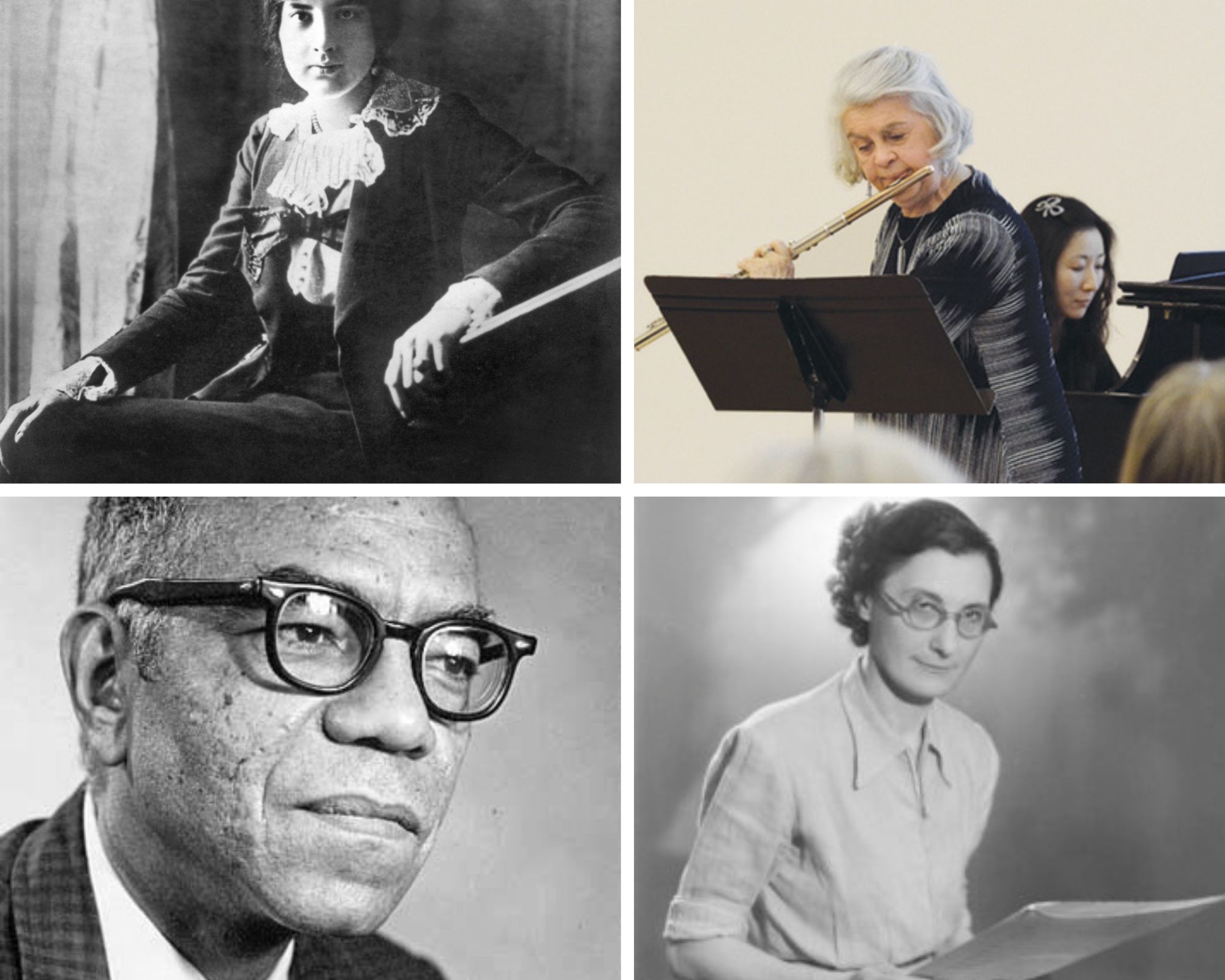 Michelle Barraclough with Joshua Lyon, Carmela Steyaert, and Grace Young
At the end of the Fall 2021 semester, I encouraged my college flute students to consider learning a piece by an underrepresented composer (female and/or a person of color). Previously, works by these composers were not frequently included in traditional concert programming. Happily, this is changing. I provided a few resources for finding repertoire and was pleasantly surprised when several students learned music by these composers. Taking this idea one step further, in the spring of 2022, three of my students and I learned pieces and did some research on each of our composers. Our plan to share this project with our campus community did not work out due to some communication issues, so we feel fortunate to be able to share our findings with a larger flute community. We hope you will be encouraged to learn these pieces, find out about new ones, and allow these voices to flourish in our repertoire.
Nocturne by Lili Boulanger (1893-1918)
Researched by Grace Young
Born Marie-Juliette Olga Boulange, Lili had numerous health issues throughout her life. Both of her parents were musicians who encouraged her musical endeavors. Despite their five-year age difference, Lili and her sister Nadia attended classes together at the Paris Conservatory. Nadia became an important composition teacher whose students included Aaron Copland, Elliott Carter, Virgil Thompson, and Jean Francaix, to name a few.
Lili played the organ, piano, violin, cello, and harp. She was the first woman to win the Prix de Rome for her composition "Faust et Helene." She died at the age of 25 from tuberculosis.
Nocturne (1911)
Nocturne was composed in 1911 and was originally written for violin and piano. It has a Debussy-like feel with flowing lines that are filled with chromaticism. The piano and flute lines can be divergent and the final expected cadence does not arrive until the final measure. Although written in the key of F major, the piece never settles on a tonic resolution until the final chord.
Kokopeli by Katherine Hoover (1937-2018)
Researched by Carmela Steyaert
Katherine Hoover was a flutist, teacher, poet, and composer. She wrote for strings, woodwinds, orchestra, and piano. She received a Bachelor's degree in music theory and a performance certificate in flute in 1959 from the Eastman School of Music, which was attended primarily by men at that time. She taught at the Manhattan School of Music. She launched her own publishing company, Papagena Press, in 1990. She was the recipient of the National Flute Association's Lifetime Achievement Award in 2016.
Kokopeli (1990)
Kokopeli was a great hero of Native Americans living in the Southwestern area of the United States. He is said to have led the migrations through the mountains and deserts as the sound of his flute echoed through the great canyons and cliffs. His 'hump' was considered a bag of gifts carrying the seeds of plants he would scatter every spring. This piece offers performers many opportunities for varied color effects and mood changes by using precise rhythmic and dynamic markings. Hoover said, "In this piece, I have tried to capture some sense of this spaciousness, and of the Hopi's deep kinship with this land."
Ulysses Kay (1917-1995)
Researched by Joshua Lyon
Ulysses Kay was born into a musically-gifted lineage on January 7, 1917, in Tucson, Arizona. His mother, Elizabeth, was a church pianist and his maternal uncle was acclaimed jazz musician King Oliver. While this originally inspired Kay to learn jazz saxophone in his youth, he later learned keyboard and violin as he grew to proselytize the neoclassical movement.
During his formative years, Kay studied music under William Grant Still, Howard Hanson, Bernard Rogers, and Paul Hindemith. After playing in the United States Navy Band during World War II, Kay turned to composition. His post-war work won him a multitude of awards and grants from organizations worldwide, including the National Institute of Arts and Letters, the Julius Rosenwald Fellowship, the Alice M. Ditson Fellowship, the American Composer's Alliance, the American Broadcasting Company, Broadcast Music Incorporated, the George Gershwin Memorial Contest, the Fullbright Scholarship, and the Prix de Rome.
Prelude (1943)
Kay's Prelude for Unaccompanied Flute was written in 1943 while serving in the Navy band. Kay has stated that he took note of the breath support required for multiple instruments and that this prelude was written as a study on breathing. This explains the tempo marking of 50 bpm. It is imperative that the flutist has proper air support lest they fail to make it to the end of the phrase or fail to maintain their intonation.
Claude Arrieu (1903-1990)
Researched by Michelle Barraclough
Claude Arrieu is the pseudonym for Anne Marie Simon (other sources list her given name as Louise Marie Simon). She studied at the Paris Conservatory, where she won a premier Prix in composition in 1932. One of her teachers at the conservatory was Paul Dukas.
She was a prolific composer for French radio, where she was a producer and assistant head of sound effects. She also wrote operas and other theatrical works, 30 film scores, and chamber music. Her style is often compared to Les Six, the group of composers focused on creating a unique French sound.
My research did not indicate why she used a pseudonym and some sources do not list her given name at all. One possibility could be that a male name would be given more serious consideration at that time.
Sonatine for Flute and Piano (1946)
The Sonatine is an example of Gebrachmusik, music that is intended for talented amateurs rather than virtuosos. Pieces like this were written as a reaction against the intellectual and complex styles of 20th-century modernism. The piece is a noted work of the composer in several sources. Three brief movements reflect her talent for melody with a little bit of humor and spice. The radio premiere was given by Jean-Pierre Rampal accompanied by Herman Moyens in 1944 to great acclaim.
Other students learned these works by underrepresented composers:
Serenade to the Stars by Cecile Chaminade
Infinity by Amanda Jane Fox
L'amour Eternel by Leslie Adams
Special thanks to Dr. Eric Fung, our accompanist, for his support of this project. 
Other Resources:
Sources:
Lili Boulanger
Katherine Hoover
Art and Folklore in the Compositions of Katherine Hoover–Flute Talk Magazine, May 2020
Ulysses Kay
Claude Arrieu
Photo credits:
Ulysses Kay PC: G.D. Hackett/Pictorial Parade, Fair Use Image
Lili Boulanger public domain/wikipedia
Katherine Hoover PC: Flute Talk Magazine
Claude Arrieu PC: brassepedia.org
---
Michelle Barraclough
Michelle Barraclough is an adjunct professor of flute at Lebanon Valley College in Annville, Pennsylvania, where she also teaches courses in flute literature and pedagogy, music appreciation, and American music. She is the director of the college Flute Ensemble. She has appeared in several solo and faculty recitals at the college and in the community and with her trio, The Silverwood Trio. She is a founding member of The Keystone Wind Ensemble, created by conductor and composer Jack Stamp. With that ensemble, she recorded eight albums of important wind band repertoire. In 2015, she helped coordinate the college's participation in "Bach in the Subways". In addition to her private teaching, she co-hosts a summer flute camp. Her students are members of local youth symphonies and honor bands and have won collegiate competitions and festival honors. She has a Bachelor of Fine Arts in Music Performance from Indiana University of Pennsylvania and a Master of Music in Flute Performance from Catholic University. Her teachers include Carl Adams and Alice Weinreb. Her current flute project is creating flute duet versions of standard repertoire so teachers can accompany students when there is no piano available.
Joshua Lyon
Joshua Lyon is a senior at Lebanon Valley College studying audio music production.
Carmela Steyaert
Carmela Steyaert is a senior at Lebanon Valley College studying music education.
Grace Young
Grace Young is a junior at Lebanon Valley College studying music education and music performance.