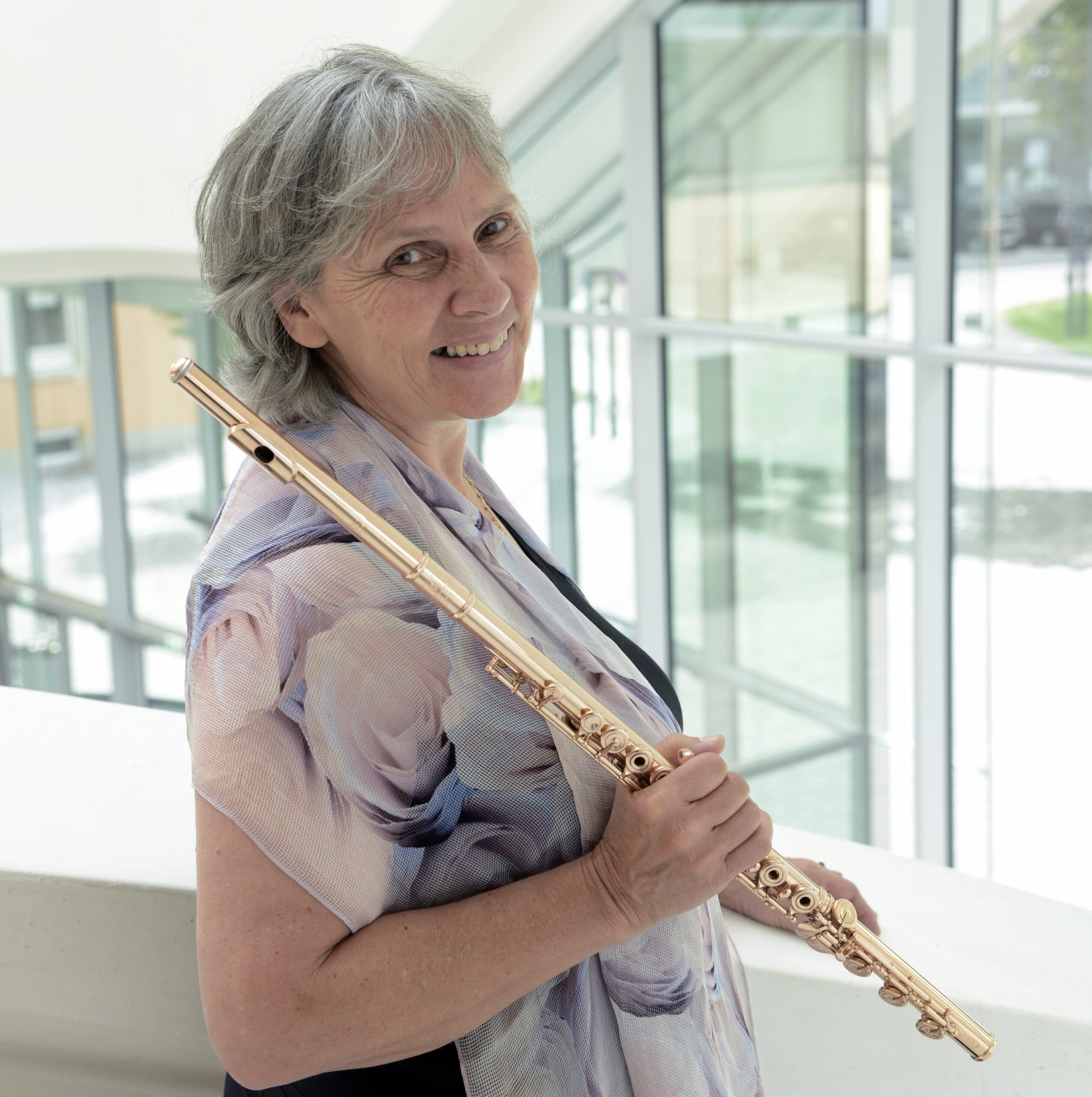 by Stefan Keller
Curiosity – Versatility – Authenticity
The Swiss professor for flute, traverso, expert in didactics, specialist for dynamic integration (Dynintegra) Eva Amsler lives a fulfilled life as a musician in many facets for and with the flute: old music on modern instruments; new music with electronics; mental training and stage fright; music and art in a broader understanding; traverso; background knowledge; "seeing and perceiving the whole" and above all: "always listen to your inner voice!
All this and much more is concealed in the warmth and openness of a fine personality with great flair, knowledge and skill.
Her extraordinary career began in the capital of the Canton of Aargau, in Aarau, and the circle closes with a "new start" after just retiring as a professor at the "Florida State University" in Tallahassee, Florida (USA) after 20 years in this responsible post.
In fact, 20 years is a theme that runs through Eva Amsler's entire life to date.
20 years
Eva Amsler played in the orchestra in St.Gallen for 20 years, was professor for flute at the Landeskonservatorium for Vorarlberg in Feldkirch for 20 years, founded syrinx 20 years ago together with Doris Glatter-Götz (association for the promotion and further education of flutists in Vorarlberg, Austria) and has returned to Switzerland from America after 20 years as professor. The constancy of the 20 years seems to be a trademark for the versatile.
Beginnings
Inspired by her older sister Ruth, Eva started playing the recorder and piano before learning the flute at the age of 12. She discovered the flute with her recorder teacher, who played it together with the organ in the gallery of the local church. Little Eva takes a great liking to it. Hidden in a gallery, one can make one's instrument sound audible to all, but remain invisible, wonderful!
From now on, the two sisters compete on the flute and piano, each trying to make the other laugh. The musical sport is called sight-reading and "definitely hold out until the end of the piece".
Eva Amsler learns her instrument from Sunna Gerber. Sunna Gerber was the first woman to study the flute at the conservatory in Zurich, Switzerland.
Singing in the choir gave Eva Amsler all the important knowledge she needed to become really good on the flute: Breathing, listening to each other, intonation, harmony, interplay, musical phrasing, performance skills, being present, etc.
Eva belongs to the newly founded Swiss Youth Symphony Orchestra (SJSO), and as the very first orchestral piece, 4 flutes (including Vienna Philharmonic Emeritus Dieter Flury) play nothing less than the B minor Suite by J.S.Bach with the newly founded orchestra. What a brilliant introduction to the exciting world of orchestras at the age of 15!
Study
At the age of 18, Eva experiences in a concert, which she plays with a pianist, how she can touch the audience through her flute playing! Her decision to study music is strengthened. After graduating from the teacher training seminar in Aarau, she began to study flute with Günter Rumpel (solo flutist at the Tonhalle Zurich) in Bern and successfully completed her studies with a teaching diploma.
Eva Amsler then studied with Aurèle Nicolet in Freiburg im Breisgau. For the local audition she will bring along C.Ph.E. Bach's solo sonata and Luciano Berio's Sequenza, among others. This audition takes place an hour later than planned, and Eva Amsler mentally "plays through" Bach's solo sonata in the given hour. (At that time there was no rehearsal room). At the subsequent audition, she succeeds incredibly well in playing Bach's solo sonata, and the realisation and success of the mental training remains a groundbreaking experience for Eva Amsler, which accompanies her from now on forever.
Her studies with Aurèle Nicolet progressed rapidly with new pieces every week, so that Eva Amsler was soon able to call a varied repertoire her own. In one flute lesson, for example, the entire Prokoviev Sonata is played and discussed. In the next lesson a Bach sonata or the Mozart concerto in G major, etc. … and sight-reading and class lessons take place again and again. During this time, Eva experiences a full and fulfilling study, a wealth of music and advise for life as well as starts friendship for life with her peers.
Orchestra
During her studies Eva Amsler auditions with various orchestras such as the Südwestdeutsches Kammerorchester Pforzheim, the orchestra in Regensburg and is offered the position of 2nd flute & piccolo with the orchestra in St.Gallen, where she stays for 20 years, the last two years of which as principal flute (50%). Here she also begins to play on a wooden flute from 1920 and comes to authentic baroque playing on the Boehm flute on her own way.
At the same time she teaches in Bregenz and at the Landeskonservatorium Vorarlberg in Feldkirch, where she sets up a flute class.
Karl-Heinz Schütz also studies there with Eva Amsler. He won the Nielsen Competition, among others, and is now principal flutist with the Vienna Philharmonic and a good friend of Eva.
In Feldkirch, Eva Amsler discovered a wide range of advanced tools to help her cope with the daily difficulties as a musician-to-be: Feldenkrais and body awareness – you have to be grounded – dealing with stage fright and holistic flute playing, kinesiology, etc. During this time she also gives concerts with the Austrian Ensemble for New Music and founds the Ensemble ENIF – contemporary music.
Then, after 20 years of fulfilling work, she has played enough in the orchestra. Eva Amsler wants to go out into the world with her flute and music, free herself from the orchestra rehearsal schedule, finally decide for herself what, how and where to play.
Her first tour took her alone to Japan, then with one of her ensembles, The Dorian Consort, to the USA and with the same group of musicians, as the first Swiss ensemble, to China in 2000.
USA
The next station on her career for another twenty years is the position as professor at the "Florida State University College of Music" in Tallahassee, Florida (USA). There she can really develop herself, with a large flute class, class lessons, collaboration with the whole woodwind department, with concerts as a chamber musician and soloist and as a solo flutist with the Tallahassee Symphony Orchestra, and as a member of the board of the NFA. She regularly organises FSU flute festivals and flute days and wins the hearts of people locally and throughout the flute scene in the USA with her warm nature, her enormous knowledge and skill, her curiosity, her wide-ranging interests and her versatility. Her concert activity expands to South America.
Eva is also learning to play the Baroque flute in order to acquire further profound knowledge of early music practice. One of her main concerns is the authentic playing of early music on the modern flute. (Book in progress)
"Dynamic integration" (according to Ruth and Heinz Grühling) is also one of her discoveries, which she uses with her students. Perceiving, conscious, differentiated inner – and outer listening expands the sensitivity of all musicians. This broad interest in all possibilities of making music, the holistic, is one of Eva Amsler's basic concerns when playing herself, but above all when teaching at all levels.
All of Eva Amsler's students have found a job after their studies – the vast majority with the flute. A few have taken their experience with music and the flute with them and have happily and successfully ended up in another profession. That is a statement of a special kind!
Bolivia
Another remarkable task of Eva Amsler was the establishment of a progessional flute training in Bolivia. Supported by the Swiss Foundation "Pro Helvetia", she built up a structure over the years, together with Bolivian flute players, which was intended to promote young flute players and make them independent, as well as to train professionals. Today there is a very lively Bolivian Flute Society.
Eva Amsler has founded several ensembles in her rich musical life, got to know many facets of flute playing, often entered new territory, analysed and studied old music in detail, made friends all over the world, and is now, after her return from America, full of energy for new things!
*** Photos in the article by Stefan Keller and Bettina Leemann
---
Stefan Keller
Stefan Keller is an active flutist who plays a wide range of musical styles and instruments. This is reflected in his diverse projects and invitations to international flute festivals as a specialist for low flutes, improvisation and loops. His own compositions and practice books for flute complete his activities. He organizes since over 20 years the flute event FLAUTANDO in Boswil, Switzerland.
The classically trained flutist explores sound worlds with his flutes, known as FLUTE TRENDS by Stefan Keller.
As a musician and composer, as well as sound designer and "sound – image – designer" of baroque – classical – avant – garde – jazz and improvised music, Keller has found his own language. He has been honored several times by the Aargauer Kuratorium for his innovative artistic work and attended further education at the "Cité Internationale des Arts" in Paris and at the Aargauer Atelier in Berlin. His unique musical projects such as "under water", "Sound – Castle – Hallwyl", "Concert in the factory hall", "carpentry" as well as the collaboration with visual artists have made him known in Europe and Japan.
Keller plays Alto and Bass flute, Contrabass flute as well as Subcontrabass flute, Gemshoerner, Kalimba and various Bamboo flutes, acoustic and with electronics.
As a musician and composer, Keller moves in the area of ​​baroque – classical – avant-garde – jazz and improvised music.
As an looper, he has been working with the latest live sampling techniques for 25 years. He uses a specially developed surround – loop software, which offers unbelievable sound possibilities.