The Magic Flute – Solo Flute Piece by C. Berens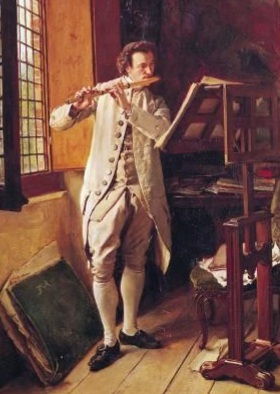 by Michael Lynn
During the 19thC, there were 100s, even 1,000s of popular opera arrangements published for the flute. These operas, and their themes were the most popular "classical music" of the day. As soon as an opera became popular, many pieces derived from the operas were available at the local music shops. This type of flute music was especially popular in France, but there were many similar publications in England, Italy, and Germany. The operas of Mozart, although not in the current style, were still extremely popular, and we find many flute arrangements. Although versions for flute and piano were the most popular, flutists also wanted versions for solo flute so they could dazzle their friend with their playing, without need the help of a pianist.
A fantastic example of the genre is the Potpourri Pour la Flûte de l'Opera Die Zauberflöte composée et dediéé A Monsieur C. Meister par C. Berens.Op.10. No 2. This was published by Cranz in Hamburg, c.1823-24. I discovered this piece some 10 years ago in a collection owned by the Oberlin Conservatory Library (Oberlin , OH.) Oberlin is very lucky to have a large collection of flute music collected by Pierce Butler (1806-1867), a well to do American amateur flutist. Butler is well known today, partially because he and his father were among the country's largest slave owners. His wife, Fannie Kemble (1809-1893,) a well-known singer and actress, became an important anti-slavery activist and wrote several important books on the subject (after leaving Pierce.) Despite the terrible aspects of Mr. Butlers life, he collected a large collection of flute music, mostly dating from about 1830 to late in his life. These are all bound in special volumes, 4 for flute and piano, 1 for flute & guitar, 1 solo flute music, 1 of duets, and 1 for flute and voice. Contained in the Solo volume is this wonderful piece. The collection contains important flute music from France, England, and Germany, and a bit from America.
Unfortunately, we don't even really know who C. Berens is. There is a Carl Berens, a Conrad Berens, and Karl Berens. This, and a number of similar piece,s are only marked as C. Berens. The work contains and amazing number of themes from the opera. In the usual French Fantasies on an opera, the composer/arrangers would concentrate on writing longs sets of variation on the most popular couple of arias. In this, the object seems to be to include as many of the themes as possible. By my count, 25 themes are represented. In most cases the sections are quite short, but a few, like Der Vogelfänger bin ich, ja, contain real variations specifically meant to show off the flute.
I have made a short video of the first page of the Magic Flute, performed on an H.F. Meyer flute from Germany, c.1866. You will also see the page here, in facsimile. I am publishing this work in a new edition, with Alry Publications, and will post the information here when it becomes available for purchase.
---
Michael Lynn
Professor of Historical Flutes & Recorders, Oberlin Conservatory of Music.