Flute in poetry and poems for the flute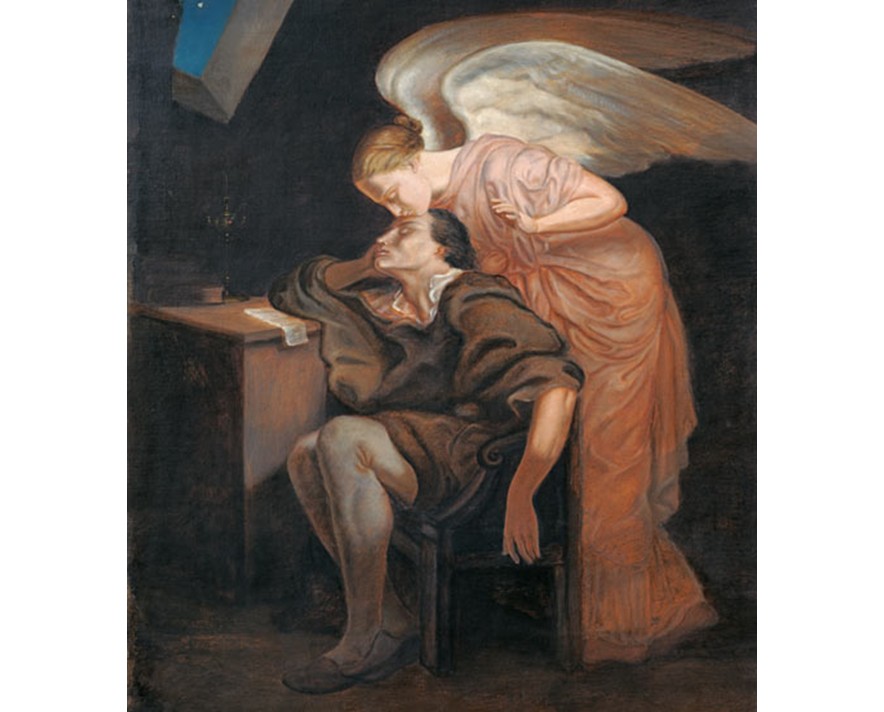 by Yulia Berry
"Poetry is music in words, and music is poetry in sound."
Fuller
Wikipedia defines Poetry (derived from the Greek poiesis, "making") as a sort of literature that uses aesthetic and rhythmic qualities of language.
The poet must begin with a poetic vision and then use the influential figures of speech, various forms of rhythm, cadence, alliteration, repetition, assonance, and consonance to obtain an adequate embodiment of this vision in terse form, which displays qualities very similar to music. The connection between music and poetry is solid and undeniable.
"Poetry is plucking at the heartstrings, and making music with them."
Dennis Gabor (1900–1979)
Some poetry types are unique to certain cultures and languages in which the poet writes, so the readers can easily identify poetry by Dante, Goethe, Shakespear, or Rumi. However, there are traditions, such as poetry from the Bible, that use different means to create rhythm and euphony. Poets usually adapt forms, styles, and techniques from diverse cultures and languages in an increasingly globalized world. Poets have contributed to the development of linguistic, expressive, and utilitarian qualities of their tongues.
Poetry is about rhythm, flow, expression, and meaning. Instrumental music expresses just as much emotion as music. Words are more powerful than most people think. They can hurt or uplift people, and find their ways into hearts and soul, too! Music without any words can convey emotion and mood just like a poem does. Once you start seeing poetry as an equivalent to music, you'll get occasional uncontrollable urges to read a specific poem, similarly to the urge to listen to a specific piece.
Poetry is the expression of the imagination".
Shelley
Actually, many types of poems don't need words at all. Music and paintings are often described as poems. If they have rhythm and structure, it's easy to explain them as works of poetry. After all, isn't that what poetry is?
There are many mentions of the flute in poems of different cultures and time periods. This article will talk about three great examples of poetry and illustrate them with musical poems written for the flute.
Rumi
Rumi was a Persian poet, Islamic scholar, and Sufi mystic who lived in the XIII century. Rumi's influence has no borders and ethnic divisions. Rumi's book "Masnavi " holds about 30,000 couplets. The book is the apogee of the mystic and metaphorical expression in Persian Literature. The Reed`s Tale poem is the first poem in it. Let's enjoy it:
Reed's Tale
1. Listen to the story told by the Ney (the reed-flute), of being separated.
2. "Since I was cut from the reedbed,
I have made this crying sound.
3. Anyone apart from someone he loves
understands what I say.
4. Anyone pulled from a source
longs to go back.
5. At any gathering I am there,
mingling in the laughing and grieving,
6-7. a friend to each, but few
will hear the secrets hidden /
within the notes. No ears for that.
8. Body flowing out of spirit,
spirit up from body: no concealing /
that mixing. But it's not given us
to see the soul.
9. The reed flute
is fire, not wind. Be that empty."
10. Hear the love-fire tangled
in the reed notes, as bewilderment
melts into wine.
11. The reed is a friend
to all who want the fabric torn
and drawn away.
12. The reed is hurt and salve combining.
Intimacy and longing for
intimacy, one song
13. A disastrous surrender,
and a fine love, together.
14. The one who secretly hears this
is senseless. A tongue has
one customer, the ear.
A. If a sugarcane flute had no effect,
it would not have been able to make sugar
in the reedbed. Whatever sound
it makes is for everyone.
15-16. Days full of wanting, let them go by
without worrying that they do.
B. Stay where you are, inside
such a pure, hollow note.
17. Every thirst gets satisfied except
that of these fish, the mystics,
who swim an ocean of grace
still somehow longing for it!
C. No one lives in that without
being nourished every day.
18. But if someone doesn't want
to hear the song of the reed flute,
it's best to cut conversation
short, say goodbye, and leave.
-Version by Coleman Barks. From "Say I Am You: Rumi" (Athens, Georgia: Maypop Books, 1994, pp. 48-49); re-printed in
"The Essential Rumi," pp. 17-19.
In order to deeply understand this poem, we need to analyze the metaphors used in it.
The first couplets of the poem tell us in a very mystical way about the origin of humanity regarding to where we truly come from. In common meaning, home is referred to as the place a person is born. According to Biblical scriptures and Quranic verses, home was the paradise where God created the first humans: Adam and Eve. That is the place where they were expelled from after they were tempted to disobey the request of God.
The reed flute is one of the oldest instruments people have been playing for about five millennials. It predominantly produces sad tones, but it comes to life and sings only if a flutist breathes out air into the flute body.
Interestingly, the reed-flute in Persian is called "Ney," which is a literal metaphor for inexistence.
There are a few reasons why Rumi chose to use the reed-flute as a symbol for himself. The tone of "Ney" is mainly sad, and the story that is to be told by Rumi is of the exact nature. On the other hand, "Ney" means inexistence. But how is it possible to listen to something that does not exist? Here Rumi tries to suggest a verse of the Quran to portray himself and his divine beloved poetically. The verse is, "And (I) breathed into him, My Soul." This Quaranic verse speaks about the creation of human beings.
It symbolizes how life was given to humanity as God breathed His soul into His creation.
In Rumi's words, "Ney" has no sound and does not exist unless it is put on the lips of the beloved, where the divine breath brings it to life and gives it sound and a soul.
That is how Rumi explains the relationship between God and humans (or himself) in the most artistic and poetic sense.
Our existence becomes proof that the Divine Being gives us a sound and a soul, yet we cannot fully understand or hear God's ways because our wisdom is limited, similarly to the way how the body of the flute confines the breath of the flute player, but can only grasp his breath up to a certain point.
In the poem Rumi uses a metaphor of separation of the reed from the reed-bed, a place where reeds grow in bunches, to the separation of humans and their expulsion from paradise to the world we live in now.
Like reeds, we were separated from our home, and the thought of being away from it brings us grievance and makes people cry because their soul can recall the time we were in paradise close to our God and now we are on our own, apart from each other and fragile.
Rumi compares the sorrowful sound that comes out of a reed flute to the sigh of a heartbroken heart that has been separated from home and his beloved one. At the same time, a person is trying to tell his painful story of the desire to be back home in a mystical way that is similar to the mesmerizing sound, coming from the reed flute.
The fourth couplet needs a deeper philosophical interpretation. It is natural to seek reunion with the dear divine God at a heavenly place, which is believed to be where we all came from. This reunion is mystically inevitable, and can happen two ways. The first may be a voluntary reunion during which a mystic person, with morality guidance, goes through self-refinement. The second way is the compulsory reunion that only happens when death arrives. What Rumi tries to say is that being reunited with your divine beloved while you are still alive is of much more value than when you are forced into it.
Poem by C.Griffes
Probably the most known Poem for the classical flute is by Charles Griffes (1884 -1920), one of the most famous American impressionist composers. Poem for flute and orchesra (1918) was premiered on November 16, 1919 by the New York Symphony Society under baton of Walter Damrosch with Georges Barrère on flute.
The New York Tribune called it a "composition of much grace and variety of expression, rich in melodic ideas and written with an unusual feeling both for the solo instrument and for the orchestra. If Americans can but continue to produce such works, all talk of the unrequited native composer will be speedily set at rest."
Griffes died only a few months after the premiere.
Listen below to William Kincaid (student of Georges Barrère) with Eugene Ormandy and the Philadelphia Orchestra
Pierre-Jean de Béranger
Now let's look at the fine example of the French poem/song.
Pierre-Jean de Béranger (1780 –1857) was a prolific French poet and chansonnier (songwriter), who was very fashionable and influent in France during his lifetime, but faded into obscurity within the decades following his death. He was given such impressive epithets as "the most popular French songwriter of all time" and "the first superstar of French popular music".
Like all chansonniers, he wrote lyrics but didn't compose any music; he set the words to a pre-existing melody like a folk tune. The songs of Béranger are elaborate, written in a clear and sparkling style, filled with wit and incision. He worked deliberately, writing about 15 songs a year or less, and was so fastidious that he threw away one forth of his output.
"I am a good little bit of a poet," Béranger said of himself, "clever in the craft, and a conscientious worker to whom old airs and a modest choice of subjects (le coin que me suis confine) have brought some success."
Robin
In the spring, under a vast shade
Where murmured fresh streams,
I took my flute of reeds,
Magical present from an old sage.
At his voice, a people of birds
came to surround me with their rambling.
They were jumping,
frolicking,
coqueting,
and singing,
singing,
singing.
Nightingales, orioles, warblers,
Blackbirds, bullfinches, linots, finches,
Yielding to the power of my sounds,
All, even to the crazy larks,
Came, for the price of their songs,
From my bread to peck the crumbs.
They were jumping,
frolicking,
coqueting,
and singing,
singing,
singing.
I warn a babbling blackbird:
– Merle, why are you all running away,
When I, good man, near you
I slipped into the bower;
I, who find your songs so sweet,
Who am almost family?
They were jumping,
frolicking,
coqueting,
and singing,
singing,
singing.
– God gave the air, the earth and the wave,
Said the blackbird, only to animals.
We lived there free from evils;
But each too fertile race
Pushed so many and so many branches
That we stifled in this lower world.
They would jump,
frolic,
Cock
and sing,
Singing,
Singing.

God did it as a thrifty father:
– It's too many animals at the same time.
Let someone pass on my rights;
That, bloodthirsty and gourmet,
He kills at least two out of three.
So speaking, God created man.
They were jumping,
frolicking,
coqueting,
and singing,
singing,
singing.
Since then, kings of nature,
We flee you in terror
For our days and our freedoms.
Of any grain you grind;
Often even to your majesties
The nightingale serves as food.
They were jumping,
frolicking,
coqueting,
and singing,
singing,
singing.
– Merle, let us forget our contrary rights,
I say, and, thanks to my talisman,
Love me, I am a good tyrant,
Without concern of your agrarian laws.
Don't run away from me anymore; believe me:
Birds and poets are brothers;
They were jumping,
frolicking,
coqueting,
and singing,
singing,
singing.

At these words, males and females
come to kiss Me who better;
The blackbird shouting: – This good old man
will make us new songs.
In order for him to rise to the heavens,
God would have to give him wings.
They were jumping,
frolicking,
coqueting
and singing,
singing,
Were singing.
Old and posthumous songs by P.-J. de Béranger, Perrotin, 1866 ( pp. 541 – 543 ).
Le Merle Noir by Olivier Messiaen (1952)
"The Blackbird", a chamber work for flute and piano could be a stunning example of music that fits into this subject. The composition was commissioned as an exam piece for flute for the Paris Conservatoire, at which Messiaen was a professor.
It lasts a little over five minutes and has neither time signature nor key signature. This work has become a staple of the French flute and piano repertoire.
Marietta Shaginian
Maruetta Shaginian (1888–1982) was a famous Russian poet, author, dramatist, and literary critic and is one of best-known women authors of the Soviet era. Let's read her beautiful poem "Flute", written in 1912 in Russian and below the Russian version you can find the English translation, done by me.
Флейта
По-прежнему сладостны вёсны,
А осень тиха и пуста…
И грустной сыростью росной
Душа, как цветы, налита.
Краснеет в полях кукуруза,
Давно в янтаре виноград.
От сладкого спелого груза
Погнулся желтеющий сад.
На башне старинной куранты
Зари совершают обход.
С балкона следят музыканты,
Когда подойдет пароход.
То смолкнут, то жалобой чьей-то,
Как грустная горлица, вновь
Воркует унылая флейта
Про осень, про боль, про любовь…
Flute
The springs are still sweet
And autumn is quiet and empty …
And the sad dewy damp is poured into the soul, like it fills in flowers.
The corn is turning red in the fields,
Grapes has turned in amber.
The yellowing garden bent over under the sweer ripe cargo.
On the tower of the old chime
Dawn makes a detour.
Musicians are watching from the balcony
When the steam boat arrives.
They will be silent, then someone's complaint,
Like a sad dove, again
The gloomy flute coos
About autumn, about pain, about love …
*Translated by Yulia Berry
It's interesing that in the same year (February, 1912) Shaginyan wrote to Sergei Rachmaninoff, expressing her love for his music, signing herself "Dee".
"Being a regular at his concerts, I can feel how hard it all was for him, how exhausted he was, apparently not knowing what he was going to do next."
Over the next 5 years they exchanged many letters and discussed everything ranging from music to politics. Rachmaninoff needed intellectual and emotional support at that time and was not looking for any kind of romantic relationship.
"Besides my kids, music and flowers, I also love you, my dear Dee and the letters you send me. I like you because you are smart, interesting and have a moderate mind, which is an absolute must for someone who wants to be my friend. And I like your letters because I always find in them faith, hope and love, the ointment I'm using to treat my wounds. It's absolutely amazing how well you understand everything that is me! It seems I've lost the confidence I had in myself when I was a kid! Please teach me how to sort all these things out, dear Dee!"
Later in 1912, Rachmaninoff asked Marietta to write some poems which he could use as songs. Some of her poems appeared in the 13 songs of Op. 34. The first song "The Muse" is dedicated to Shaginian.
Three years later Rachmaninoff added to Op 34 "Vocalise" – a song with no words – a very poetical music, which is loved and performed by all instrumentalists, including flutists.
In 1913 Marietta Shaginyan dedicated her first set of published poems, "Orientalia", to Rachmaninoff.
After the Revolution of 1917, Rachmaninoff left Russia to never return, and their correspondence and friendship had to cease.
More of the poems for the flute:
La Flûte Enchantée by Maurice Ravel
During Maurice Ravel's student years at the Paris Conservatoire, the young composer was under the spell of Russian music by The Five.
He intended writing an opera based on the Arabian folk tales "One Thousand and One Nights", as he admired music of Rimsky-Korsavov "Scheherazade". In 1898 he completed an ouverture de féerie "Shéhérazade", but the opera was never finished. After meeting poet Tristan Klingsor in 1903 and being fascinated by the oriental appeal of his Arabian-inspired prose poems, Ravel wrote the song cycle "Shéhérazade", which was highly influenced by Debussy's orchestral colourism and first performed in its orchestral version on May 17, 1904 at the Salle du Nouveau- Théâtre, Paris.
Listen to the incredibly beautiful new recording of Ravel's La Flûte Enchantée, performed by Russian musicians with such a deep understanding and expressiveness of music.
Sofia de Salis – flute
Daria Davidova – soprano
Elina Kachalova – piano
*****************
THE ENCHANTED FLUTE
The shade is soft and my master sleeps,
A cone-shaped silken cap on his head,
And his long yellow nose in his white beard.
But I am still awake,
Listening to the song
Of a flute outside that pours forth
Sadness and joy in turn,
A tune now languorous now lively,
Which my dear lover plays.
And when I draw near the casement,
Each note seems to fly
From the flute to my cheek
Like a mysterious kiss.
Translation © Richard Stokes, author of The Book of Lieder, published by Faber, provided courtesy of Oxford Lieder (www.oxfordlieder.co.uk)
*****************
The recording is also available at:
Two Last Poems (Maybe…) by E.Bloch (1958)
Ernest Bloch (1880-1959) was a great Swiss-born American composer. "Two Last Poems" were originally written for flute and orchestra and the piano reduction of this work was done by the composer himself. It lasts for 13 minutes and has the following parts:
1. Funeral music
2. "Life again? … "
Poem for flute and piano by Zdeněk Fibich
Zdeněk Fibich (1850-1900) was a Czech composer who left a large legacy of 7 operas, 3 symphonies, symphonic poems, lots of chamber music, melodramas, liturgical music and a huge cycle of piano works (almost 400).
Poem for flute and piano by Thaddeus Kozuch (1937)
Thaddeus Kozuch (1913-1991) was a Chicago-based pianist, composer, and professor at DePaul University and Northwestern University. Originally the piece was composed for violin and piano for his fiancée. In 1988 he revised Poem for flute and piano. It was discovered only recently in a piano bench by the composer's daughter, flutist Ann Fairbanks.
This Poem lasts for 3 minutes and would be perfect as a lyric interlude in recital, for religious services or memorial concerts
https://www.sheetmusicplus.com/title/poem-sheet-music/1998581
It is nearly impossible to cover all flute poetry and music poems for the flute within one article, but this is a good start for those who love poetry, music and flute and are looking to expand their repertoire.
*The main image: The Dream of the Poet or, The Kiss of the Muse – Paul Cézanne
---
Yulia Berry
Yulia Berry is founder of Web Flute Academy, The Babel Flute, The Babel Flute Courses and New England Flute Institute, creator and developer of the popular "All about Flute" Mobile app and the First Global Game for Flutists, highly experienced flutist and mentor teaching at all levels, with a Doctor of Music Arts degree focused in Flute Performance, Pedagogy and Music Education from the Saint Petersburg State Conservatory named after N.A. Rimsky-Korsakov (Russia).
She has performed as a soloist and chamber musician in prestigious venues around the world, and has been praised for her virtuosity, musicality, and expressive playing.
Yulia Berry is known for her expertise in flute pedagogy, innovative and effective teaching methods, which emphasize technique, musicality, and artistry, and her dedication to helping students achieve their full potential as flutists.
She wrote many articles on the connection of the flute with art and the role of the flute in the arts and cultures of different eras and cultures.