The Road to Becoming a Flute Repair Tech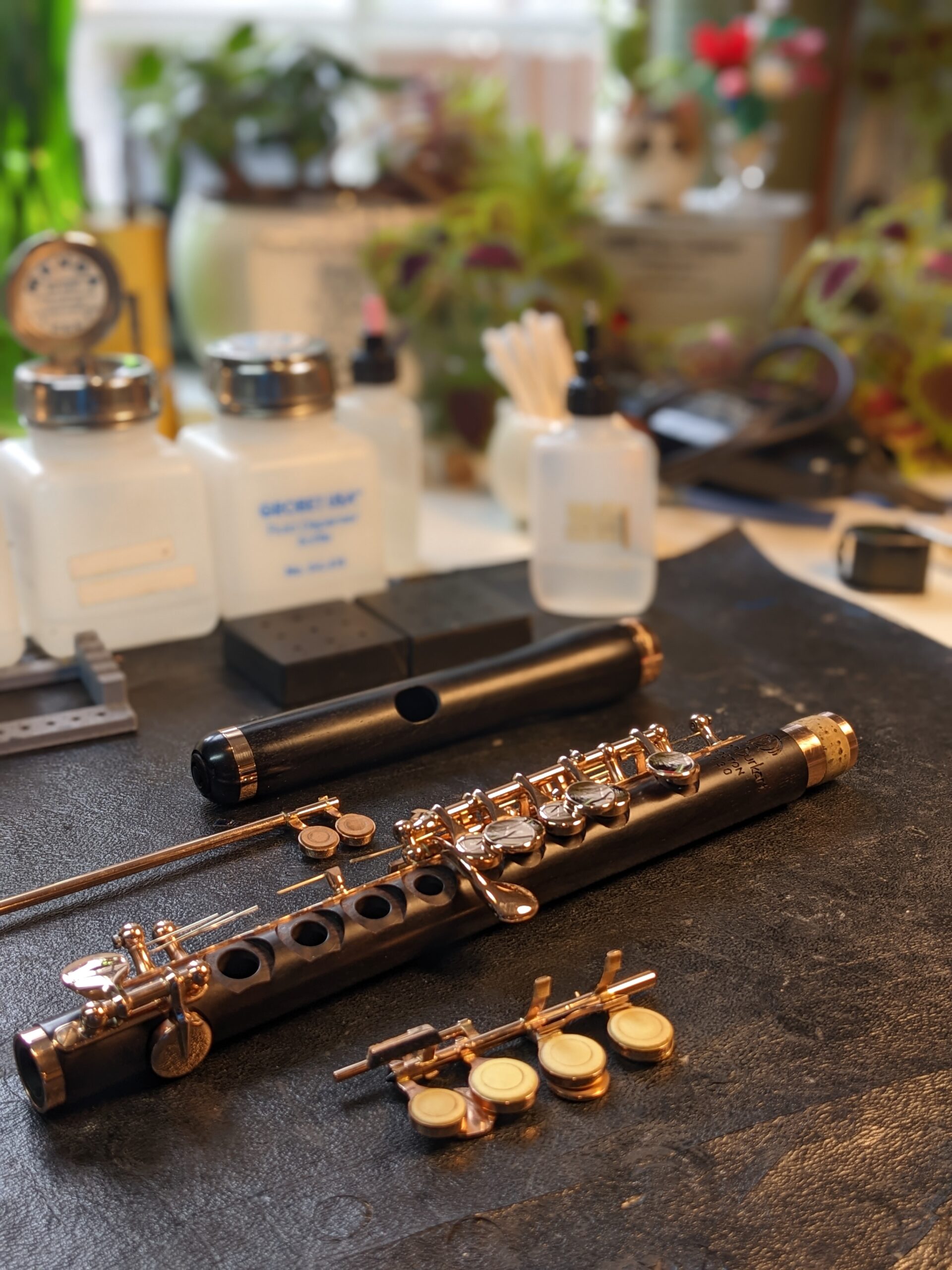 by Rachael Simon
Are you interested in becoming a flute repair technician? Are you wondering how to get started in this field? Well, pull up a chair! I am a professional flute technician, and when I first had the realization that this could be the perfect career for me, all of the questions that I had are likely the same ones that you have right now.
Before we talk about how to become a repair tech, let's start with which traits and skills are needed for this profession, what kinds of jobs are out there, and what the work is like. As with many other fields, there are different areas of concentration and specialty, and having an idea of where you would like to end up can be a big help in determining your path to get there.
What does it take to be a great flute technician?
One of my favorite aspects of this field is that there are all sorts of interesting and varied people that I can call my colleagues. We all are prone to being a bit on the odd side, and we're proud of it! However, despite the eclectic nature of this body of professionals, there are many traits and skills that tend to be shared among us. If the following list sounds like you, then this career may be a great fit:
Detail oriented: As a general rule, the most challenging problems that one faces when fixing a flute are "small" problems. They may present a big problem for the player, but when you go looking for the solution, the culprit can be less than a thousandth of an inch. Other problems may only be visible with 10x magnification. Being observant of seemingly small things is one of the most important ways that repair technicians catch potential problems before they become an issue for the player. Noticing tiny details, and having the ability to judge their importance and impact on the instrument and player is often what separates a mediocre repair person from a great one. 


Curious: Do you often wonder how things work? As flutists, we love playing and flute music, but do you also have a fascination with the instrument itself? Were you that kid who took apart their marching band flute when a key was binding, or tried to disassemble and clean it yourself? If you find yourself studying your flute, reading everything you can on the latest flute features and technology, and enjoy learning about how flutes work, then learning this trade is like going to the playground. If you have an insatiable curiosity about flutes, then even the most challenging and stressful days of being a flute technician are worth it. 


Problem-solver: Do you find it a thrilling challenge to solve problems? Do you possibly even find it irresistible, unable to let go until you get to the bottom of it? Or are you easily frustrated, and impatient in the face of problems that are not straightforward to solve? Unfortunately, though Boehm-system flutes are very elegantly designed, there are enough variables in their construction that they are often not straightforward to adjust to a high level of performance. Getting a flute playing its best, especially professional handmade flutes, takes a passion for problem solving, a high tolerance for tedium and repetitive tasks, and the tenacity to see it through until the job is done right. The good news is, if you are a serious musician, you already have some idea of what that process feels like—all of these qualities are required to bring a challenging piece to performance standard.  


Independent: Even if you find yourself in the most blessed of circumstances, surrounded by experienced techs and mentors, the vast majority of the lessons you learn will be ones that you teach yourself. By and large, you can't Google your way out of a problem in flute repair, and most of the time, there won't be someone there to hold your hand and walk you through a difficult job. Being an independent learner and knowing how to determine what questions you should be asking is crucial to success in this career. 


Musician: Having the skill set of an experienced flutist is a huge advantage. I personally have a flute performance degree, and my training as a flutist is central to my own repair technique and success. However, there are plenty of successful flute techs whose primary instrument is something other than the flute. In my opinion, being or having been a serious musician is more important than what instrument you play. The highly trained musician who becomes a repair technician can truly understand their clients in a way that a non-musician cannot. In addition, I have found countless parallels between the pursuit of music and the pursuit of musical instrument repair. Needless to say, anyone who already has a background in music is going to have a big advantage in this work compared to those who do not. 


Good communication skills: This is an often undervalued yet very important skill for a tech to have. A big part of the job is conveying complex technical information to people outside of the field. This needs to be done with transparency, pleasantness, and respect. It's not the customer's job to know our job, it's our job to explain our job to them. Like any other skill, this ability takes both time and talent to develop, but with experience and practice, we improve (sound familiar, musicians?). Even if you find yourself in a job where you are not customer-facing, you still need to have the ability to explain things to colleagues and management that may not have first-hand knowledge of your job.

Mechanical aptitude: Mechanical aptitude is something that can be developed, but some will have to work harder on developing this aptitude than others. Wherever you start on the scale of mechanical aptitude, it is a must that you develop this sense through exploration, practice, and guidance. If you are beginning this journey already possessing mechanical aptitude that you can also prove to potential employers, you have a significant advantage.
An individual who possesses these qualities and the passion to develop them is off to a great start in becoming a flute technician.
What types of flute repair jobs are out there?
As we talk about the basic types of flute career paths out there, keep in mind that not every option mentioned here is available in every country at this time. Hopefully, though, this list will give you a general idea of the most common flute repair jobs available for those interested in working with flutes for a living.
Band instrument repair
If you have a local music store in your area that sells student and intermediate band instruments, music, and accessories, this store also likely has a repair shop and a rental instrument fleet. This type of repair shop focuses primarily on general repairs for student model instruments, as well as maintenance of the rental fleet and sales stock. This field of repair is often referred to as "band instrument repair". Being a repair tech in this environment is about speed and efficiency. This keeps costs down for parents, schools, and players on a budget.
The types of instruments that are serviced in a band instrument repair shop are most often designed for quick and uncomplicated adjustments. A tech in this area of repair must also be proficient in the repair of other instruments besides the flute. The busiest and most high-pressure time of year is during the long school breaks, when hundreds and hundreds of rental instruments need to be cleaned, checked over, and adjusted as needed for the upcoming school year. Countless repair adventures await with rental returns, from the amusing to the grotesque.
Techs in the field of band instrument repair get to experience the rewards of supporting young players, school band and orchestra programs, and players who are not in the position to afford a high-end specialty technician. They also get the variety of working with different kinds of instruments, which entails a wider range of skills and tasks than focusing on flutes only.  
Flute retail shop
Most flute retailers need at least one tech or more, both to service customer instruments as well as set up and maintain the sales inventory. The notion of a "set-up" on a brand new flute is one that is usually reserved for flute specialty shops. Whereas a band shop will not usually perform a detailed check and adjustment on every new instrument, a reputable flute retailer will have their repair shop evaluate every new flute as it comes in from the manufacturer, and perform all adjustments necessary to bring the flute up to the company standard.
The job of the shop technicians is to make sure that every flute that goes out on trial meets that standard and is going to delight its new owner. The shop techs will also handle all of the customer maintenance and repairs. Since the ebb and flow of new flute set-ups and deliveries is variable and not always predictable, balancing the demands of sales and repairs is an important aspect of this type of flute tech job. Flute retail techs enjoy being able to focus on flutes only, get to experience the challenge and reward of preparing flutes to a high playing standard, and are afforded the opportunity to work with many different makes and models of flutes.
Flutemaker
This career is going to be much more country- and region-specific than others, but if you have the opportunity to relocate to work for a flute maker or are lucky enough to already live in the vicinity, this can be a dream job! Flute companies generally train people to work in one of 5 categories: machining, bodymaking, keymaking (also called "stringing"), headjoint making, and finishing (also called "padding").
Generally speaking, the flutemaking skill set is different from the repair skill set, but there are certainly many flutemaking skills that are very useful in the repair field. Since many flute companies produce only one brand of flute, a flutemaker will be highly specialized. Flutemakers get the satisfaction of creating something new, the privilege of knowing the intricate ins and outs of their flute brand, and the honor of creating a beautiful instrument as part of a team.
Independent repair shop
The independent repair shop can be established almost anywhere. Where there are flutists and reliable shipping methods, a flute repair shop can be viable! An independent flute repair shop brings with it the freedom to develop one's own standard of flute and customer care. It also brings all of the classic challenges of owning a small business. This is typically a repair-focused job, with little to no instrument or accessories sales activity. The only priority is the repair customers.
Independent repair shops enjoy the ability to focus on their area of expertise and their customers, without dividing time between repairs and sales. Since most independent repair shops are also often operated by only one individual, the tech can personally connect with every player that they work with.
How Do I Get Started?
Now that we've established the most common career paths available, let's talk about how to get there. If you ask fifty different repair technicians what path they took in order to become competent professionals, you will get fifty different answers. One of the greatest challenges for entering this field is the fact that there is not a standard, linear path that everyone follows. There are many different starting points, and while some of these starting points may seem to lend themselves to one type of repair work or another, it is also common for techs to start out in one area of repair and end up in another. Clear as mud? Great! Let's take a look at some of these starting strategies:
Self taught: Since I mentioned that being an independent learner is an important trait for a repair tech, it may not surprise you that many techs got their start by doing some learning on their own. There are some informative books on flute repair, but none are able to provide a comprehensive education by themselves. These resources are great for getting an idea of what the work is like, and for perhaps practicing on some otherwise unusable instruments ($50 vintage student flutes on Ebay are perfect for this). While doing this sort of solo learning will rarely yield a high quality result in the absence of mentorship, simply showing a potential employer that you have attempted to learn and practice on your own can give a very positive impression. Teaching oneself flute repair is not going to be an effective replacement for learning from an experienced technician, but it can be a good way to assess if the work appeals to you, and could be beneficial in landing an apprenticeship position with an experienced technician. Just be sure to practice on flutes that no one is depending on to be playable or valuable! 


Develop related skills: Employers always like to see that an applicant who has no flute repair experience has some relevant experience in other areas. Taking a jewelry making course, for example, will show that you have experience soldering and working with precious metals. Believe it or not, having a background as a dental laboratory technician is an advantage, particularly for a flutemaker position! I was able to secure my first opportunity in large part due to my experience in car repair. Taking courses in machining is also time well spent. 


Repair lessons with an independent flute tech: This is a great option for both introductory work, and for experienced technicians looking to build on their skills. Working with different repair people can enhance any tech's abilities, whether new or well established. However, since most technicians cannot afford to give away bench time, this can quickly be one of the more costly options for repair training if being relied upon as a sole source of education. For that reason, this way of learning is best used as a supplement. In my experience, the more experts you can learn from, the better. We all work slightly differently, and as you learn from each teacher, you can choose what works for you and weave together your own personal method. Independent repair lessons are a great way to begin and continue that process, but cannot replace the benefits of learning on the job 40+ hours a week. 


Repair school: There are a handful of repair schools that are a full time, two-year program. The focus of these programs is to prepare students for an apprenticeship once their coursework is complete, rather than produce fully trained and seasoned repair technicians in only two years. The focus is not solely on flute. Instead, students are trained in basic repair techniques of all band instruments, and given important shop safety training and elementary machining instruction as well. Though this is an expensive option that does not focus on flute work, apprentices who come from such a program tend to progress quickly in their new jobs. 


Apprenticeship with an independent tech: An apprenticeship under the guidance of an experienced technician is an ideal career path for an aspiring technician. In the past few decades, opportunities for apprenticeship with independent repair technicians have dwindled. It is difficult for a small repair shop to be able to afford the time to train an apprentice, even though these apprenticeships are often unpaid until the student attains some proficiency. However, occasionally some opportunities do arise, and if the technician is highly reputable, this can be the opportunity of a lifetime. 


On-the-job training with retailer or flutemaker: If you've got some prior related experience in an area like jewelry making, machining, automotive repair, or band instrument repair school, you may be able to land a position at a flute retail shop, and this is a valuable opportunity to learn while also being able to make a living. The volume and caliber of flutes in these shops creates an environment where a talented technician can learn a whole lot very quickly. Similarly, getting a job at a flutemaker can be a fantastic way to learn from the best in the business. In recent years, training programs at flute retail shops have begun to take shape. I believe these programs will play a very important role in creating future flute repair techs.
How long does it take to become a fully trained flute repair technician?
I will answer your question with another question: How long does it take to become a fully trained professional flutist? In order to reach the top of this craft, it will take as many hours of practice and experience to achieve that status as it would to be a top notch flute player. Like flutists, some repair techs have more talent and progress more quickly than others, and some have lofty, high-achieving goals while others are content with not shooting for the stars.
Ultimately, in order to be one of the best, one has to put in thousands of hours of practice and study with the best teachers. Also like a professional flutist, you're never done learning. You're never done striving to be better, searching for ways to improve, and challenging yourself. This is also one of the joys of this profession–you're never done learning and growing.
Should I become a flute repair technician?
Hopefully, this article has helped give you some insight on this question, and some ideas for exploring it further. To give you some additional food for thought, here are some dos and don'ts to consider before jumping into flute repair.
DON'T consider flute repair if:
you want a high-paying career. Despite the high prices for flute repair services, technicians' take home pay is actually quite modest, with little to no upward mobility. In fact, the average wage for instrument repair techs was often as much as 25% below the median wage for each state in all 50 of the United States in 2021. This is something you do because you love it, not because it's lucrative—just like being a musician!


you have a low stress tolerance. This can be a very high pressure, fast-paced job, and will likely not be a good fit for someone who needs a more low-stress job. 


you want a job that isn't sedentary. Despite our best efforts at balance, the reality is that the repair tech's working life is largely spent sitting or standing at the workbench.


you want a performing career. Now that you know it takes a similar amount of hours to master both repair and flute playing, you can see how it would be very difficult to effectively balance both of those pursuits. Many flute techs also perform and teach, but it is a much smaller and part-time aspect of their life in order to keep their focus on their repair work.
DO consider flute repair if:
you love flutes, and never tire of thinking about them or talking about them.
you love learning about and playing all different kinds of flutes (seriously, it's one of the most fun parts of the job).
you love fixing things, and solving problems.
you love working with your hands.
you love helping people.
you love being challenged.
If after reading this article you are more enthused about learning repair than ever, then I encourage you to consider the next step forward. My journey began when I was halfway through my flute performance degree. I asked my flute professor, "How do I learn how to fix flutes?". He said, "I don't know, but I do have this book. You're welcome to borrow it." He proceeded to lend me his copy of A Complete Guide to the Flute and Piccolo, by Lillian Burkart and James Phelan. I took it back to my apartment, read the book cover to cover, and started tinkering with my old marching band flute. Two years later, I was working for the authors. The journey to becoming a flute repair tech is not an easy one, but it is one I will never regret taking.
---
Rachael Simon
Rachael Simon is a highly trusted flute repair specialist based out of Eastern Pennsylvania. She is Straubinger Certified, Muramatsu Certified, and her shop is the official Burkart Repair Center East, serving the entire East Coast and New England. Rachael is known for her careful attention to detail, mechanical expertise, and relentless pursuit of perfection. She has repaired and maintained flutes for top professionals around the world, including instruments for Haynes, Powell, Burkart, Miyazawa, and Yamaha artists. Rachael is also an accomplished flute repair instructor, and has had numerous students and apprentices go on to become top flute finishers and repair technicians. Rachael regularly presents on repair topics for flute events, repair shops, and private instructors.
Rachael holds a Bachelor of Flute Performance degree from Miami University, where she studied with Randolph Bowman, Principal Flute of the Cincinnati Symphony Orchestra, and Dr. Sandra Seefeld. During her studies, Rachael's love for the flute manifested into a love for the flute as a beautiful machine, and decided to devote her efforts to learning flute repair. In 2011, Rachael went on to join Burkart-Phelan, Inc, where she worked for 6 years. In addition to working as a finisher and repair technician, Rachael studied advanced repair techniques with Lillian Burkart and Jim Phelan.
Her capabilities extend to precision machining, wood instrument crack repair, plating, and beyond. Rachael was also in charge of quality control operations for the highly-regarded Resona product line during her tenure. She additionally maintained a private repair shop that serviced all makes and models, earning acclaim from regional professionals and instructors. In 2016, Rachael continued her pursuit of fine flute repair by joining JL Smith and Co. as a flute and piccolo repair specialist.  Her padding techniques and 9th mechanical ability earned her a reputation for bringing flutes to their highest performance potential in both sound and feel.  
Rachael has operated her own independent flute repair specialty shop in Doylestown, PA since 2018. She brings her dedication to the craft, finely-honed precision, and deep love for the flute and piccolo to every job. Her passion is using her knowledge and skills to make each instrument a seamless joy to play for every flutist, whether professional, student, or amateur.