How to benefit from Moyse's Tone Developement Through Interpretation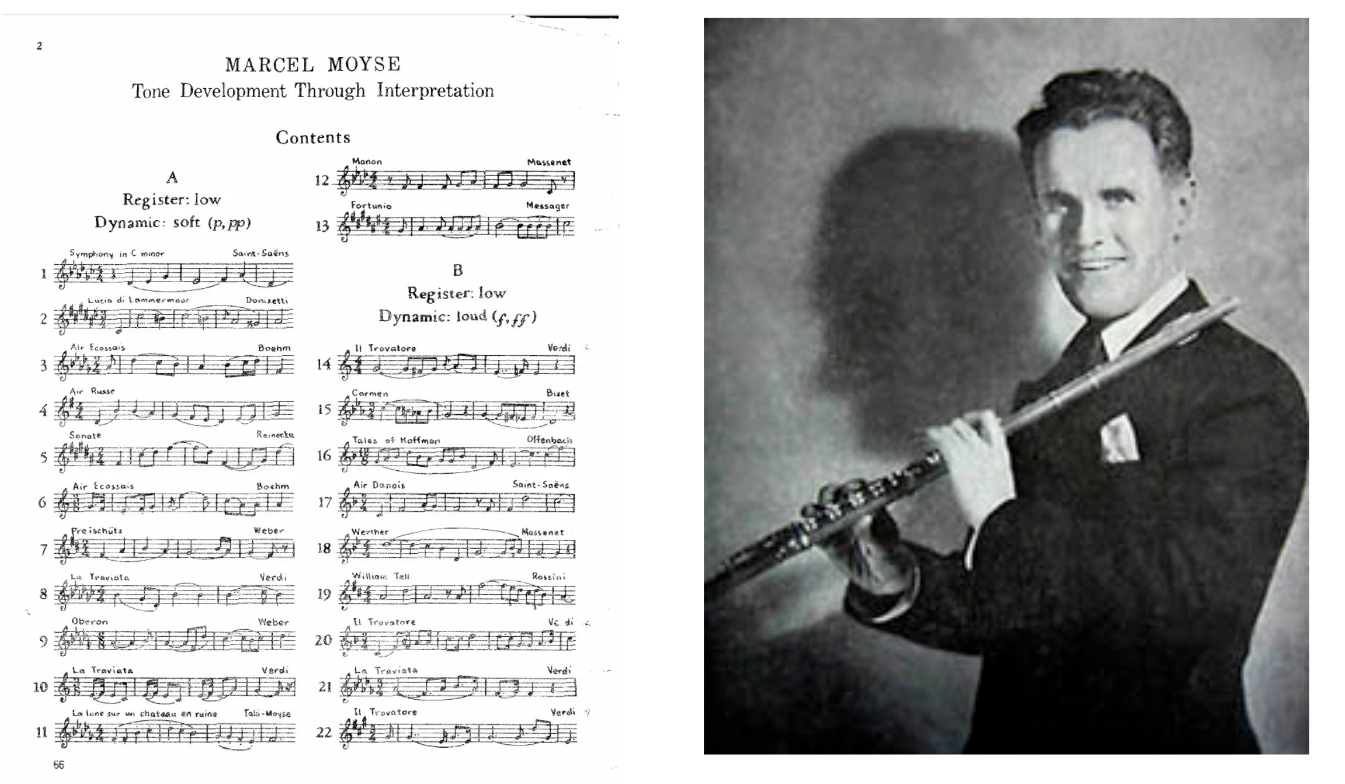 by Cate Hummel
At face value, Marcel Moyse's Tone Development Through Interpretation seems like a hodgepodge of random melodies with little attribution and very little guidance as to where the melodies come from, what Moyse was trying to teach us, and little to no idea what we are supposed to be practicing. A lot of the confusion stems from the fact that the intended preface to the book was never included in the version that was published by McGinnis & Marx.
I first encountered Tone Development Through Interpretation when I was a young college student. The first Moyse books my college professor had me get were De la Sonorité and the Exercises Journaliers. I found Tone Development Through Interpretation on my own in the college library. There was something enticing and enigmatic to my youthful imagination about this collection of mostly opera arias . As I continued my training, I had the opportunity to study Tone Development Through Interpretation melodies with several Moyse students, as well as attend masterclasses where they were being taught. As a doctoral student my dissertation topic became creating a study guide for Tone Development Through Interpretation. I was particularly interested in why Moyse picked the melodies he did, what inspired him to include these melodies, what musicians he wanted to model in his own playing, how he used the melodies in his own teaching, and whether there was anything specific about the vocal pedagogy of his times that he wanted to impart to his students.
From the vantage point of having studied Tone Development Through Interpretation with Moyse students, writing my dissertation about the collection and now living with the melodies for my entire professional career, I can say there are any number of ways one can study melodies that will help you cultivate your capacity to express the composer's intentions.
Moyse's Outline of Study
It is definitely useful to know something about the origins of Tone Development Through Interpretation. Essentially it is Marcel Moyse's practice notebook. When he heard an inspiring performance, he would write out the melody and often transpose the melody into different keys. He did this from his student days and throughout his career as a young professional in Paris and around Europe up until World War II. While we think of Tone Development Through Interpretation as a collection of opera arias transcribed for flute, it has so much more. There are excerpts from flute literature, popular songs, virtuosic show pieces, string repertoire and chamber music. I also think Moyse had performances by specific artists in mind for each melody, though today it is mostly conjecture as to whom he was specifically thinking of in many cases.
After World War II, Moyse and his family found themselves in Marlboro, Vermont, where Moyse started an annual woodwind seminar. It was there that Tone Development Through Interpretation began to take the shape we know today. Seminar participants were copying the melodies out by hand, listening to numerous recordings of each assignment with Moyse, discussing different points of inflection, dynamic, nuance, vibrato and interpretation. They then compared the relative merits of playing each melody on different instruments, discussing strengths and weaknesses of each instrument for the task. Many of the melodies studied at the Woodwind Seminars became part of Tone Development Through Interpretation, which was published in 1962.
If you look at the Table of Contents, it is obvious that Moyse carefully arranged the melodies according to register, dynamics and nuance. However, there is no elaboration as to what he was thinking about specifically in each category. It wasn't until after Moyse's death that a full introduction was found among his papers. Apparently, Joseph Marx had published Tone Development Through Interpretation without the intended introduction because Moyse had missed his deadline for submission. Consequently, Moyse created another Tone Development Through Interpretation titled The Flute and Its Problems:Tone Development Through Interpretation, published by Muramatsu that has an extensive introduction, but not the same as the original one found in his papers. The original was published in a couple different places; in the newsletter of Marcel Moyse Society https://moysesociety.org/wp-content/uploads/2017/01/MMS-Newsletter-v13-2002.pdf and in The Melody Book by Sonja Giles and published by Carolyn Nussbaum.
To work through Tone Development Through Interpretation as Marcel Moyse intended and taught it is a painstaking process. It is necessary to identify the melody source. If it is from an opera, one needs to know the name of the aria, the character who sings it and the context within the opera. Then one needs to hear a number of performances and analyze the interpretation in detail of each recording. Then one needs to play the melody many times to coax out the expression and nuance of one's instrument. It has gotten much easier to find piano scores on IMSLP and accompaniment tracks on YouTube than it was back when I was a student. It can be useful to know something of the singers or artists that Moyse revered, as outlined in The Flute and Its Problems: Tone Development Through Interpretation, though there are many great examples to model among today's performing artists.
Working Through TDTI by Opera, Voice Type or Type of Piece
When I first started working through Tone Development Through Interpretation in detail, I was led by Judith Mendenhall to study all the arias in the book from La Traviata, Il Trovatore, and Lucia di Lammermoor. In doing so, we also looked at a lot of tenor and baritone arias especially. When I was writing my dissertation, I also learned as much as I could about the French opera arias including those by Bizet, Massenet, and Gounod. One still needs to do the research regarding aria, character who sings and context in the opera. One could just as easily study all the melodies that are extracted from flute pieces like the Boehm Fantasia on Scotch Airs, op. 25, the Taffanel Freischütz Fantasie, Reichert Fantaisie Melancolique, etc. There is also a wealth of music for violin, such as the Beethoven Romance in F, Bach Violin Sonatas, Beethoven Violin Concerto, etc.
Making Your Own Tone Development
Trevor Wye has pointed out many times that there is no magic in the printed page, nor is there anything particularly magical in the melodies that Moyse included in TDTI. They were simply melodies that were meaningful and instructive for him. The truth is that tracking down the sources in Tone Development Through Interpretation can be frustrating because there is a fair amount in the collection that isn't well known today. There are even a couple melodies that I never found anything on, lost in the sands of time. Perhaps most importantly of all is that the point of Tone Development Through Interpretation is to develop our own curiosity and resourcefulness in learning what makes music communicative on an emotional level. Some of the things that contribute to this understanding include how we show the hierarchy of beats, how we breathe within a phrase and at the end of phrase, dynamics, tone color, inflection, and use of vibrato. We can study this in opera arias, music for other instruments besides our own, popular music, music from the theater, from movies and video games. Compile your own notebook of your favorite melodies. Discover what intervals are easy or hard for you. If you transpose it to other keys, does it affect what seems easy or difficult? You can examine the text, the phrasing, how tension and release is created through nuance and inflection. Apply Moyse's methods listed in the introduction to Tone Development Through Interpretation to your own favorite melodies. What can you learn from recordings by your favorite artists, YouTube recordings, Spotify or iTunes recordings?
An excellent example of creating one's own notebook of favorite melodies to inspire is Honoring Marcel Moyse by Alan Cox. Mr. Cox has included more than 50 examples of melodies that have inspired him to explore his color and expression throughout his career. As with Moyse's TDTI, there are opera arias, lieder, choral music, keyboard music, orchestral music, chamber music, and flute pieces that cover every type of tone quality, nuance and phrasing. One of the most useful aspects of Honoring Marcel Moyse is that Mr. Cox provides all the background of the piece itself, how he came to include it and what he learned and consequently teaches about each of his selections.
Bibliography
Tone Development Through Interpretation, Marcel Moyse, McGinnis & Marx, 1962
The Flute and Its Problems: Tone Development Through Interpretation, Marcel Moyse, Muramatsu Gakki Hanbai Co., Ltd., 1973
The Melody Book, Vol. 1, Sonja Giles, Carolyn Nussbaum Music Company. 2010
Honoring Marcel Moyse, Alan Cox, Metamorphosen Productions, 2013
Marcel Moyse and Tone Development Through Interpretation: A Study Guide, Catherine (Cate) Hummel, Submitted to The Manhattan School of Music in partial fulfillment of the requirements for the degree of Doctor of Musical Arts, 1996 (available from the author)
---
Cate Hummel
Cate Hummel discovered the books and teaching of Marcel Moyse as an undergraduate student in Philadelphia. As a doctoral student, Cate's interest in Moyse's teaching became her dissertation topic, a discussion of how Moyse taught the melodies of Tone Development and the various experiences and artists that had shaped his musical thought. Cate has taken her research into the teaching of Marcel Moyse to flute events around the country and internationally with presentations on Tone Development Through Interpretation and 24 Little Melodic Studies. Dr. Hummel performs as an Altus and Azumi flute artist. She is founder and director of Dr. Cate's Flute Camp, a day camp for flute students based in the Chicago suburbs. She is Adjunct Professor of Flute at the University of St. Francis and teaches privately both in person and online.
---