Big flute family – International Kyiv Flute Festival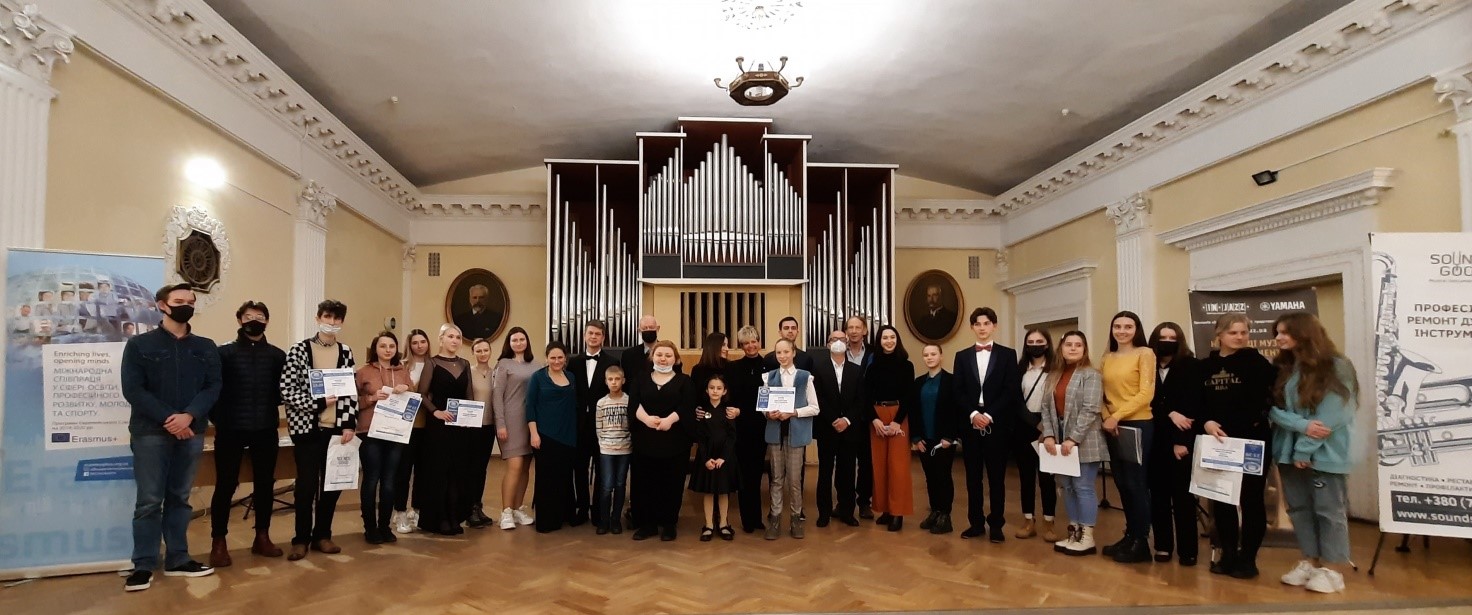 International Kyiv Flute Festival – проект, открытый для сотрудничества! Приглашаем Вас стать его участниками!
Флейтовый фестиваль такого масштаба в Украине прошел впервые!
Автором идеи и инициатором проведения Фестиваля, а также его творческим руководителем является доктор философии (PhD), профессор, флейтист – Антон Кушнир (Anton Kushnir). Cовершенно новый проект объединил великолепных музыкантов – европейских флейтистов, профессоров консерваторий, известных исполнителей:
Франческа Сальвемини (Francesca Salvemini), Monopoli Conservatory, Italy
Джиорджиa Санторо (Giorgia Santoro), Monopoli Conservatory, Italy
Мануэль Моралес (Manuel Morales), Superior Music Conservatory of Music of Vigo, Spain
Хенрик Свитцер (Henrik Svitzer), Royal Danish Conservatory of Music, Denmark
Антон Кушнир (Anton Kushnir), Ukrainian National Tchaykovsky Academy of Music
Специальным гостем Фестиваля стал Людвиг Бём (Ludwig Böhm) Германия.
Международный конкурс в четырех возрастных категориях собрал более 50 участников из разных городов Украины, Грузии, Китая. Конкурсанты показали очень высокий уровень подготовки и мастерства.
В гала-концерте профессоров/артистов/членов жюри Фестиваля звучали произведения для флейты соло и ансамбли.
Следует отметить мировые премьерные исполнения:
Джиорджиa Санторо (Giorgia Santoro) блестяще исполнила Sabaya для флейты соло Giovanni Tamborrino;
Мануэль Моралес (Manuel Morales) великолепно представил Fantasie V для флейты соло Jesus Gonzalez.
Огромный успех имела лекция об истории поперечной флейты Людвига Бёма (Ludwig Böhm).
Церемония награждения порадовала лауреатов и дипломантов конкурса разнообразными профессиональными призами! В заключительном концерте в исполнении всех артистов и арт-менеджера фестиваля, пианистки Марии Пухлянко (Maria Pukhlianko) прозвучала еще одна премьера – Escape для 5-и флейт и фортепиано украинского композитора Сергея Вилки (Serhii Vilka). Произведение, которое было создано автором специально для Фестиваля!
Открытые мастер-классы собирали огромное количество молодых музыкантов, их педагогов, просто любителей флейты.
А еще – незабываемые встречи, творческое общение, новые идеи…
Все это стало возможным благодаря поддержке наших партнеров и друзей – Национальному офису Erasmus+ в Украине, Компании "Ин-Джаз", которая является официальным представителем YAMAHA в Украине, Компании Sounds Good, Издательству Edition Svitzer!
Нашим главным информационным партнером является The Babel Flute!
СПАСИБО ВАМ, ДРУЗЬЯ!
Подробная информация об участниках и победителях конкурса, фото репортаж, видео конкурсных выступлений, гала-концерта и церемонии награждения – на Facebook странице нашего фестиваля @kyivflutedays https://www.facebook.com/kyivflutedays/
Валентина Курдюкова (любитель флейты, друг фестиваля):
У нас, флейтистов (нескромно себя к оным причисляю), были 'ЭТИ ДНИ' – Kyiv Flute Days! Великолепное масштабное мероприятие: конкурс, мастер-классы Henrik Svitzer, Manuel Morales, Francesca Salvemini, Giorgia Santoro, лекция пра-правнука Теобальда Бёма (того самого создателя современной флейты) – Ludwig Böhm и великолепная лекция-пинок всем флейтистам для дальнейшего развития (даже я испугалась – вдруг у меня в плохом состоянии инструмент) от Антона Кушнира, великолепные концерты!

Спасибо большое всей команде 'этих дней' за то, что «волшебная флейта» в этом году нас всех объединила, несмотря на все риски запретов, локдаунов и природных катаклизмов! Роскошная программа, огромный толчок для развития флейтовой музыки в Украине (и не только), очень надеюсь, что это станет доброй традицией!
Евгений Дашак (пианист, концертмейстер фестиваля):
Закончился International Kyiv Flute Festival! Это был настоящий Международный Праздник Флейтовой Музыки, столь необходимый для учеников, студенческой молодежи, преподавателей, просто ценителей этого изысканного инструмента, ведь ничто так не ценится, как живое творческое общение с музыкантами-профессионалами, признанными в мире Музыки! Этот праздник стал возможным благодаря неутомимой кропотливой работе и творческому горению креативных, харизматичных, талантливых личностей – идейных вдохновителей мероприятия Антона Кушнира и Марии Пухлянко. Сердечно благодарю их за то, что привлекли меня к участию в таком масштабном проекте!
Джорджия Санторо (профессор/артист/член жюри):
Un articolo sull'International Kyiv Flute Festival al quale ho avuto il piacere e l'onore di prendere parte all'International Kyiv Flute Festival insieme a Francesca Salvemini, Manuel Morales, Henrik Svitzer e Ludwig Böhm.

Grazie di cuore ai meravigliosi Maria Pukhlianko e Anton Kushnir per l'invito e l'ospitalità!

Grazie a tutti i meravigliosi flautisti che hanno partecipato alla mia masterclass, è stato un onore e un piacere conoscervi

Evviva la musica!
Маргарита Яковенко (флейтистка, член оргкомитета фестиваля)
Сегодня закончился грандиозный флейтовый фестиваль – International Kyiv Flute Festival!

Это было ярко, интересно и насыщенно. Поздравляю Антона Кушнира и Марию Пухлянко с таким успехом на этом масштабном фестивале! Вы проделали большую работу! Это – выдающееся событие, которое, я уверена, стало первым шагом для организации дальнейших фестивалей, встреч и сотрудничества с флейтистами всего мира.
Евгений Кушнырёв (флейтист, участник конкурса)
Спасибо всем профессорам за эти насыщенные дни, за переданные знания и опыт, за новые знакомства и атмосферу сплоченности!
Мануєль Моралес (профессор/артист/член жюри)
Last but not least! We finish tonight the Kiev Flute Days with a concert of the prize-winners in the competitions preluded by a première by Serhii Vilka where all the flute professors, Giorgia Santoro, Francesca Salvemini, Henrik Svitzer, Anton Kushnir and me together with Maria Pukhlianko (piano) will perform Escape for five flutes and piano!
Впереди – подготовка к следующему фестивалю и конкурсу.
Также в планах организаторов создание в Национальной музыкальной академии Украины нового творческого исполнительского коллектива – хора (оркестра) флейт. Приобретение ПЕРВОЙ в Украине басовой флейты (да-да, к сожалению, в нашей стране до сих пор нет ни одного такого инструмента) сделает возможной деятельность этого коллектива, что еще больше сплотит молодых музыкантов и станет фундаментом их взаимодействия и профессионального развития.
Декларируя свое желание привлечь и объединить максимальное количество участников – конкурсантов, артистов, педагогов, любителей флейты, композиторов – следующим шагом организаторов станет создание в Украине «Ассоциации флейтистов Украины».
Мы заинтересованы в сотрудничестве!
Приглашаем спонсоров и информационных партнеров стать частью проекта – поддержать молодых исполнителей и новые креативные идеи!
Будем рады и благодарны консультациям и помощи в вопросе приобретения басовой флейты, а также любым Вашим предложениям для поддержки и развития самого масштабного флейтового события в Украине!
---
1st Flute Festival in Kiev and Flute Day in Dnipro
by Ludwig Böhm
Kiev
Anton Kushnir organized the 1st International Flute Festival in Kiev from Saturday, 23 October to Wednesday, 27 October 2021 in the Kiev Music Academy. On the first two days there was a flute competition in four age groups: A – under 13 years, B – 14 to 16 years, C – 17 to 19 years and D – over 20 years. The total of 52 participants each played two to three pieces of approximately 15 minutes duration. Most of the pieces were performed from memory. The jury members were Anton Kushnir (chair), Manuel Morales from Spain, Francesca Salvemini and Giorgia Santoro from Italy and Henrik Svitzer from Denmark. The two overall winners were Mahdalyna Volzhanina and Katerina Pyrohova. According to the jurors, the level corresponded to the Western European competitions.
After the competition on Sunday at 16:45, my slide lecture about Theobald Böhm followed. After this, three students played his works Opus 4, Opus 37, Etude no. 22 and Opus 16[b]. Master classes by foreign jurors followed over the next few days. The jury's concert took place on Monday evening and the winners' concert on Wednesday evening.
The festival was very well organized by Anton Kushnir. His dissertation was about the German flautist Andreas Niehoff from Hanover, who was trained by Theobald Böhm's student Carl Wehner in St. Petersburg. Another student of Carl Wehner was Wilhelm Kretschmann, who introduced the Böhm flute in Moscow. Through his student Carl Wehner, Theobald Böhm had a significant influence on the flute playing in Russia and the Ukraine.
Kiev has about three million inhabitants. What was surprising to me was that almost all people paid with their cell phones. One of the sights that I visited with two students was, in addition to the St. Sophia Cathedral, the memorial in Babyn Yar, where 33 000 Jewish residents were shot by German soldiers over two days 80 years ago.
Dnipro
The journey by train from Kiev to Dnipro on Thursday, October 28, 2021 took about six hours. At 16.15 I gave my slide lecture about Theobald Böhm. Before that, his opus 31 and after that opus 18 were performed by students. After a short break, students played six more works by him, opus 7, 27, 33, 34, 35 and arrangement [53]. Everything was very well organized by Volodymyr Lebed.
Dnipro is located about 400 km southeast of Kiev, was called Dnipropetrovsk until 2016 and is the fourth largest Ukrainian city with about one million inhabitants. Because of the arms industry, the city was closed to foreigners until 1990. During a three-hour walk with students, I also walked a part of the 30 km long promenade on the bank of the heavily polluted Dnipro, which is about 1,5 km wide at this point. On the return trip with the night train to Kiev I got pretty shaken because of the uneven rails.
Since the Conservatory in Odessa and the University of Arts in Kharkiv were closed due to Corona, the slide lecture there with the subsequent concert in these cities had to be postponed to a later date.
---
Ludwig Böhm
Address: Asamstrasse 6, 82166 Gräfelfing, Germany, tel. 0049-89-875367
Ludwig Böhm was born in Munich, where he studied English, French and Spanish at the University and was a teacher from 1981 to 1983. Inspired by a great exhibition in the Munich Municipal Museum in 1981 on the occasion of the 100th anniversary of the death of his great-great-grandfather Theobald Böhm (flautist, composer, flute-maker, inventor of the Böhm flute, Munich 1794–1881), he dedicated his life from that time on to keeping the memory of Theobald alive. As a result of more than 30 years of research, he published in 2012 all 88 compositions and arrangements of Theobald together with Dr. Raymond Meylan and in 2013 20 books and 4 translations from and about him. He travelled to flute festivals in Japan, Australia, USA, Netherlands, Spain, Germany, Italy, Croatia, Luxembourg, Slovenia, China, Great Britain, Iceland, Thailand, Portugal, Chile, Poland and Armenia and presented a slide lecture about Theobald. He is the President of the Theobald Böhm Archive, founded in 1980, of the Theobald Böhm Society, founded in 1990 and of the Theobald Böhm Foundation, founded in 2014. In 2006, 2011 and 2016, he organized in Munich the 1st, 2nd and 3rd International Theobald Böhm Competition for Flute and Alto Flute.
List of professional open G# players
Current list of 480 professional open G sharp players can be seen in the homepage www.theobald-boehm-archiv-und-wettbewerb.de under "Open G sharp Key". If you are a professional open G sharp player, who have not yet contacted Ludwig Böhm, please do so at ludwig.boehm@t-online.de to be added to the list.
---
Антон Кушнир (Anton Kushnir)
Украинский флейтист, доктор философии (PhD), доцент, декан оркестрового факультета Национальной музыкальной академии Украины имени Петра Чайковского (Ukrainian National Tchaykovsky Academy of Music, Киевская консерватория).
Является выпускником этой Академии (класс проф. Владимира Антонова, Volodymyr Antonov), совершенствовал мастерство в Музыкальном университете имени Ф. Шопена (Варшава, класс проф. Ельжбеты Дастих-Шварц, Elzbieta Dastych-Szwarc).
Антон – артист Академического симфонического оркестра Национальной филармонии Украины. Является автором ряда научных исследований по истории, теории, методики исполнительства на флейте.