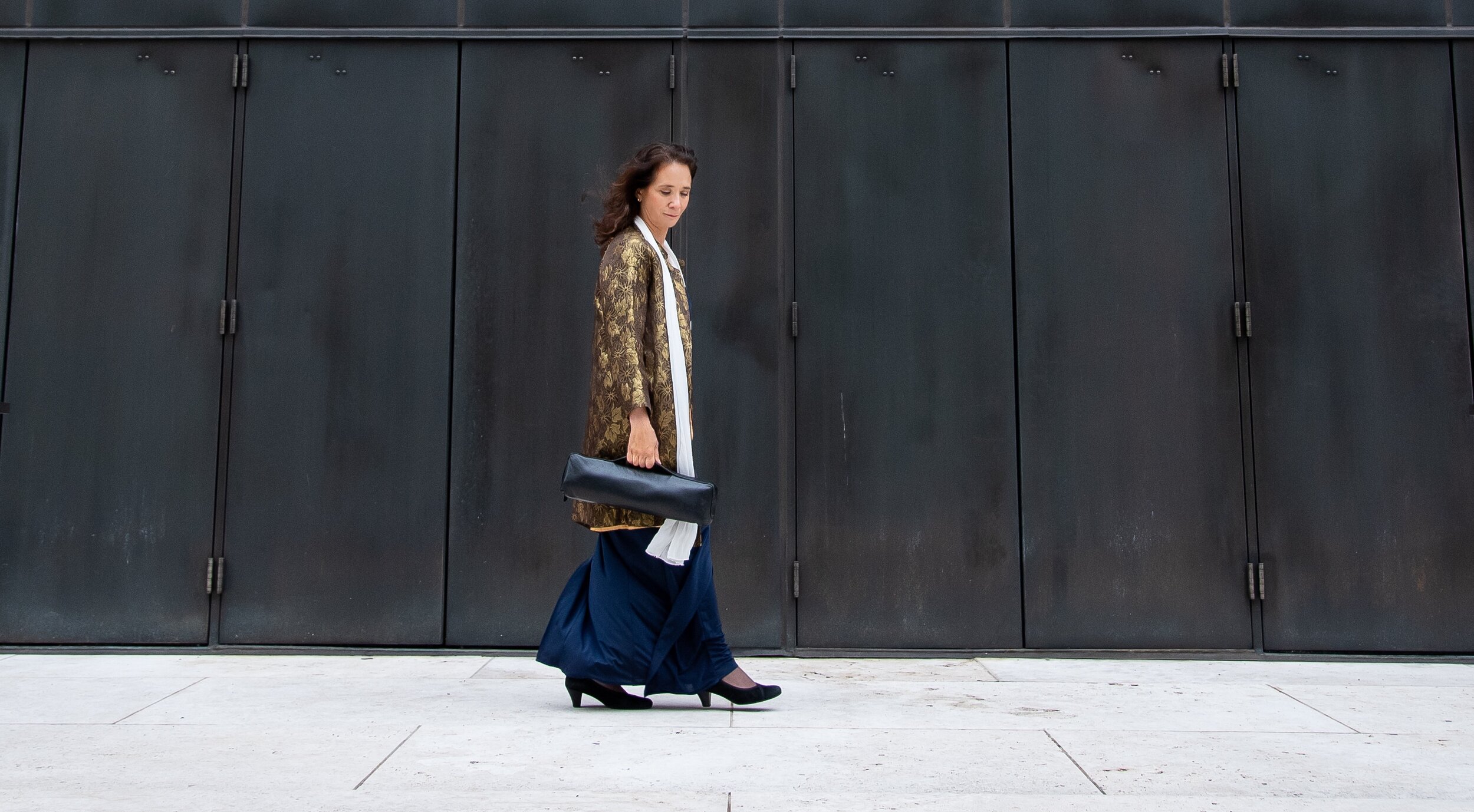 by Helen Campo
It's the beginning of May – an average overcast morning in New York City, and I'm gazing out the window by my dining table drinking a cup of fennel tea, distractedly twirling my favorite oat breakfast cookie between my fingers. I notice, yet barely, the overlapping walls of brick, visible from the back of my apartment – something I normally don't have a lot of time to do. But yesterday, I took a Covid-19 PCR test, and, turned out, it was positive. So, here I am quarantining with Covid for the 2nd time in 2 years, and all I can think as I gaze out the rain-soaked window is how lucky I am. "Are you bored?" a relative asked me. "Never," I replied. "How could I be bored if I have a flute to play and a bit of music?"
Last time I had Covid, in the Spring of 2020, there was an elephant sitting on my chest, or so it felt to me. Fortunately, no pachyderms have made an appearance this time. Back then, I'm pretty sure I would have died if it hadn't been for my son's "nutty breathing exercises"… or so called by me until it seemed my life depended on them. Wim Hof Guided Breathing Bubble, in case you're interested, is available in an app… of course! Basically, you breathe in and out 40 times fairly quickly, effectively hyperventilating, then hold your breath as long as you can until you're maybe about to pass out. (ok, maybe don't wait that long…) Next you take one more breath, this time holding for only 15 seconds while squeezing your stomach muscles as hard as you can. Finally, repeat the whole thing two more times. This raises your blood oxygen level through the roof, and in my case, kept it there for hours. Do this once a day and you might thank me… well, and my son, and of course, Wim Hof. Thanks to these exercises, I can now hold my breath for 3 minutes and 20 seconds! But don't be too impressed with my Wim Hoffian accomplishments; my cello-playing husband does the exercises, too, and has breached the four minute mark on several occasions.
So, the moral of this story is: listen carefully to the next generation.
I have no symptoms this time, but yesterday, when I found out the results of my PCR test, it was just a couple of hours before a rehearsal with the New Jersey Festival Orchestra, a group in which I've been Principal Flute since 1985. I was supposed to be playing La Mer among other beautiful masterpieces, and with less than 2 hours to spare, a flutist friend of mine was kind enough to step in and take over for me. To quote a review I got one time in the South China Morning Post, "This proves New York is the home of great musicians." That's something I love about music and about NYC, there are so many wonderful musicians. The place is crammed with them! I'm sure I've learned as much from colleagues as teachers. Collaboration- this for me is the true spirit of music. At its best, it can be a beautiful community.
Moral of this story: with the right attitude great musicians can not only get along, but help each other out.
My story would be misleading, though, if I didn't mention the outliers – people who seem to consider dishonesty a business model. This may sound like an exaggeration, but someone recently openly admitted to me that this was their strategy. Having learned it from their teacher, they acted as if I were naïve to think something was wrong with this. I hope and believe that most people would agree that there is actually something wrong with this behavior. Take for instance the second flute player, who asks the third flute 15 times in a row whether she's sharp, and they tell her she sounds fine 14 times until they figure she maybe won't stop unless they say "maybe," and then she immediately complains audibly to the principal that the third player is acting out of line and directing her intonation; or the principal flutist, who calls colleagues who beat her in classical competitions and auditions, "no-name" as in, "that no-name won again", and for decades after, pretends the colleague is not even a classical player; or the flutist who brands anyone who is offered work she may have liked to get as "competitive".
What's the answer to this? Should all personnel managers come equipped to rehearsals with tiny portable lie detectors, so when you hear someone engaging in "alternate facts", you can hook them up to the machine to test the veracity of their assertion? Well, it's a nice thought anyway…
"People aren't bad, they only act badly to fulfill some need," someone once told me. Does that mean we should excuse them? I ran into a younger horn player recently, who told me he was shocked by the abusive behavior of a very well established musician he had been hired to play a quintet with recently. Apparently, she was blaming everyone else for her own mistakes. His answer to this was to refuse to ever play with her in the future. He felt certain people of my generation and older were permitted to continue this behavior, because the rest of us didn't speak up. In fact, because they are allowed to control the narrative, they are even rewarded for the behavior, It's food for thought.
Moral of this story? Consider other perspectives! And while we're at it, be equitable and honest. Practice gratitude and kindness.
Just maybe Mark Twain was right when he said,
"You become what you do."
Here in front of my rain-spotted apartment window, with my positive Covid result, I know how lucky I am to have a home at all, or not to, god forbid, live in a warzone. On top of that, I am in the music business, a business that has such highs and gives me so much joy, that I can manage to make it through the difficulties just fine. Still, here's hoping the next generation can just put an end to abuse being rewarded. That way they will be freer to focus on the music, wonderful music – the worthy universal language of the spirit.
For, to quote Leonard Bernstein,
"Music . . . can name the unnameable and communicate the unknowable…. This will be our reply to violence: to make music more intensely, more beautifully, more devotedly than ever before."
The empty chair at center stage is representing missing relatives at the family table for those lost…
---
Helen Campo
The South China Morning Post declared that flutist Helen Campo "had such dazzlingly beautiful tone, that she could only be called extraordinary… she displayed stunning lucidity, colour, and figuration."
In addition, Leonard Bernstein said, "Miss Campo plays the flute the way I wish I could sing."
Since her debut at the age of 14, Ms. Campo has made hundreds of solo appearances, from concertos with the Philadelphia Orchestra and others in the Academy of Music, Carnegie Hall, Kennedy Center, Lincoln Center and the Hong Kong Cultural Center, to a guest television appearance with the Muppets. The youngest flutist ever to win Concert Artists Guild International Competition, and the first flutist to win Artists International Distinguished Artists Award, she has been the subject of feature articles in several national magazines. Helen also won the position of Acting Associate Principal Flutist with the Houston Symphony and has performed as Assistant Principal with the Baltimore Symphony. She has also been a long time substitute player with the NYC Ballet, NYC Opera, and NY Philharmonic, and has performed in the Principal Flute, Second Flute, and Piccolo positions with all three organizations.
In addition, Helen is a member of the New York Pops, NJ Festival Orchestra, and Greenwich Symphony. Helen is also a former member the NY Symphonic Ensemble, the White Plains Symphony, EOS Ensemble, Cathedral of St John the Divine Symphony, and the Summer Ballet Orchestra at the Metropolitan Opera. Over the years, she has additionally performed with American Symphony Orchestra, American Composers Orchestra, American Ballet Theater, Colonial Symphony, Brooklyn Philharmonic, Jupiter Symphony, Queens Symphony, Orchestra of St Luke's, Metropolitan Opera, NY Choral Society, Little Orchestra Society, NJ Symphony, NJ Opera Orchestra, Mostly Mozart, Long Island Philharmonic, NY Chamber Orchestra, Discovery Orchestra, Teatro Grattacielo, and others.
A long time proponent of New Music, more than 20 solo and chamber works have been written for her. In addition to her accomplishments as a classical musician, Helen was the flutist for Nickelodeon's #1 TV show Wonderpets!, The Backyardigans, can be heard on countless television commercials and film, and has performed and recorded with Ray Charles, Michael Jackson, Tony Bennett, James Taylor, Radio City Rockettes, Stevie Wonder, PDQ Bach, Sting, The Who, and Rosie O'Donnell among many others. She has also appeared on numerous talk shows including the Today Show, Late Night with Stephen Colbert, and with Aretha Franklin and The Musician Rodriguez from the movie "Searching for Sugarman" on Late Night with David Letterman. In addition, she has held the Principal Flute chair of 10 Broadway shows, currently, Wicked.
---