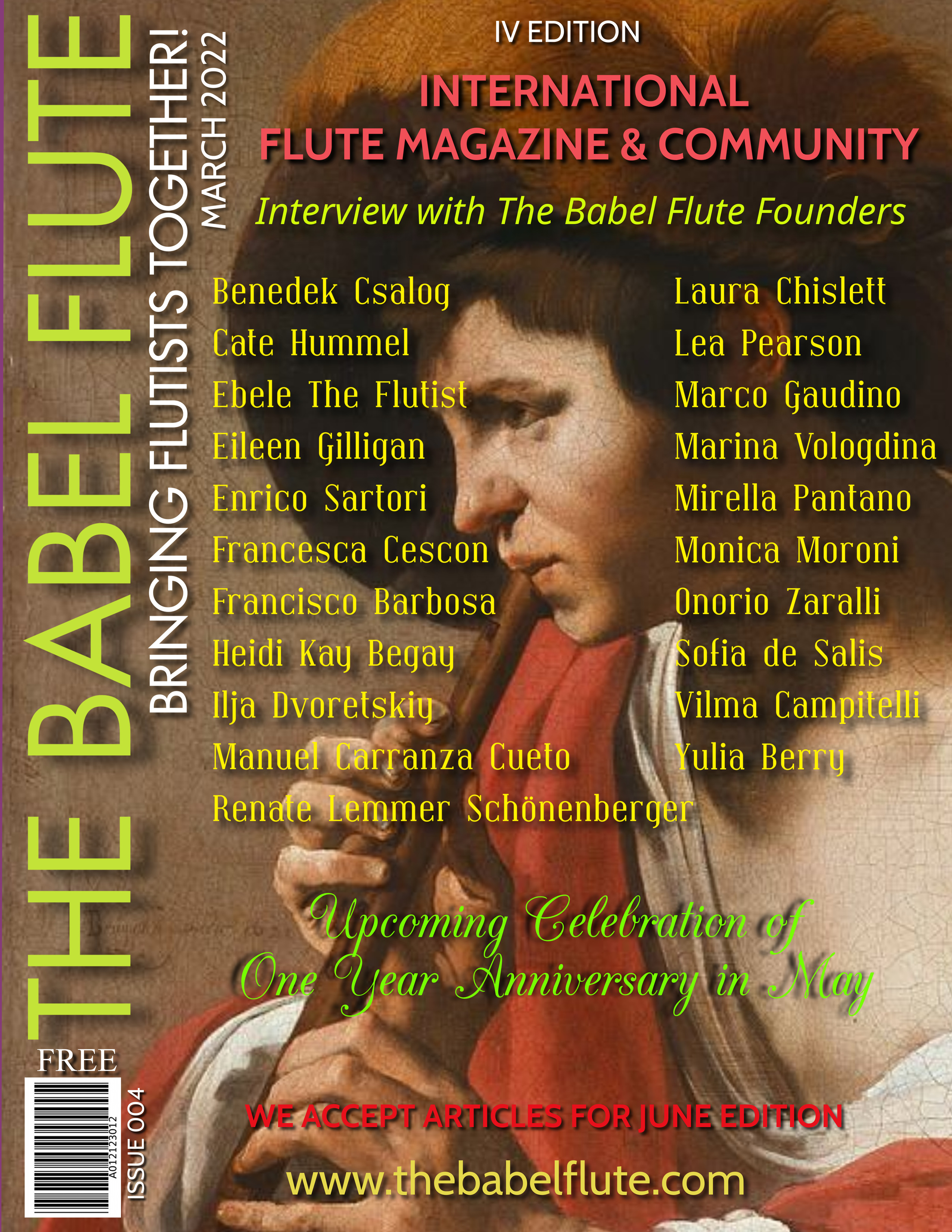 Dear flutists,
We would like to present the fourth edition of the Babel Flute, which marks one year anniversary of the project and thank all the contributors who made the new edition possible and exciting!
In this edition there is so much of new and unique flute research, written exclusively for The Babel Flute! We would like to present 22 articles, 9 new authors, 4 new countries, 1 new category, new flute games and quizzes
▪︎ In this edition, we have prepared an interview with The Babel Flute Founders Onorio Zaralli and Yulia Berry, conducted by Sofia de Salis, PR Director of the project. Learn about how it all started, first results and the future plans of The Babel Flute.
Interview with The Babel Flute Founders
▪︎ We are celebrating the 325th anniversary of the birth of Johann Joachim Quantz! Marina Vologdina from Saint-Petersburg, Russia wrote an essay about the life and work of the great flutist and composer. Unique material, collected together and not available anywhere else!
Иоганн Иоахим Кванц – придворный музыкант
▪︎The Quantz Project by Benedek Csalog from Hungary is a great addition to our celebration of Quantz's Birthday! This unique project is free and can use support of the world flute community. Read the article to find out more!
The Quantz Project
▪︎The Babel Flute has reached to Africa! Ebele from Nigeria will share 5 tips on achieving greatness and staying focused.
5 tips for achieving greatness and staying focused
▪︎ We keep expanding in Australia! Eileen Gilligan shares her approach to 24 Melodic Studies by Marcel Moyse in order to make the flute sing!
Making The Flute Sing!  How Does a Player Do This?
▪︎ Australian flutist Laura Chislett provided unique information about Female Composers from Down Under and their flute compositions, written from 1960s – 2000.
Female composers from down under, flute works, 1960s – 2000s
▪︎Renate Lemmer Schönenberger, professor at the Basel Conservatory, Switzerland, provides methodological advice, practical examples and planning strategies that you can apply in lessons with younger students.
Aktive SchülerInnen, ein Wunschtraum jeder Lehrperson?
▪︎Vilma Campitelli, Italian flautist and author of "Compendium Musicae Flauta", tells us about Amy Beach, a Boston-based female composer and the first woman in the United States to have a successful career, whose accomplishments are the ultimate symbol of the American Dream.
AMY BEACH (1867-1944) [pseudonimo di H.H.A. BEACH] 
▪︎ Manuel Carranza tells about the history of incredible Afro-Peruan style and talks to César Peredo, famous Peeruvian flutist and compooser about his experiences and achievements in the dissemination of Afro-Peruvian music.
La flauta traversa en la música afroperuana
▪︎Ilja Dvoretsky, director of the Moscow Flute Center begins a series of articles on the basics of playing the flute and shares his vision of many fine adjustments and processes that are worth paying attention to.
Основы игры на флейте. Часть 1.
▪︎Heidi Kay Begay, who owns and runs successful J&K Media Productions and Flute 360, in her article will tell us what great opportunities musicians can find in podcasting
Podcasting: An Entrepreneurial Opportunity for the Modern-Day Musician
▪︎ Enrico Sartori, Italian flutist and conductor, currently working in China, gives a lot of information about Pietro Morlacchi's popular work The Swiss Shepherd and clears up the confusion about the composer.
Il Pastore Svizzero (The Swiss Shepherd) by Pietro Morlacchi
▪︎ Italian flutist Mirella Pantano continues her series of articles on flute psychokinesthesia, and in this issue focuses on control and development of thought.
Psicocinestesia flautistica
▪︎Monica Moroni, flutist from San Marino shares her love for the alto flute, its beauty and contemporary repertoire.
La bellezza del Alto Flute
▪︎Lea Pearson gives advice on how to navigate embodied practicing & memorization
Navigating Embodied Practicing & Memorization
▪︎ Francesca Cescon, a great specialist in contemporary music tells about an incredible Italian composer Riccardo Piacentini
Riccardo Piacentini
▪︎Marco Gaudino continues the series of articles on physiology and in this edition focuses on the positive and negative muscles involved in the production of sound in the flute and wind instruments
 I Muscoli positivi e negativi coinvolti nella produzione del suono nel flauto e negli strumenti a fiato
▪︎Read Cate Hummel's article to find out how to benefit from Moyse's Tone Developement Through Interpretation
How to benefit from Moyse's Tone Developement Through Interpretation
▪︎Fransisco Barbosa, flutist from Portugal, shares his research on flute stopper and invites to further discuss this topic.
Flute stopper research: where does it lead us?
▪︎Sofia de Salis opens more secrets if effective practice and relaxation.
Секреты эффективных занятий для флейтистов. Часть 3.
▪︎Onorio Zaralli gives a great analysis of Syrinx by C.Debussy. Don't miss!
C. Debussy, Syrinx
▪︎ Yulia Berry reviews some fine examples of flute in Japanese Art
Flute in the art of Japan
Don't forget to play the new flute quizzes and games created by Onorio Zaralli for this issue!
Quizzes & Games
Remember to use the translate button on the website to read all articles in your preferred language. We hope you enjoy reading, sharing, commenting, discussing and supporting our authors. We invite everyone to join our international flute community!
We start accepting articles for the June Edition.