Female composers from down under, flute works, 1960s – 2000s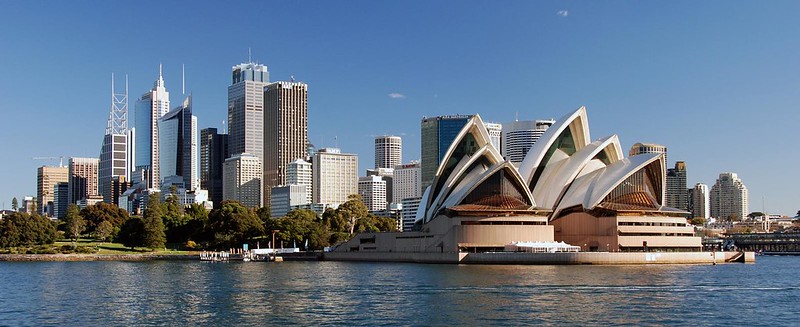 by Laura Chislett
Australians love to move. Many of us spend weekends in The Great Outdoors participating in sport or simply experiencing the beauty of the natural world. The aural representation of landscape became a central theme of Australian composition from the mid 20th century onwards; likewise, the incorporation of elements from the cultures to our north.
Toru Takemitsu came to Australia in 1969, making "the acquaintance of …young composers" . Takemitsu "offered young Australians a means to a cultural identity they were seeking by offering up the possibility for a dramatic break from colonial traditions" (Ibid). Among those young composers were Anne Boyd, Helen Gifford, and Alison Bauld, and of course Peter Sculthorpe.
Anne Boyd
Peter Sculthorpe was Anne Boyd's composition teacher at Sydney University. Sculthorpe, in his 1999 memoir titled 'Sun Music' writes:
"Gamelan music was once described as being like running water: it's always different and yet always the same. This could describe much of Anne Boyd's music, even those pieces that are influenced by Korean or Japanese ideas" (p.190).
Anne Boyd's widely performed flute and piano pieces dating from 1978 – 1981 are 'Goldfish Through Summer Rain', 'Red Sun, Chill Wind', and ''Cloudy Mountain". They are indeed mesmerisingly beautiful and expertly suited to the modern concert flute with piano combination. They are all published by Faber Music, and were all composed for Geoffrey Collins who was an inspiration to many flute players and composers alike.
There are two further flute-plus-piano pieces composed slightly later, Bali Moods No. 1 (1987) and Bali Moods No. 2 (1988): the latter exists in two versions, one for chamber choir, and the other for flute and piano. Here's a link to recordings of all the above pieces with Geoffrey Collins, flute, and David Miller, piano:
https://www.australianmusiccentre.com.au/product/crossing-a-bridge-of-dreams
Boyd's "KaKan" from 1984 for alto flute, marimba and piano is a substantial work of four movements lasting 11 minutes. The alto flute is the central protagonist for three of the trance-like movements: in the third movement the flute is tacet and the flute player must take up a pair of claves. The unusual instrumentation must surely account for the infrequent performances of this work, as it's lovely to play with plenty of room for expression and tonal inflections. Here's a link to a live recording of mine:
Gaining recognition and employment as a female composer in the late 20th century was tough. Anne Boyd became the first female Prof of Music at Sydney University in 1990. In 2019 the results of a report into the music industry commissioned by the Australian government were released. The Australia Council advised that, "despite remaining male-dominated, gender balance is improving in the professional music population. The proportion of female musicians has grown from 31 per cent in 2001 to 45 per cent in 2016. The proportion of female composers has grown from 20 per cent in 2001 to 40 per cent in 2016."
The bare statistics of course don't tell the whole story. It's a sad fact though that female composers, despite their relative success in the first half of the 20th century (see my article "Female Composers from Down Under: flute works, from 1900 – 1956" in The Babel Flute from December 2021), are still statistically under represented.
Alison Bauld
Alison Bauld was born in Australia in 1944 but has been a long term resident of the UK. She has mostly been involved in writing music for the theatre (similar to several other composers discussed below). Interestingly, on the Australian Music Centre website, her work "Humpty Dumpty" for tenor, flute, and guitar from 1971 documents Anne Boyd as the flute player in the world premiere. I didn't know previously that Anne Boyd played the flute: no wonder then that she writes so well for the instrument! Alison Bauld has a flute solo, "Monody" from 1985, but there are no further details.
https://www.australianmusiccentre.com.au/product/humpty-dumpty-piece-for-tenor-flute-and-guitar
Helen Gifford
Helen Gifford (born 1935 in Melbourne) was also involved in music for the theatre for much of her early career. Later this focus moved to opera and vocal works. Her early work, 'Fantasy for Flute and Piano,' is in three movements which are characterised by rapid shifts of texture and mood reminiscent of the spiky playfulness of some French repertoire. The Lento second movement is particularly eloquent. This is a recording of mine with Stephanie McCallum, piano.
Moya Henderson
Moya Henderson is a very versatile composer. Her best known work is probably the opera "Lindy" from 1997 based on the disappearance of Lindy Chamberlain's baby Azaria from the Uluru camping ground and the subsequent mismanagement of the investigation. Moya Henderson has two works involving flute: 'On and Off the Ground' ('yapu vudlandta') for flute, clarinet and piano composed in 1990/2004 with an excerpt linked below; and 'DIVERS' for soprano, alto flute, and 'cello, composed in 2005 to poetry by Juan Martinez (currently Associate Prof. English Dept. at North Western University, Chicago) in response to the 2001 attack on the Twin Towers. As yet, this work is undocumented.
https://www.australianmusiccentre.com.au/workversion/henderson-moya-yapu-vudlandta/13657
Jennifer Fowler
Jennifer Fowler (1939), now a long-term resident of London is originally from the state of Western Australia. Its capital city, Perth, is reputedly the most remote city anywhere in the world. It's closer to Singapore and Jakarta than to any Australian city. Fowler studied at the University of Western Australia before traveling to study at the electronic music studio at Utrecht University in 1968. In 1969 she made the move to London. She writes that in her music she aims "to convey a sense of direction in music, which is guided by an evolving logic, such that one cannot foresee the next step, but which will have a sound of inevitability when it arrives".
This inevitability is certainly audible in her piece for solo flute "Blow Flute: Answer Echoes in Antique Lands Dying" from 1983, to the extent that I felt compelled to ask her if she had included some quotes in the piece! The delicate melodic line unfolds with direction and impetuous. Fowler writes: "The piece is about a flute; a sound calling up eddies and currents, and echoes." The performance can be accompanied by a silent Aurora video (what a wonderful multi-media experience this would create).
Fowler has created an analysis of "Blow Flute" where she investigates the general aims, use of pitch, rhythm, cadences, and occasionally the psychological aspect of a composer's choices (and by extension, of the performer's choices made while preparing the work for performance). It is available through the Australian Music Centre, as is the score of the work. There is now a re-worked flute quartet version of Blow Flute, with the details to be found here: https://www.australianmusiccentre.com.au/work/fowler-jennifer-answer-echoes
Blow Flute:
Ros Bandt plays flutes and recorders in her own innovative "site specific improvisations". Very little digital documentation exists unfortunately. Sarah Hopkins' music is also not widely documented in digital format. The Spotify link below is to a solo alto flute piece of hers performed by Christine Draeger, "Journey to the East" which can also have optional keyboard and percussion accompaniment.
Betty Beath and Ann Carr-Boyd have between them composed several flute pieces which have been recorded by Emma Knott, flute and David Miller, piano, with excerpts to heard here:
https://www.australianmusiccentre.com.au/product/from-a-bridge-of-dreams-22-flute-and-piano-works-by-australian-composers
Elena Kats-Chernin
Elena Kats-Chernin was also heavily involved with music for theatre in her early career which was spent mostly in Germany. Kats-Chernin is a very prolific composer: her music has reached a wide public via dance, theatre, the 2000 Sydney Olympics and TV productions. She is now, deservedly, a household name. Her solo flute piece 'Blue Silence' also exists in versions for other instruments. The set of duos with violin show another facet of her writing, with energetic rhythms and gypsy influences. There are other pieces for flute in various settings, and a flute concerto "Night and Now" composed for Sally Walker.
Blue Silence:
Wedding Suite, 2 movements:
Thank you to the Australian Music Centre for the kind permission to use the portrait photos included in this article.
The Australian Music Centre holds a lot of information about all music by Australian composers: https://www.australianmusiccentre.com.au
---
Laura Chislett
Australian flute player Laura Chislett has established herself on the international stage as a performer, educator and recording artist across a wide range of musical styles. Her recordings, on ten different labels and multiple streaming platforms, range from Bach and Boulanger, to Ferneyhough and Dench.
It's perhaps in the extraordinary solo flute repertoire of the 20th Century onwards that Laura has especially made her mark, forging her way through daring sonic journeys and seeking to extend the expressive capabilities of the flute. She has long been a champion of Australian music, and music by female composers.
Laura has become known for her inspiring and rigorous performances, described as the "Rolls Royce versions" by the legendary composer Horatiu Radulescu.
---