Interview with The Babel Flute Founders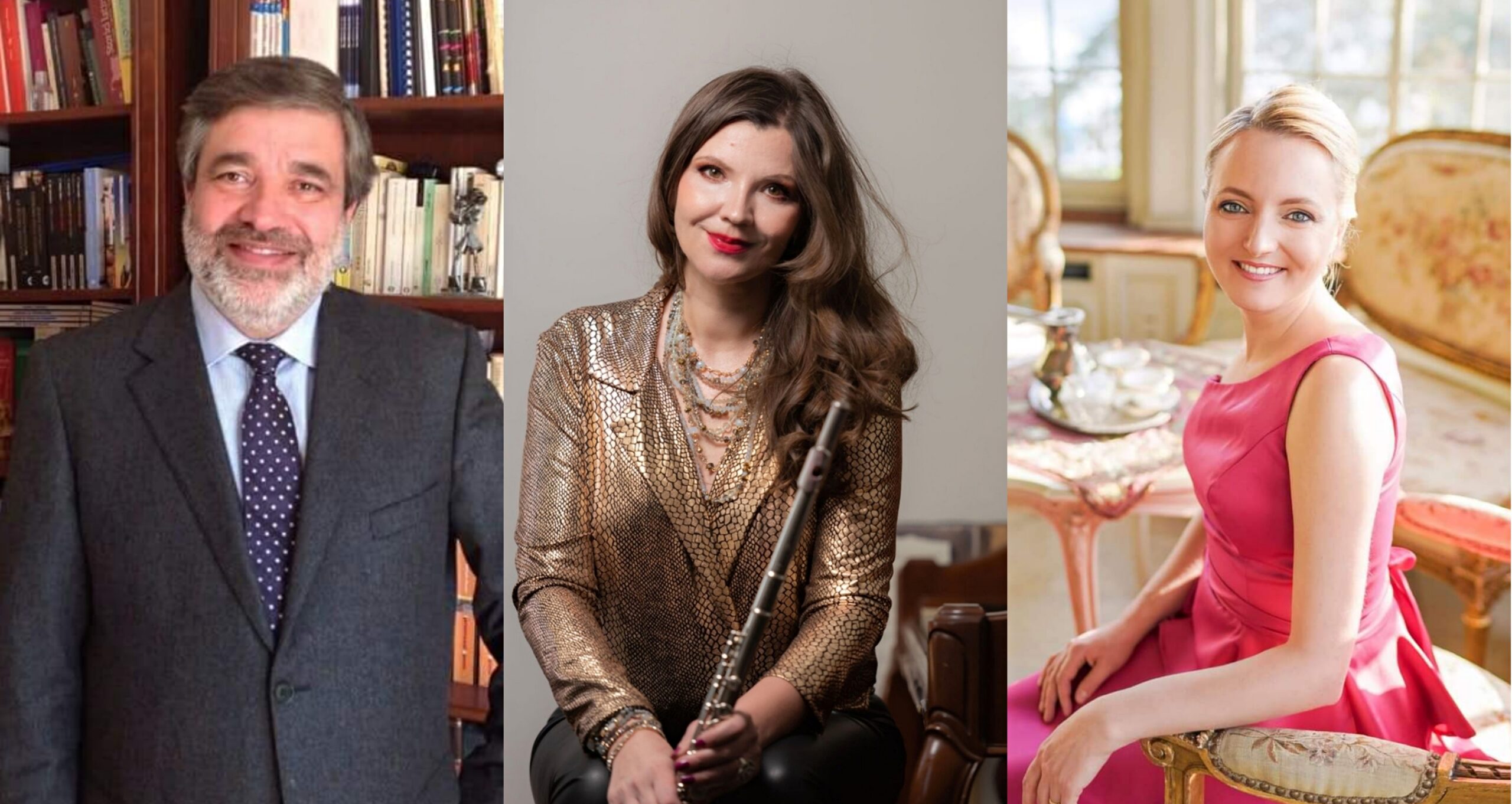 by Sofia de Salis
The Babel Flute was launched on March 20, 2021 and received over 50,000 views from 118 countries in a year (according to the official statistics from Google Analytics)! Our authors are located in Peru, Australia, Italy, USA, Russia, Ukraine, Switzerland, Spain, Argentina, Germany, Canada, Venezuela, Portugal, Nigeria, Hungary, San Marino and China. We have published 111 unique articles that have received 384 comments on the website. We reached out to over 380,000 social media accounts. This free and unique flute-focused project, unmatched by any other project for other instruments, is getting amazing support from flute players around the world and very impressive internet traffic.
To celebrate this success Sofia de Salis, PR Director of the Babel Flute project (Switzerland) met for a conversation with the founders – Onorio Zaralli (Italy) and Yulia Berry (USA) to talk about how it all started, the first results and the future plans.
Sofia: How was the idea for the magazine born?
Onorio: It is a funny story…Five years ago, I composed a collection of 21 pieces for solo flute called "The Bible Flute": short pieces inspired by biblical stories, events, symbols, characters, and so on.
One day I wrote this name in my notes and made a mistake: instead of "The Bible Flute" I wrote "The Babel Flute"! This name immediately caught my attention… what can be called the Babel? Babylon… many languages… different people… So I started thinking about an international magazine, an international community with different cultures, languages, and heritage.
A magazine where everyone could participate in their own language without being forced to write in English or, as I prefer, in Latin.
But there was a problem: if the article is written in Russian, Italian, German, Spanish, etc who can read it? Only readers who know this language. So this might be a great community, but has to be structured as a series of "closed" sectors. No, it wasn't a good idea.
Thanks to Yulia Berry, who is not only a great flutist and teacher, but also a wonderful partner with very advanced and unique for any musician skills in the field of information languages ​​and technologies, we were able to offer a magazine in which every article, written in Italian, English, French, Japanese or Russian can be immediately translated into more than 100 languages ​​in the true spirit of Babylon!
Thus, there are no frontiers, no borders: everyone can write and read in the language they like.
Yulia: I remember very well how Onorio told me about his idea. The name surprised me at first. Recalling the story of the Tower of Babel, where at first people were engaged in the common cause of building the tower and spoke the same language, but having become proud, they angered God, as a result they ceased to understand each other and got scattered all over the earth, I thought that it would be great to reverse this story. What if we find a solution to gather flutists from different countries under the roof of one digital platform and make them instantly understand each other? It seemed like a fantasy idea, but the goal was set, and I am proud that I was able to technically solve it. The entire website can be instantly translated into any language with just one click and the translation quality is incredibly high.
Onorio: I can also add that the name is so impressive and opens our minds to imagine great scenarios where we can all stay together, while maintaining our own identity without compromising or adapting our personalities to connect with each other. We realized the possibility of being "one and thousands" at the same time.
Sofia: How did you meet?
Onorio: I met Yulia on social networks, but never met in person… I hope it will be possible soon.
We immediately exchanged opinions, thoughts, and dreams. I played many times in St. Petersburg, Yulia lived and studied there. So, this wonderful city has become a point of contact for both of us.
Yulia appreciated some of the videos of my concerts in the Glinka Hall and in the Great Hall of St. Petersburg, and this became the starting point of our conversations … Our first project was "Web Flute Academy", and then "The Babel Flute" – International magazine and community.
Sofia: Tell us about yourself.
Onorio: My interests are in flute playing, teaching, research and composition, which is now my main focus. Oh, I forgot… I also created my own flute headjoint model, made from grenadilla, boxwood, rosewood and olive wood: this is an incredible combination of wooden headjoints and metal flutes (even nickel ones) for the greatest sound we can get.
Yulia: My interests are very broad, and I like to vary my fields of activity. I love the flute very much, my destiny is to play and teach. I am self-taught in the computer field, having mastered web development and design, mobile application development, marketing, SEO, etc. I also researched, wrote and published internet bestsellers on alternative health topics. I love art and museums, and I love painting myself.
Sofia: What are the main goals of The Babel Flute magazine?
Onorio: We believe that the flute community deserves a place where everyone can feel like they are the protagonist of their activities. Not a magazine with flutist stars on one side and poor listeners on the other. No. We are convinced (and now we have proof) that there are so many flutists in the world who have something to say, something really interesting… Not just telling jokes or showing off. Our magazine is a project that wants to be useful, really useful for everyone. There are so many categories where you can find flute articles covering all topics. And we are constantly opening new categories…
Yulia: We want flute players to see The Babel Flute as an important source of academic knowledge, different views on interpretation and styles, read the history of the flute, learn about new repertoire, receive advice on performance, technique, pedagogy, physiology, career, reflect on new trends, share impressions about new events and music, and much more. All material is written by professionals, innovators in their field.
We have also created a forum where any flutist can not only discuss, but also announce their concerts, masterclasses or other professional activities. Forum is FREE and open to every flute player, anywhere in the world.
We also offer paid services to help flute players promote their activities and work, which in turn can help us fund the project's technical, security, and digital services.
We created a job/collaboration board where flutists can post a job opening, information about an audition for an orchestra, or find another musician to collaborate.
Another very important feature that I just finished developing is Classified ads, where you can advertise and promote your masterclassses, courses, summer schools, events, sell instruments or tell flutists about your services. We hope that flutists will take advantage of The Babel Flute traffic – thousands of visitors from 118 countries every month! They are all flute players and flute lovers! Classified categories and posts are displayed in the sidebar of each article page, in addition to appearing on other pages and parts of the website – visibility guaranteed!
Sofia: What development of the magazine do you see in the future?
Onorio: The magazine is a digital project. This means that it is very flexible. So, we can just imagine a new frontier and immediately work on its implementation. There are no restrictions.
We are now planning a big event to celebrate the first year of The Babel Flute which will include all of our contributors. But we can do more, of course, thanks to the suggestions of our editorial staff, friends, and subscribers, which we are ready to consider.
Yulia: It would be great to organize local Babel Flute events in different countries. We also would like to offer our contributors to hold webinars on Web Flute Academy, which is the first project Onorio and I started together. Another important focus of ​​the project will be the development of an information resource on a specific topic that no one else offers (it is too early to disclose what it is about), and this will be an important part of The Babel Flute. There are many interesting plans ahead!
As mentioned above, we want flutists to see our community as a place where everyone is important and can find something useful and important.
Sofia: Who else, besides flute players, might be interested in the magazine?
Onorio: Flutists, of course, are our main readers and followers. But also composers, musical institutions, flute makers, publishers could find their advantages in cooperation with us.
Sofia: What opportunities does the magazine provide for flutists, musicians, flute lovers and music stores?
Onorio: Our magazine is an online magazine and community, free of charge, open to all musicians. It has thousands of views from hundreds of countries around the world. The feature that allows immediate translation of all parts of the website is a guarantee of huge distribution.
We also have special categories – such as shop, jobs, forum, classifieds – that can provide specific support to flutists, flute lovers, and music stores.
Yulia: We want to create a flute-related business directory for our readers. These may differ from classified ads as companies may get their own permanent page on The Babel Flute website that will host their offerings and deals. This could benefit publishers, insurance companies, manufacturers of flutes, headjoints, cases, accessories, jewelry, instrument repair and maintenance services, flute festivals, summer schools, educational institutions, and even private teachers. The Babel Flute has been conducting a survey for several months, and flute players have told us that the need for such a catalog is huge. This guide will help everyone! Businesses will have access to a huge international audience, and our readers will be able to find everything they need, conveniently collected in one place.
We invite any business that is related to flute and music to contact us at thebabelflute@gmail.com about how to get into this directory.
Sofia: You mentioned the First Year Celebration. Can you please tell our readers more about it?
Onorio: Yes, we plan to celebrate the first year of The Babel Flute. This event will take place in May and will involve all our contributors of the four editions. It will be a great meeting, open to the public, with webinars, workshops, online discussions – an opportunity to share our project with flute players from all over the world, hoping to give them a new "way", a new way to talk about the world of the flute. Of course, we are still working on it to offer a better organization for this event. Follow our announcements!
Sofia: The future plans are very exciting and we all are looking very much forward to it. Congratulations on such a great project and incredible achievements of one year!
---
Sofia de Salis
The Russian-Swiss flutist Sofia de Salis has received international recognition and has established herself as a soloist with exceptional musicality and rare sound quality. She is a sought-after guest artist at international festivals such as December Nights (Moscow), Festival de la Côte and Stars on the Rhine (Basel). Sofia recorded two albums, which received excellent reviews from listeners and critics. Her master classes and live broadcasts on social networks have incredible popularity and a huge number of subscribers.
---