Storia del flauto jazz – Parte 3. Buddy Collette e Frank Wess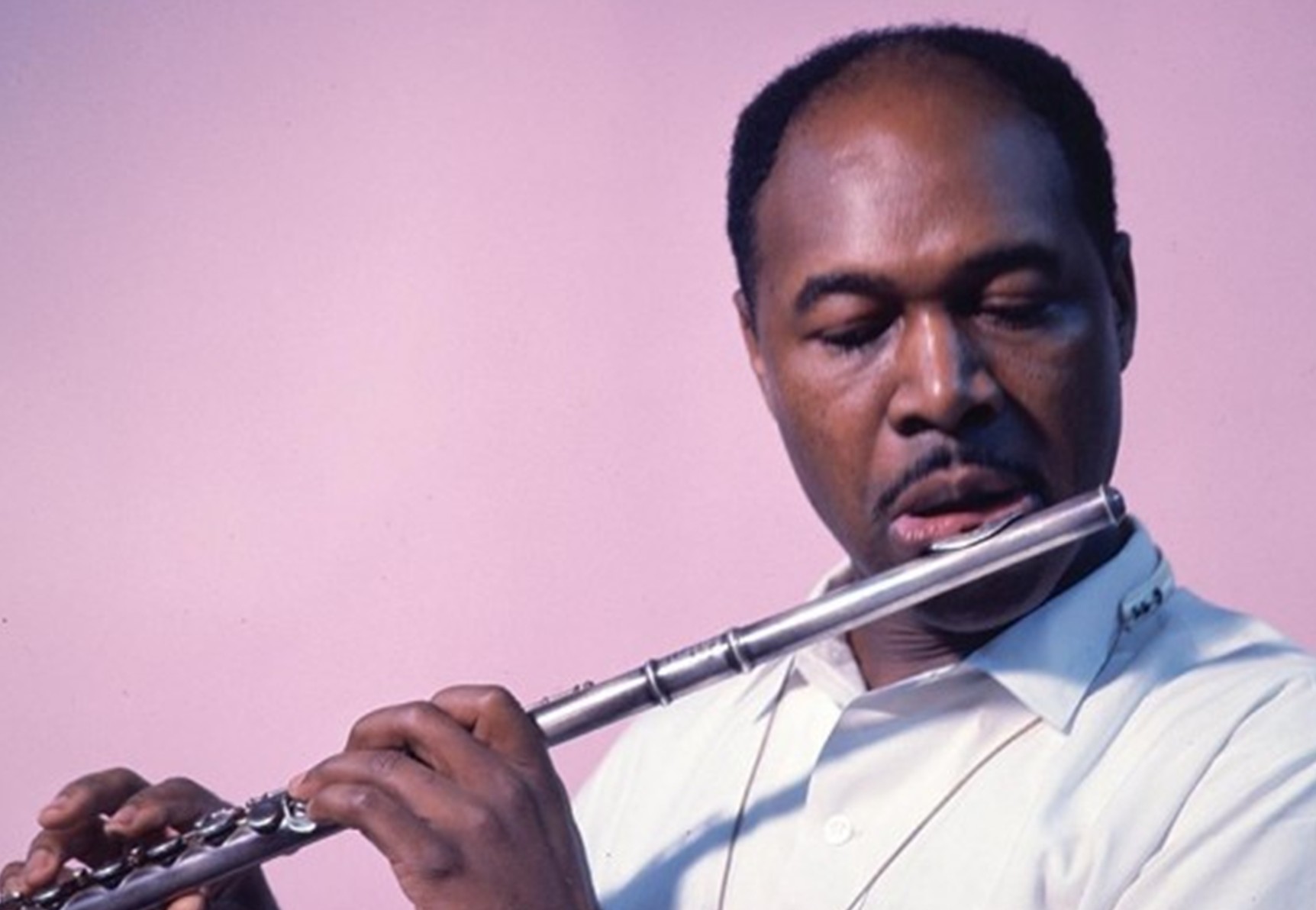 Di Nicola Rizzo
Eccoci qui ad un nuovo appuntamento con la storia del flauto jazz. Protagonisti di oggi Buddy Collette e Frank Wess.
Buddy Collette
Buddy Collette, polistrumentista poliedrico, nacque a Los Angeles nel 1921. Flautista jazz, sassofonista e clarinettista si affacciò al mondo della musica giovanissimo. Cresciuto contornato da incredibili musicisti, già a dodici anni formò la sua prima band con Charles Mingus al basso e Britt Woodman al trombone. Lo stesso Mingus, racconta Collette in un'intervista, affermò che fu grazie a lui che passò dal violoncello al basso, scelta che gli cambiò per sempre la vita.
Durante tutta la sua vita Collette annovera collaborazioni con molti grandi della storia del jazz del quale ne fu indiscutibilmente protagonista. Iniziò la sua carriera professionale già a diciassette anni e si arruolò successivamente come band leader durante la Seconda Guerra Mondiale. Di ritorno dalla guerra, iniziò a suonare con gli "Stars of Swing", formazione con Dexter Gordon al sassofono, Charles Mingus al basso e Chico Hamilton alla batteria. Dal 1945 iniziò a suonare il flauto, ma bisognerà aspettare il 1953 per trovare sue registrazioni con l'orchestra di Jerry Fielding e il 1954 con il vibrafonista Red Norvo, come nella travolgente "Pink Lady", dove Collette sfodera un linguaggio travolgente.
Nel 1950 Collette suonò con tantissimi musicisti nell'area di Los Angeles. Protagonista con Mingus, della lotta contro la segregazione razziale con il sindacato integralista dei musicisti di Los Angeles, fu il primo musicista afro americano a suonare in un'orchestra di uno studio televisivo, nello show di Groucho Marx "You Bet Your Life!".
È nel 1955 che Collette ricevette l'attenzione nazionale per la sua leggendaria partecipazione, come socio fondatore, al quintetto di Chico Hamilton con Jim Hall alla chitarra, Fred Katz al cello e Carlson Smith al contrabbasso e quella nell'orchestra di Buddy Rich come nel bellissimo esempio nel brano "This One's for Basie".
Con Collette il flauto jazz divenne indiscussamente popolare, leader dei progetti con un ruolo centrale sulla scena. Non sono pochi gli esempi come nella strepitosa collaborazione con il flautista jazz Herbie Mann del 1957 intitolata Flute Fraternity.
Un altro fantastico progetto che vede Collette protagonista sono i "Swinging Shepherds" del 1958 con Collette, Paul Horn, Harry Klee e Bud Shank, del quale parlo anche nel mio articolo precedente su Harry Klee. Qui ben si nota la ricerca jazzistica che veniva svolta già all'epoca nel ricercare nuove possibilità e nuovi colori attraverso il flauto traverso in Do, il flauto traverso alto e il flauto traverso basso.
Altra celeberrima collaborazione del flautista è quella con il grandissimo pianista Thelonious Monk del 1964, che ancora una volta ci da prova della presenza costante del flauto jazz di Collette.
Negli anni '70 fece un tour in Italia, firmando grandi collaborazioni con musicisti italiani, come in "The Polyhedric Buddy Collette" con Renato Sellani, Franco Cerri e Jimmy Pratt, o come il disco "Buddy Collette in Italy" con la band di Oscar Valdambrini e Gianni Basso.
Partecipò inoltre nel 1988 a un Tour Europeo dove suonò in cinque festival internazionali, sfoderando la sua ancora indiscussa classe. Proprio durante un altro soggiorno in Italia, registrò con l'allievo James Newton l'album "Flute Talk".
Oltre ad essere un grandissimo performer, Collette era anche un'eccellente didatta. Furono in molti infatti a recarsi a Los Angeles per le sue lezioni: James Newton, Charles Lloyd, Sonny Criss, Frank Morgan e Eric Dolphy, al quale dedicherà "A Tribute to Eric Dolphy".
Si spense nel 2010, lasciando una traccia indelebile nel modo di suonare il flauto nel jazz, con una creatività unica che lo aveva sempre contraddistinto.
Frank Wess
È con Frank Wess che il flauto jazz trova il suo posto all'interno delle grandi orchestre jazz dell'epoca.
Wess nacque nel 1922 negli Stati Uniti a Kansas City, Missouri, e la sua formazione fu dapprima classica suonando nell'orchestra dell'Oklahoma high school. Si trasferì successivamente a Washington D. C. dove iniziò a lavorare nelle big bands di jazz, ancora diciannovenne, come sassofonista. La sua prima big band fu l'orchestra di Blanche Calloway, sorella del più famoso Cab Calloway.
Durante la Seconda Guerra Mondiale si arruolò e suonò con una military band. Di ritorno dalla guerra, prese parte all'orchestra di Billy Eckstine e si laureò in flauto alla Modern School of Music di Washington.
Dal 1953 al 1964 collaborò con l'orchestra del celeberrimo Count Basie, contribuendo a donare al flauto jazz una vetrina mai avuta fin d'ora, con numerosi assoli caratterizzai da un inteso senso dello swing e suonando anche il sassofono tenore. Impossibile non ricordare il suo solo di flauto con la Count Basie Orchestra in "Perdido" o nel brano "Cute".
L'orchestra di Basie stava infatti vivendo un periodo d'oro, sull'onda del successo dell'album "Atomic Mr Basie" del 1957 e con la prima apparizione di grandissimo successo a Londra. Un bellissimo esempio di come il flauto assuma un ruolo centrale e di solista è il brano "Flute Juice", registrato sempre con l'orchestra di Basie.
Registrò dal 1955 al 1957 numerosi dischi con il famoso label Savoy come leader e sideman, tra i quali "Flutes and Reeds" con Jerome Richardson e "Trombone & Flute" dove Wess suonò esclusivamente con il flauto.
Dal 1959 al 1964 fu vincitore nella categoria flauto nella prestigiosa classifica di Down Beat Magazine.
Suonò e registrò come Sideman con un grandissimo numero di musicisti jazz, tra i quali Kenny Barron, Benny Carter, Hank Jones, Quincy Jones, Etta James, Kenny Clark, Ron Carter, Coleman Hawkins.
Fu membro dal 1967 al 1970 dell'orchestra di Clark Terry e suonò anche nel New York Jazz Quartet partendo con loro in tour. Numerose furono inoltre le sue produzioni discografiche come leader, tra i quali ricordiamo "Going Wess" del 1993, "Hank and Frank" in duo con Hank Jones e "Flutology First Date" registrato a Capri nel 2003 con le flautiste Holly Hofmann e Ali Ryerson.
Indimenticabile il suo concerto a Barcellona del 2012 al fianco del trombettista John Faddis, dove all'età di 90 anni, lasciò tutti senza fiato con il suo solo di flauto.
Morì nel 2013 a seguito di un attacco cardiaco, considerato uno degli ultimi protagonisti della Golden Age del Mainstream.
Suggested books:
Nicola Rizzo – Jazz Flute Daily Workout – a book for all flutist who are eager to explore the world of improvisation.
Stefano Benini – Il flauto jazz
---
Nicola Rizzo
Nicola Rizzo graduated in flute at the "C. Pollini" Conservatory of Padua (Italy) and graduated with Master Degree Jazz at the "G. Verdi " Conservatory in Como (Italy). He was the winner of first prizes in national and international competitions as a soloist and in duo.
He lived for 5 years in Paris where he founded the jazz quartet "Nicola Rizzo 4et" and produced two records "Salam" and "So What" in duo with the pianist Lucas Belkhiri. He has taught classical and jazz transverse flute and music production and was director and arranger of the orchestra in the Conservatories of Le Plessis Trevise (France) and Queue en Brie (France).
Author of the book "Jazz Flute Daily Workout" sold all over the world, he holds jazz flute masterclasses at the Conservatories of Chamonix (France) and Lecce (Italy). On June 4th 2021 his new "Flute Sketches" album was released, published by Workin 'Label.