The Financial Frenzy of Being a Classical Musician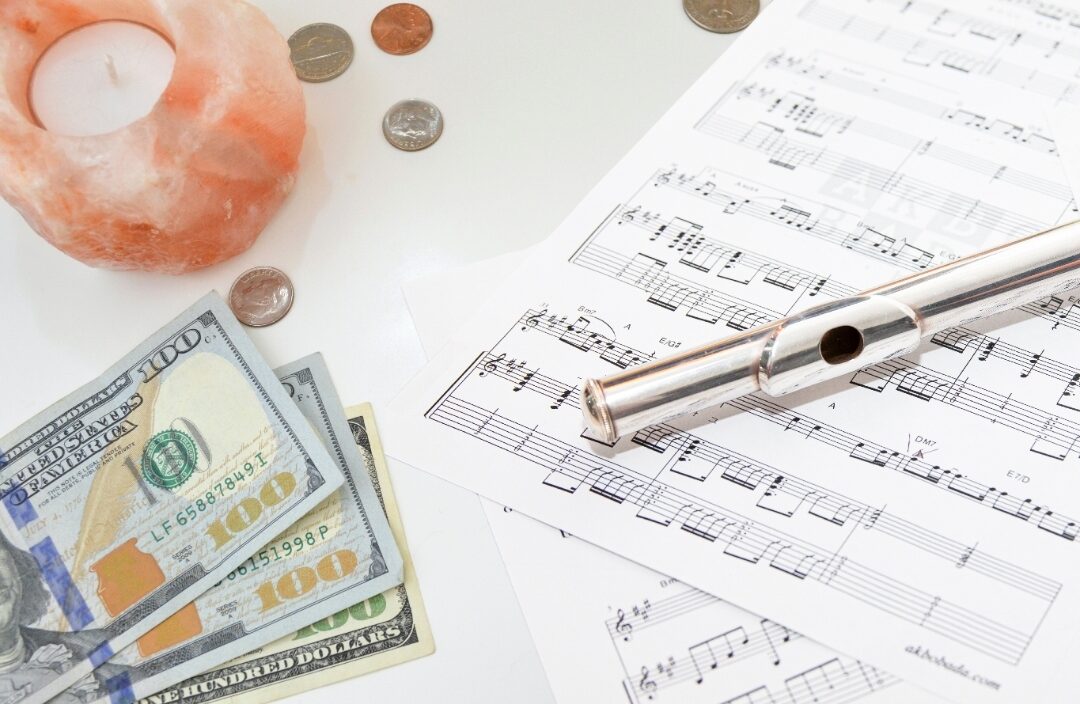 By Anamarie Diaz, The Financial Flutist
Let's talk about money. A word that can send shivers down many peoples spine and cause instant anxiety. If we're being honest, talking about money is taboo. It's an uncomfortable topic to the extent that many of us were told to never bring it up in conversation. But the truth is, money is something that affects all of us, and I have found that for the classical musician, money management is an imperative skill necessary for a successful career. Let's set aside our discomfort for discussing finance for a moment and dive into the financial frenzy that many classical musicians find themselves in.
The Financial Conflict of Being a Classical Musician
Why did you decide to become a classical musician? For me, it was a love of playing and performing. I knew I had found my passion early on when I was in my teens and that led me to study music in college and graduate school, and thus start my career as a professional flutist. It was in college when I first encountered this notion of needing to "invest" in order to play professionally. This investment was, of course, a professional model flute. This was the first of many times that I was told I must spend money (usually hundreds to thousands of dollars) in order to make classical music my career.
There are many, what I call, "additional costs" of being a classical musician. These additional costs include things like orchestral summer festivals, professional model instruments and auxiliary instruments, masterclasses, conventions and conferences, advanced degrees, supplementary lessons, orchestral auditions, concert attire, and high quality recording equipment to name a few. Many times these are not small investments and it is told to young musicians that in order to be a successful musician it is vital that you invest in these additional costs. However, think back to your time as a student. Was finances and money ever discussed? And if it was, in what capacity was it talked about? For myself and many of my colleagues, we recall variations of this statement; "A career in classical music is hard and there is not a lot of money in it." This is where the conflict lies. On one hand we must invest lots of money to get ahead, but on the other hand we shouldn't expect much financial gain.
As a professional musician, I have spent the money that I was told to invest order to get ahead. I have professional model instruments, went to summer festivals, attended masterclasses and conventions, took supplementary lessons, and prepared for orchestral auditions. I also don't disagree with the necessity of making these investments in order to be successful in this career field. What I do disagree with is the pressure to make these investments without any discussion or education regarding personal finance and money management. Taking on thousands of dollars of debt in order to make these investments is setting classical musicians up for a financial disaster. A disaster that could impact musicians for the rest of their lives.
Money Management Will Improve Your Musicianship
I am not here to say if making these investments are worth it or not. I am here to advocate for personal finance education for musicians, which will allow you to decide if these investments are worth it or not. As a musician, we are trained in a highly defined and precise skill that takes years and decades to perfect. To now ask a musician to become a money expert may sound ridiculous, but truthfully being able to successfully manage your money will not only help you financially but it will improve your musicianship.
According to the American Psychological Association, stress about money is at a record high. Roughly 82% of Americans ages 18-25 have stress about money, 81% for Americans ages 26-43, and 68% for Americans ages 44-57. If you are a musician who is 18 to 57 years old, more than likely you have stress about money. Financial stress is a scary beast that can manifest itself in many different ways and affect many different aspects of people's lives. How can we expect musicians to play at their very best if they are carrying around the weight of money stress?
From the American Psychological Association, Stress in AmericanTM 2022: Covid Second Anniversary.
Performing is a deeply personal and emotional experience. There are many factors that can influence our musicianship or performing ability. That being said, many great performers and musicians are great compartmentalizers. If a musician has a bad day and they have a performance that evening, they are still expected to perform at the highest level regardless of what happened during their day. However, money management is not rocket science and it is certainly not a concept that is too complex for musicians. So if musicians are able to learn personal finance basics, then there is no reason for them to carry around the weight of money stress.
On a more practical note, understanding your value goes hand in hand with money management. This is something that is a necessary skill for all classical musicians from private studio teachers to international soloists. Let's say a musician is looking to start their own teaching studio and is unsure what to charge for their expertise. They end up charging under the going rate for private music lessons. Suddenly, that one musician has undervalued the price of private music lessons in their area, thus undervaluing their own expertise and the expertise of all private music teachers in that area. The same can be said for freelancers and soloists who play gigs and concerts that are not offering or not willing to pay the necessary compensation for the skills and talents of the musicians. Having a well-rounded understanding of your personal finances and money management will allow you to have greater financial prosperity and will extend to the classical music field in general.
Three Steps to Start Taking Control of Your Finances
If you have stuck with me this far, thank you. Money is an uncomfortable topic, but I truly believe that it is a necessary skill that all musicians must master. And if you take away anything from this article, let it be these three steps to start taking control of your finances.
Understand how much you are spending each month
One of the very first and basic concepts to money management is spend less than you earn. The only way you can do that is to uncover where your money is going each month, so the first step is to start tracking your spending. This can be done the old fashion way with a pen and paper where you write down each expense you make, you can create a spreadsheet in Excel or Google Sheets, or if you prefer automation you can create an account on Mint.com which will input your expenses automatically. You don't have to track your expenses forever, just until you get a good idea of how much you spend each month and what your money is being spent on.
Identify all of your debt
This is one of the scarier steps but crucial in taking control of your finances. Your debt can be made up of consumer debt (credit cards), student loans, personal loans, car loans, and mortgages. Create a list of all the debts you have and make note of the amount still owed and the interest rate for each. It might be a scary realization, but it is scarier to ignore it.

Create financial goals and make a plan
Once you have begun tracking your spending and have identified all of your debts, now it's time to get to work. What are some financial goals that you want to start working towards? This could be anything from repaying debt, cutting back on spending, increasing your income, investing for retirement, saving up for a trip etc. These goals will give you the basis to start creating a plan. The scary part is over, now it's time to take action.

This is a topic that I am extremely passionate about and my goal is to help educate musicians on personal finance and money management. For more resources, visit www.thefinancialflutist.com and follow @thefinancialflust on Instagram. In addition, if you have questions or thoughts to share please email me at financialflutist@gmail.com.
---
Anamarie Diaz, The Financial Flutist
Anamarie Diaz is a flutist, educator, performer, entrepreneur, and arts administrator in Richmond, VA. She currently teaches privately at her home studio, DiazFlute Studio, where she strives to push and encourage personal growth through music lessons. Anamarie is a strong advocate for music education access for all students regardless of socioeconomic standing. As an active performer, Anamarie regularly performs with Classical Revolution RVA and gigs throughout the greater Richmond area. Her most recent performance, Current Times, include performances of solo flute works by underrepresented BIPOC composers and interviews with each composer.
Anamarie is the Artistic Director of Classical Revolution RVA, a non-profit organization aimed at integrating classical music into the vibrant art scene of Richmond, Virginia. She joined Classical Revolution as their Artistic Director in 2021 and she hopes to continue to explore ways to bring classical music to new audiences. Under her direction the organization has hosted various events from a chamber music brewery tour, HopScotts, to performing movements from major orchestral works.
Anamarie received a Bachelors of Arts in Music from Virginia Commonwealth University in 2015, and a Master of Music in Performance and a Post-Baccalaureate Certificate in Musicology from the University of North Carolina Greensboro in 2019. Her primary teachers include Tabatha Easley, Erika Boysen, and Diana Morgan. Anamarie is currently studying to become a Certified Personal Financial Counselor.
---