Exploring Moyse's 24 Petites Études Melodiques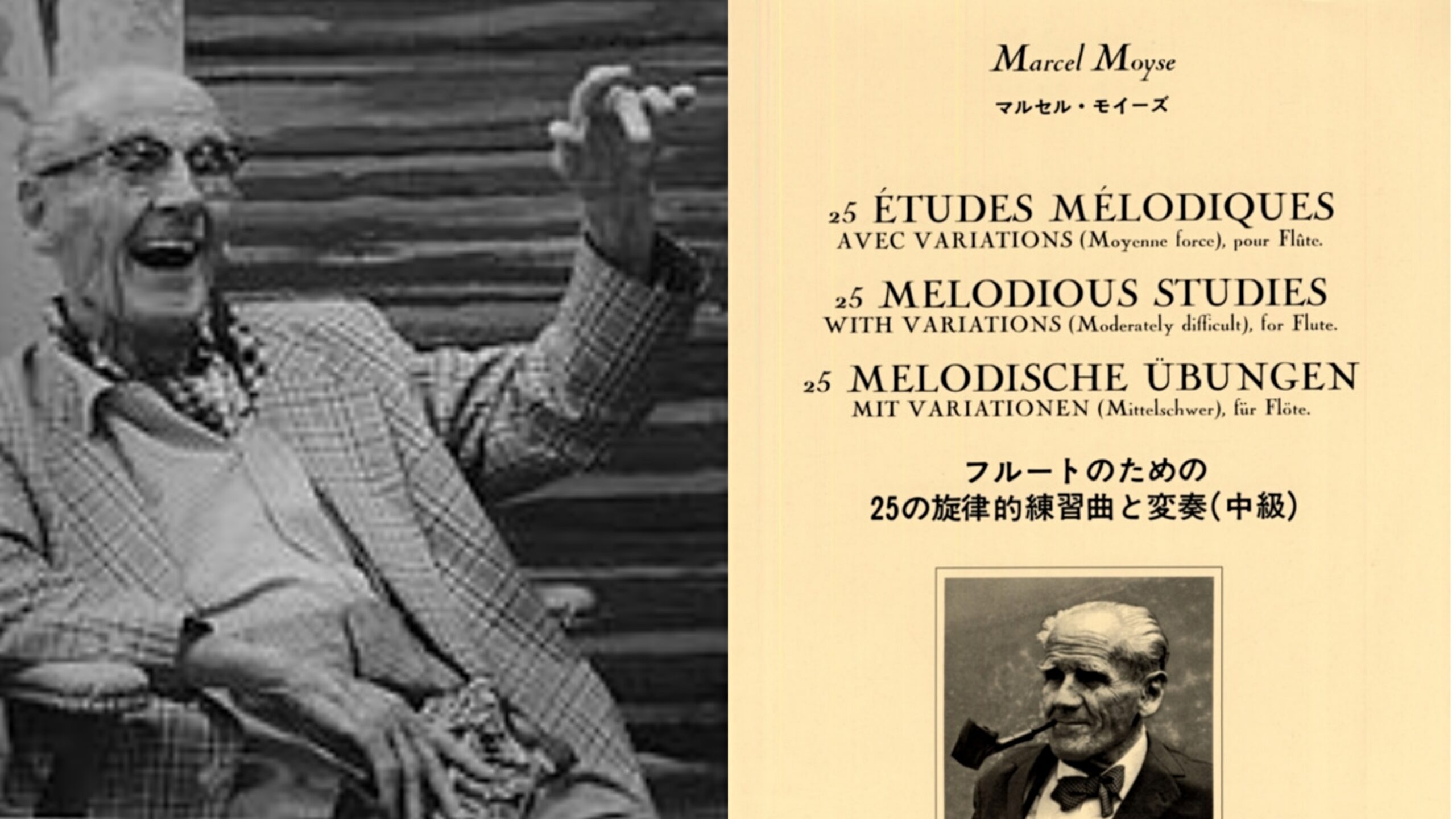 by Cate Hummel
Marcel Moyse created an entire library of exercise and etude books over the course of his career. He admitted that he created them primarily for income in the summer months when he was on leave from his teaching and position at the Opera Comique. There are two books that really stand out from the crowd for addressing his ideas about the issues of basic musicianship in a way that really get to the crux of the matter like nothing else that exists. These are 24 Petites Études Melodiques and Tone Development Through Interpretation. The genius of these books is that the student gets to focus on the musical issues of phrasing, inflection, tone color, dynamic control, placement and articulation without the distraction of a lot of demanding technique. It is really liberating and also gives one tremendous resources to take into the demanding technical repertoire once the musical principles have been assimilated into one's playing.
Of the 24 Petites Études Melodiques, Moyse said: "You give the permission to me to say why I wrote this book. We have no melodies (like this). We have not enough music to learn musical language. We are not lucky about repertoire. And by this, it seems that I try to help the young people go inside the music. Somebody might say it is much better to start with Handel and Bach. I don't think so. My opinion is this. Yes, you get immediately good substance. But your stomach is not enough strong to absorb this. It's like you see the little baby—you should give good milk. And if the milk is too rich, the baby will vomit. But music is the same. It is much better to take something nice, open your mind little by little instead of too fast. I know the Carmen (aria) is difficult to play in the musical way. It is for that (I use) the simple melody. And I chose each melody different. I change the key because I know we have to fight (for intonation. The third one is about elegance, you will see. Each melody you learn something about musical expression."
My own story of how I came to study the 24 Petites Études Melodiques is that while I was in graduate school, I had a few lessons with a Moyse student who asked me to get this book. I dutifully went to Patelson's (a famous sheet music store behind Carnegie Hall, now long out of business). When I found the book, I was surprised and confused. It looked so easy! I asked at my next lesson if this was the correct book. I was quickly shown how rich this book is. Every melody has multiple layers of musical challenge to incorporate in developing a complete musical interpretation. From studying the Melody book, my curiosity was piqued about Moyse's other books on tone, interpretation and musicianship, including Tone Development Through Interpretation. My doctoral dissertation became a study of how Moyse taught the melodies in TDTI and who had been his role models and inspiration for selecting the melodies he included in the collection.
Trevor Wye writes: "The Twenty-Four Little Melodious Studies and the Twenty-Five Melodious Studies with Variations, are among the most important studies ever written for the flute, though they are regarded by most students as being elementary, 'kids' stuff. It always came as a shock to anyone who studied with Moyse that these apparently simple melodies with their innocent variations opened doors into the mysteries of musical structure: phrase building, tone, colour, articulation, ornaments of different kinds and all manner of basic techniques necessary for the vocabulary of the accomplished artist. "I didn't write these books for children," he once said. "I wrote them to help the many [Conservatoire] students who came to me who could not understand how to build a simple melody."
These studies help lay the foundations of musical discipline, the principal ingredient of solo playing, chamber music and orchestral playing.
When you have practised these studies, you may realise they are '…music making in the natural way…' (to quote Moyse) Most of the 16 bar studies follow the common melodic construction pattern of 2 bars, 2 bars and 4 bars repeated.
The name of Marcel Moyse still resonates for flute and wind players as a significant contributor to understanding musical language around the world. However, it is quite common that what Moyse taught about the 24 Petites Études Melodiques is difficult to deduce from just the melodies and brief descriptions. Nancy Andrew, former Executive Director of The Marcel Moyse Society, shared that Moyse himself wished to annotate this book after realizing that many of the musical principles were not as obvious as he thought they were.
Marilyn Shotola in her article "The Genius of Moyse's Melodious Studies" writes: "He originally planned to include more detailed instructions, but decided that would make the volumes too lengthy. Through his teaching, Moyse explained their musical value".
Fortunately, there are resources that are readily available, if you know where to look. Here are a few of them:
Emily Beynon's beautiful introduction for studying the 24 Petites Études Melodiques:
My Five Favourite Flute books… chapter 1: MOYSE 24 Little Melodic Studies
Roderick Seed demonstrates and plays the entire book of his YouTube channel. Rod studied with William Bennett, one of Moyse's more famous students.
Mark Xiao (a student of Trevor Wye) and friends have recorded several of the melodies on this YouTube playlist
Christine Moulton, current membership secretary of the Marcel Moyse Society has a useful blog she started on the 24 Petites Études Melodiques
The Marcel Moyse Society has Moyse's The French School at Home available on CD. On the disk, Moyse plays through the most important melodies in the 24 Petite Études Melodiques. There is nothing more informative than hearing Moyse play these melodies himself.
I've compiled my own video recordings of most of the 24 Petites Études Melodiques from when the Facebook group, Etude of the Week, went through the book in 2018. These were all recorded with my iPhone before I had proper video equipment or even a tripod. I've done a little light editing to string them all together and enhance the acoustics of the different spaces I recorded in.
Brief bibliography:
Trevor Wye, Marcel Moyse: An Extraordinary Man, Edited by Angeleita Floyd (Cedar Falls, Iowa: Winzer Press, 1993), 45.
Marilyn Shotola, "The Genius of Moyse's Melodious Studies," Flute Talk, November 1991, 15.
---
Cate Hummel
Cate Hummel discovered the books and teaching of Marcel Moyse as an undergraduate student in Philadelphia. As a doctoral student, Cate's interest in Moyse's teaching became her dissertation topic, a discussion of how Moyse taught the melodies of Tone Development and the various experiences and artists that had shaped his musical thought. Cate has taken her research into the teaching of Marcel Moyse to flute events around the country and internationally with presentations on Tone Development Through Interpretation and 24 Little Melodic Studies. Dr. Hummel performs as an Altus and Azumi flute artist. She is founder and director of Dr. Cate's Flute Camp, a day camp for flute students based in the Chicago suburbs. She is Adjunct Professor of Flute at the University of St. Francis and teaches privately both in person and online.