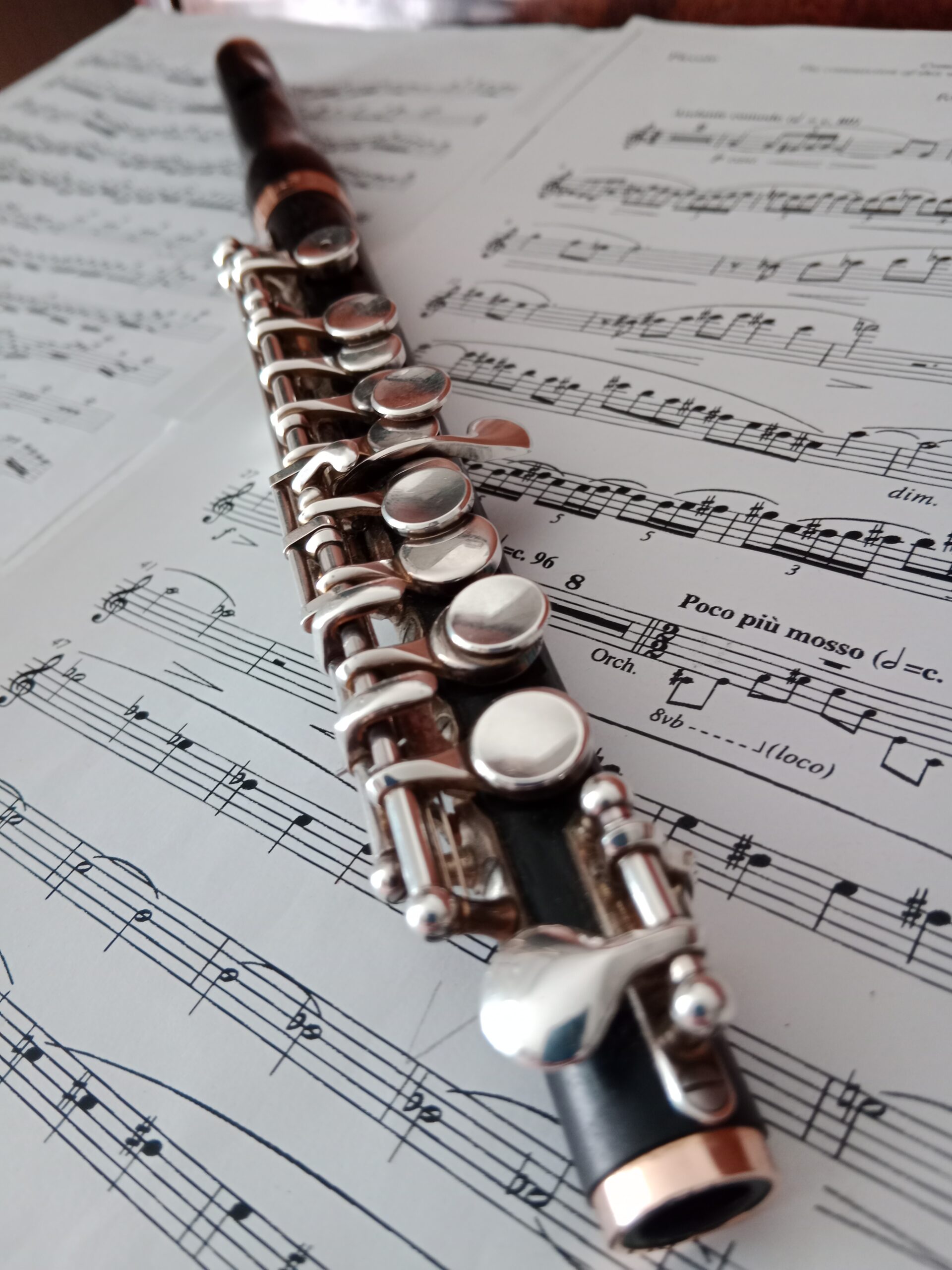 By Snježana Pavićević
Zašto bi svaki flautista trebalo da svira i piccolo?
Piccolo flauta je najmanji instrument iz porodice flauta. Ali, iako mali veličinom, zahteva veliku posvećenost I pažnju želimo li od njega dobiti ono najbolje.
Sve do unazad par decenija, ovaj mali instrument bio je uglavnom upotrebljavan kao dodatak grupi flauta u orkestrima, koji proširuje njihov ukupan opseg za jednu oktavu više I obogaćuje zvuk celog orkestra najvišim tonovima. U nedostatku originalne literature za piccolo, flautisti su izvodili barokne kompozicije pisane za recorder ili blok flautu, koja je po zvuku I opsegu nekako najbliža pikolo flauti. Tako je na piccolo repertoar dospeo I čuveni Vivaldijev concert u C-duru RV 443, koji je I danas nezaobilazno delo na pikolističkom repertoaru I obavezan deo svih audicija I takmičenja za ovaj instrument.
Međutim, u skorije vreme piccolo flauta privukla je pažnju izvođača I kompozitora koji su počeli da joj ukazuju sve veću pažnju I prihvatili se izazova pisanja kompozicija za solo piccolo, uz pratnju klavira ili orkestra. To je rezultiralo time da sada već imamo prilično veliki repertoar. Pojavile su se knjige sa tehničkim I tonskim vežbama, metodama koje se bave pikolo problematikom
Takođe je to potaklo I inspirisalo mnoge flautiste da prošire svoj repertoar, a značajan je broj I onih koji su se opredelili za ovaj instrument kao primarni u svojoj izvođačkoj praksi.
Sve to dovelo je I do toga da piccolo postane deo studijskih programa na mnogim svetskim muzičkim konzervatorijumima I akademijama, tako da danas studenti flaute imaju mogućnost da, uz osnovni instrument, izučavaju I savladaju tehnike sviranja piccolo flaute, upoznaju se sa novim repertoarom I deonicama pikolo flaute u orkestrima. To predstavlja ogromnu prednost u odnosu na vreme pre 30 I više godina, kada su se flautisti sa pikolom sretali tek kad bi im se pružila prilika da sviraju u orkestru
FLauta je jedan od najpopularnijih duvačkih instrumenata u svetu. Samim tim je I konkurencija velika, što sve upućuje na potrebu savladavanja dodatnih veština I sticanja novih reference kako bi ostali konkurentni, a pikolo flauta je tu svakao jedna od najrelevanatnijih. Sve češće se sviranje pikolo flaute zahteva I na audicijama koje nisu isključivo za solo pikolo, već I za ostale pozicije flauta u orkestru.
U Srbiji, gde ja živim I radim, kao I u celom ovom regionu Zapadnog Balkana, pikolo flauta još uvek nije našla mesto koje joj pripada niti u obrazovnom sistemu niti u koncertno-izvođačkoj praksi. Ja sam imala sreću da me moja profesorka još u srednjoj školi uputila u tajne pikolo flaute, što mi je omogućilo da već kao student dobijem stalno zaposlenje u profesionalnom orkestru.
Kao profesionalni muzičar sa skoro 30 godina staža, od kojih poslednjih 20 godina u orkestru Beogradske filharmonije na mestu solo pikolo flaute, trudim se da svojim radom na promociji ovog instrumenta probudim veće interesovanje kod mladih flautista I svest o potrebi da svoje sviračke sposobnosti obogate I dopune I savladavanjem pikolo flaute.
Uspela sam da zainteresujem I animaram kompozitore iz regiona da se posvete pisanju muzike za pikolo flautu, pa smo tako dobili nekoliko potpuno novih kompozicija – za solo pikolo, za pikolo sa klavirom, duet za 2 pikolo flaute. To su prva dela ikada napisana za pikolo u ovom delu Evrope. Sva dela su snimljena na CD albumu "PersPICCtives"
Prva od ovih kompozicija, po vremenu nastanka, je "Zvrk" Ivana Brkljačića (Srbija)
Među ovim delima imamo I prvu kompoziciju za solo pikolo. Inspirisana je mitologijom Južnih Slavena, a mit o "Drekavcu" (screamer or screecher) predstavaljen je potpuno savremenim "Jezikom" uz upotrebu proširenih tehnika. Autor je David Mastikosa (BiH)
U cilju popularizacije pikolo flaute pokrenula sam još jedan projekat, a to je "Beogradski pikolo vikend" koji je prvi put održan u septembru prošle godine.
Kao goste umetnike imali smo neka od vodećih pikolo umetnika u Evropi: Jean Louis Beaumadier (Francuska), Matjaž Debeljak (Slovenija) I Nicola Mazzanti (Italija). Oni su održali masterklas za aktivne I pasivne polaznike, a čuli smo I 4 pikolo recitala, kao I koncert svih umetnika sa gudačkim orkestrom. Na koncertima smo mogli čuti veoma bogat repertoar za pikolo, od baroka do savremene muzike, kako originalno napisane za pikolo tako I aranžmane dela pisanih za flautu ili druge instrumente. Publika je imala priliku da čuje I promociju pomenutog albuma "PersPICCtives".
U vreme dok je globalna pandemija onemogućavala koncerte uživo I saradnju sa drugim umetnicima, snimila sam I album "Piccolo solo globe tour" sa delima za solo pikolo. Autori kompozicija su kompozitori sa svih kontinenata, otuda I nazvi Globe tour. Bio je ovo moj način da "proputujem" svetom kroz muziku, kad nije moglo drugačije.
Nadam se da će sav moj rad vezan za pikolo flautu inspirisati I potaknuti flautiste (I ne samo flautiste) da poklone veću pažnju ovom malom ali moćnom instrument I da istraže I upoznaju sada već prilično velik repertoar namenjen pikolo flauti.
---
Snježana Pavićević
Snježana Pavićević was born in Sisak (Croatia) in 1972. She graduated from the Faculty of Music, Academy of Arts in Belgrade in the class of Professor Miodrag Azanjac in 1994. She received Master of Arts Degree with the same professor. After completing studies in the class of Professor Nicola Mazzanti in Milan, she received Master of Arts Degree in piccolo flute.
Her professional career started in 1994 when she was appointed for the position of piccolo solo at the Belgrade Opera Orchestra. In 2002 Snježana became a solo piccolist at the Belgrade Philharmonic Orchestra. As a student she won several national and international competitions, as a soloist and also with some chamber ensembles.
She collaborated with many orchestras and conductors such as Zubin Mehta, Muhai Tang, Mihail Jurowsky, Kiril Petrenko, Krzysztof Penderecki, Howard Griffiths, Andres Orozco Estrada, Tomas Sanderling, Gabriel Feltz, Leif Segerstam, Daniel Raiskin, En Shao… Besides her orchestral engagements, she also plays with various chamber ensembles and performs various recitals with flute, piccolo and alto flute – solo and with piano accompaniment.
She took part as a piccolo flute mentor in the project of Belgrade Philharmonic Orchestra called Filhademija (Philharmonic Orchestral Academy) for students and young professionals, and she is also one of the piccolo teachers at "Play with a Pro" online academy.
She is the founder and the artistic director of Belgrade Piccolo Weekend – festival dedicated to piccolo flute with master classes, concerts, and exhibitions of musical instruments.
She made several recordings for Belgrade Radio and Television: Prokofiev – Sonata, Francaix – Suite for slute solo, Cimarosa – Concerto for 2 flutes. She also recorded music composed by Australian composer Alan Holley for Hammerings Records from Sydney, Australia and by American composer David Loeb for Centaur records from Louisiana USA.
As very active recording artist, she recorded 2 solo Cd albums. Her first CD album "Piccolo solo Globe tour" with works for piccolo solo was released in October 2020.published by Croatian publisher "Nota bene". Her second Cd album "PersPICCtives" was published in July 2021. by Serbian publisher "Metropolis music". This album represents works for piccolo by contemporary Serbian composers. Snježana is one of the "Burkart" artists, which is one of the best flute and piccolo brands today.
---