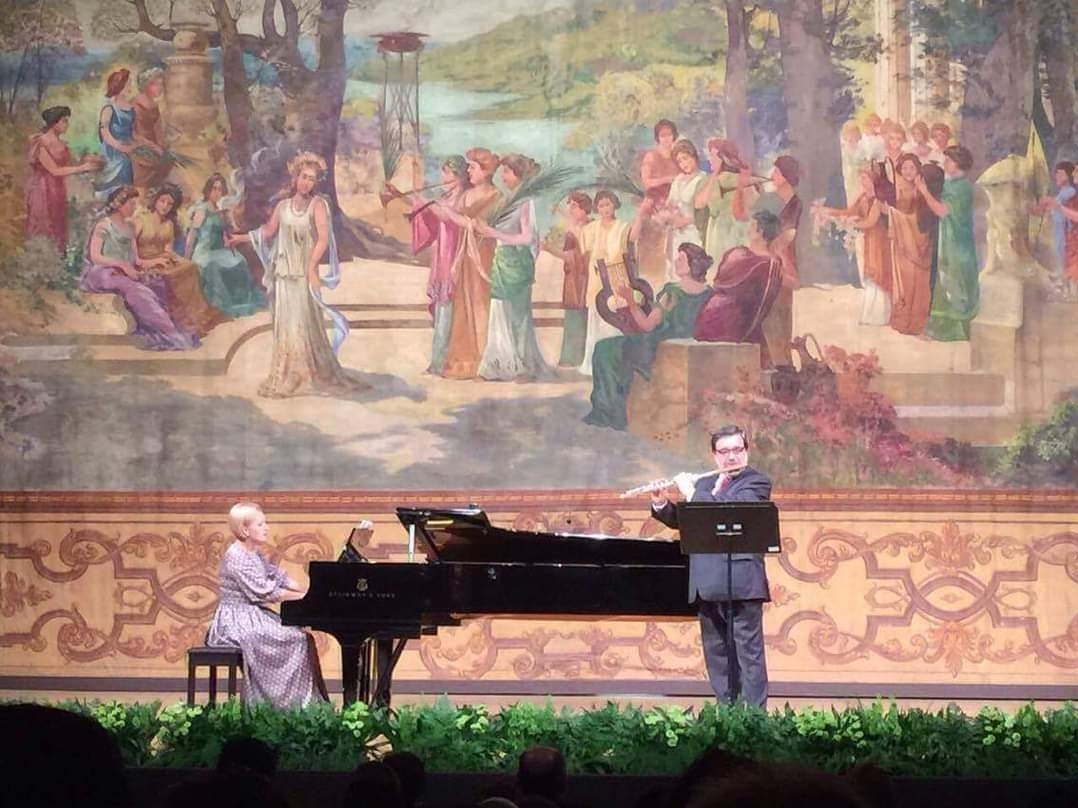 by Onorio Zaralli
Prendiamo ora in esame una qualità che interviene nella situazione in concerto, favorendo il nostro rapporto con il pubblico. E' l'amabilità, una qualità "strategica" in un mondo che vive soprattutto nella comunicazione.
Amabilità vuol dire disponibilità al rapporto.
Molti di noi lo sono per natura, manifestano agio e disinvoltura nel rapporto con il pubblico: portati per il palcoscenico, è proprio qui che potenziano le proprie facoltà, raggiungendo traguardi solo sfiorati in situazioni "private". Per altri, invece, il rapporto con con il pubblico risulta più problematico, difficile, incerto. E ciò si ripercuote negativamente nella resa musicale. Ora, poiché la nostra attività si svolge in larga misura nel rapporto con il pubblico, dobbiamo approfondire il discorso.
Lo "spettro del giudizio" è il timore eccessivo dell'opinione altrui.
Tale timore diventa castrante proprio nella sala da concerto. Si ha tanta più paura del giudizio altrui quanto più si è portati a giudicare gli altri. Giudicare, poi, sulle piccole cose, sui pettegolezzi esecutivi: quella nota era un po' calante, il trillo poco regolare, ecc., senza minimamente fermarsi a valutare lo stile di una interpretazione o la forza comunicativa di un interprete. Parzialità di vedute che temono parzialità di vedute, dunque. In effetti, per costoro la paura prima del concerto è quasi sempre dovuta a preoccupazioni del livello esecutivo, e di quello più superficiale.
Non è solo così: può esserci anche il timore che la nostra performance artistica non possa essere apprezzata. Anche questo, però, è pura ideologia, perché presumiamo che le nostre idee debbano coincidere con quelle di un pubblico eterogeneo e pluralista. Ora, entrambi gli atteggiamenti – quello dello "spettro del giudizio" e quello della "presunzione della verità" – si riflettono sul pubblico provocando, tra lui e noi, una sorta di "distonia emotiva": le frequenze emotive (le nostre e quelle del pubblico) sono discordi; noi ci preoccupiamo di un giudizio che forse non ci sarà o siamo ostili a chi sarebbe ben disposto ad accoglierci col sorriso. Non siamo "amabili" in quanto non amiamo ma temiamo; non siamo "amabili" perché presumiamo la presenza di giudici e non supponiamo la presenza di un pubblico amico. Ormai è inevitabile: si è creato un "firewall", una cortina di fuoco che impedisce l'accesso alla comunicazione.
Suoneremo solo per noi… Se è la presenza del pubblico il fattore-causa del nostro disagio, è nel rapporto tra noi e il pubblico che dobbiamo fermare la nostra attenzione. E la soluzione è proprio lì, letteralmente sotto i nostri occhi.
Con quale stato d'animo il pubblico verrebbe ai nostri concerti?
Certamente, con l'intenzione di accoglierci con gratitudine. Ci osserva non per giudicarci, ma perché vede in noi i motori della sua emotività; chiede a noi di essere coinvolto in un rapporto di affetto – davvero unico nel suo genere – cheva al di là di qualsiasi logica, che non può essere espresso con le parole, e non può essere altrimenti vissuto. Questa è la sua amabilità, la disponibilità a conoscerci e ad essere conosciuto. Non è un rapporto passivo, perché il pubblico reagisce agli stimoli che da noi riceve: guarda, osserva, sorride, arrossisce.
Noi siamo però responsabili del circuito, gli interruttori che permettono all'energia di correre lungo i fili o, al contrario, che interrompono il circuito stesso. Quando saremo veramente convinti che il pubblico in sala è dalla nostra parte, solo allora riusciremo a stabilire – per tutto il concerto – quello che io chiamo il "ponte di simpatia", un collegamento continuo tra noi e le persone presenti in sala. Ciò permetterà di sintonizzarci sulle medesime frequenze: il pubblico entrerà nella nostra emotività e noi ci sentiremo liberi da preoccupazioni, protagonisti in una relazione di grande forza emotiva
Esercizio per la costruzione del "ponte di simpatia"
Entriamo in sala con passo calmo ma risoluto, guardando i volti di coloro che sembrano maggiormente cordiali nei nostri confronti. Dopo aver salutato tutto il pubblico con un inchino profondo ed elegante, "agganciamo" subito un rapporto con i soggetti prima individuati: guardiamoli con attenzione, soffermandoci per qualche istante ad osservare attentamente dei piccoli particolari, la forma degli orecchini, il nodo di una cravatta, il colore di una giacca. Queste persone diverranno, per tutto il concerto, i nostri punti di riferimento, le "coordinate" fra il pubblico, i "pilastri" del ponte. Sorridiamo ad essi, spendiamo ancora, prima di iniziare, qualche attimo nei loro sguardi. Ne riceveremo enormi benefici, una grande energia positiva. In questo modo, anche noi avremo gettato il nostro primo "pilastro".
*Extract from the book by Onorio Zaralli "Playing with the soul" © 2017
---
O.Zaralli
O. Zaralli si diploma con il massimo dei voti in flauto presso il Conservatorio di Musica "S. Cecilia" di Roma, conseguendo successivamente il diploma "solista" al Royal College of Music di Londra. Premiato nei concorsi di Ancona, Stresa, Palmi e Città di Castello, matura esperienze orchestrali in seno all'Orchestra della Radiotelevisione di Bucarest, Orchestra Sinfonica di Sanremo, Orchestra Sinfonica dell'Accademia Nazionale di S. Cecilia di Roma. Come solista, è attivo in Europa, USA, Messico, Korea, Australia. E' autore di libri, studi e composizioni per flauto.
---