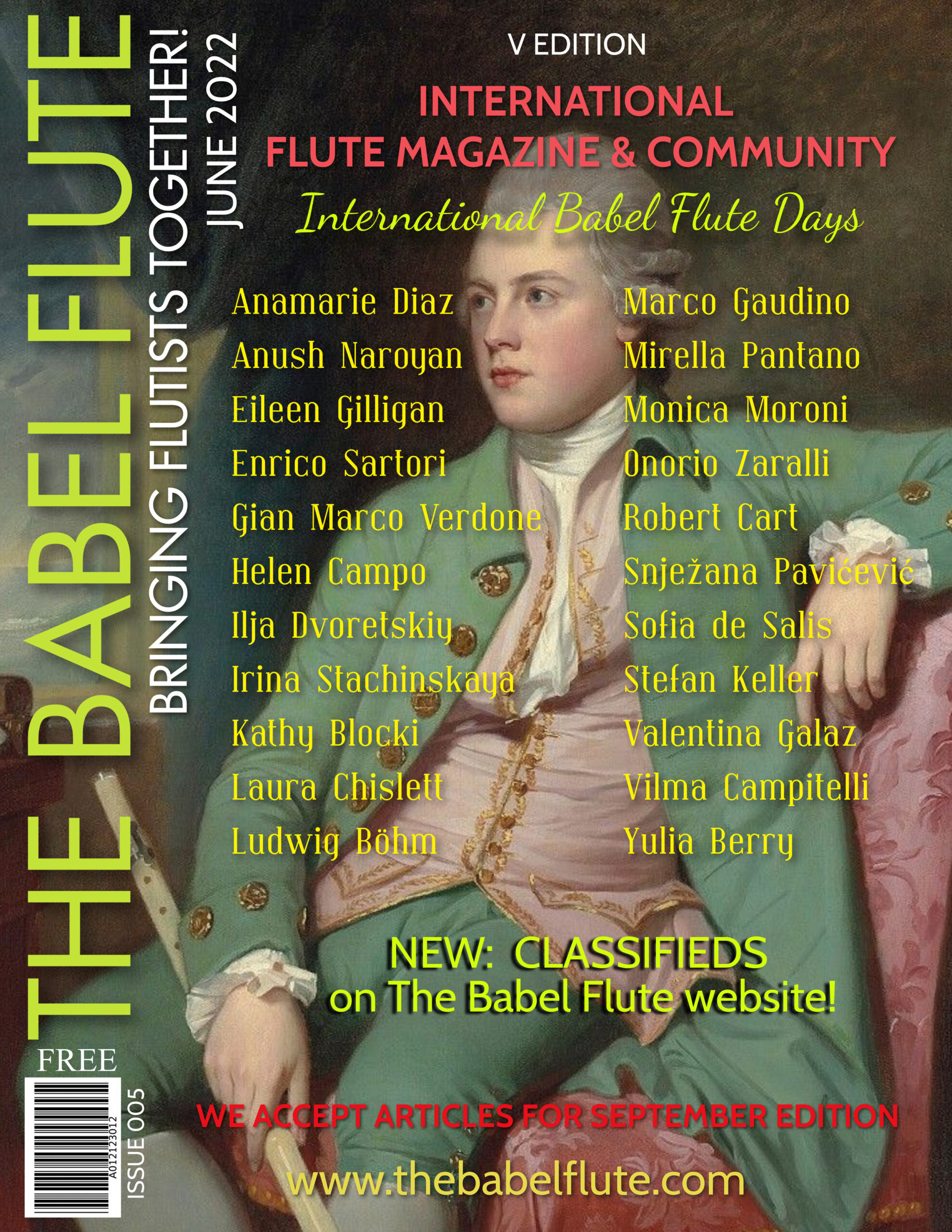 Dear flutists, We would like to introduce the 5th edition of The Babel Flute!
We thank our authors for their incredible articles in which they share their knowledge, experience and talents! This is a truly international magazine, created by flutists from all over the world! 10 new authors have joined us in this edition! We are so happy to have them on our team!
In the 5th edition we highlight The Babel Flute Anniversary Celebration and share the incredible journey we took in May with 99 participants! Read all about it in the Anniversary category!
Anamarie Diaz, The Financial Flutist from USA gives a valuable advice how to take control of your finances in the Career & Management category.
Anush Naroyan, a native Armenian from Greece, talks about the duduk, an incredible Armenian wind instrument with a mysterious, mesmerizing sound in the Ethnic Flutes category.
Eileen Gilligan from Australia talks about how to approach the study of Marcel Moyce's Tone Development Through Interpretation in the Flute Technique category.
Enrico Sartori from Italy-China reviews flute methods for intermediate level students with a particular focus on Italian authors. Check out the Pedagogy category!
Gian Marco Verdone from Italy is the creator of the RealStage software, your ultimate study companion. Read his review of its features in the Multimedia category!
Helen Campo from USA shares her thoughts on some aspects of being a professional flutist in the new category "Flutist Diary"
Ilja Dvoretskiy from Russia continues reviewing flute basics in the category "Pedagogy". In Part 2 he talks about breathing.
Irina Stachinskaya from Russia analyzes Carl Philipp Emmanuel Bach's sonata in A minor for flute solo in the category "Analysis & Interpretation". Don't miss it!
Kathy Blocki from USA tells us how to speed up your brain for efficient practice in the category "Children Corner".
Laura Chislett from Australia introduces new flute music by 4 composers from China in the category "Contemporary music".
Ludwig Böhm from Germany shares his impressions after the 5th International Theobald Böhm Flute Competition in the New & Events category.
Marco Gaudino from Italy shows his invention to improve the flute sound in the Flute Makers & Repair category
Mirella Pantano from Italy talks about Mindfulness and how to apply its principles to flute kinesthesia in the category " Physiology"
Monica Moroni from San Marino shows the beauty of the bass flute in the category "Flute Family"
Onorio Zaralli from Italy analyzes aesthetic profile and playing style of Mozart in the category " Analysis & Interpretation"
Robert Cart from USA talks about the art and science of Bel Canto flute pedagogy in the category " Flute Technique"
Snježana Pavićević from Serbia praises its Highness – Piccolo! In the category " Flute Family"
Sofia de Salis gives advice on how to manage time and make 100% out of your practice. Read it in the category "Pedagogy".
Stefan Keller from Switzerland takes us to the world of low flutes. Don't miss his incredible presentation in the category " Flute Family"!
Valentina Galaz from Argentina gives an advice on how to structure online lessons in order to make them 100% effective. "Multimedia" category
Vilma Campitelli from Italy tells about Florence Price – a perfect tribute to this amazing African-American female composer on the day when the United States celebrate Juneteenth, a federal holiday commemorating the emancipation of enslaved African Americans! "Composers & Biographies" category
Yulia Berry from USA talks about Holograms. Are they the future of performance? Read the answer in the Artificial intelligence category.
Do not forget to play our new flute games and test your knowledge in the new flute quizzes, brought to you by Onorio Zaralli!
Remember to use the translate button on the website to read all articles in your preferred language.
We hope you enjoy reading, sharing, commenting, discussing and supporting our authors.
We invite everyone to join our international flute community!
We start accepting articles for the September Edition.
---